Howard Fischer from Capitol Media Services broke down a few of Arizona's newest laws that will be taking effect this Friday, August 3. State lawmakers adjourned in May after approving over 300 measures. The laws cover a variety of subjects from abortion to sexual harrassment litigation, and early-age education to utility provider fines. Here's a few excerpts of Fischer's analysis: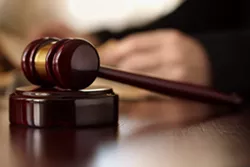 Regarding sexual harassment cases:
Lawmakers voted to make it illegal to have "non-disclosure agreements" that bar someone who has settled a case of sexual assault or harassment from responding to questions from police or prosecutors or making statements in any criminal proceedings.

Rep. Maria Syms, R-Paradise Valley, called those agreements a "sexual predator loophole." She said they leave future potential victims unaware that the person with whom they are dealing has a history of harassment or rape.
Another law will change the daily routines of young children in Arizona schools for the better:
One of the first groups to be affected are children in kindergarten through third grade: They will get at least two recess periods a day.

The new law is the culmination of a decade-long battle by some lawmakers and education advocates who contend that letting kids get up and move around actually will help their academic performance.

Students in grades 4 and 5 have to wait until 2019 for their two recess periods.

A separate law that also kicks in on Friday also requires that play be incorporated as an instructional strategy for kindergarten and that activities be academically meaningful.
If the Clean Energy for a Healthy Arizona ballot initiative is approved by voters, this new law could allow APS to ignore it:
Legislators gave Arizona utilities the equivalent of a "get out of jail free" card in case voters approve a constitution amendment in November to require them to generate half their electricity from renewable sources by 2030. Unable to void a constitutional measure, lawmakers approved a proposal crafted by Arizona Public Service which would make violations subject to penalties of no more than $5,000 - and as little as $100 - effectively allowing the utilities to ignore the mandate and pay the fine instead.
Lastly, one of the most controversial new laws passed by the state legislature deals with the private questions between a woman seeking an abortion and her doctor:
Existing law contains open-ended questions that health care providers are supposed to ask about the reason for the abortion. That includes whether the procedure is elective or due to some issue of maternal or fetal health.

The new statute gets more specific, with women asked about specific medical conditions and whether the procedure is being sought because the pregnancy is due to rape or incest. And women also will be questioned whether they are being coerced into the abortion, whether they are the victim of sex trafficking and whether they are the victim of domestic violence.
You can read the entire story
here
.