WaPo: Trump Admin Unprepared To Track 'Deleted Family Units,' aka Undocumented Children Stripped From Parents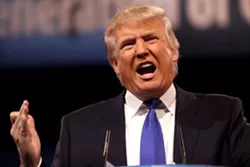 The Washington Post takes a
deep dive into how the federal government was unprepared to handle the Trump administration's zero tolerance policy
that led to stripping undocumented children away from their parents earlier this summer:
When a federal judge ordered the Trump administration to reunify migrant families separated at the border, the government's cleanup crews faced an immediate problem.

They weren't sure who the families were, let alone what to call them.

Customs and Border Protection databases had categories for "family units," and "unaccompanied alien children" who arrive without parents. They did not have a distinct classification for more than 2,600 children who had been taken from their families and placed in government shelters.

So agents came up with a new term: "deleted family units."

But when they sent that information to the refugee office at the Department of Health and Human Services, which was told to facilitate the reunifications, the office's database did not have a column for families with that designation.

The crucial tool for fixing the problem was crippled. Caseworkers and government health officials had to sift by hand through the files of all the nearly 12,000 migrant children in HHS custody to figure out which ones had arrived with parents, where the adults were jailed and how to put the families back together.

Compounding failures to record, classify and keep track of migrant parents and children pulled apart by President Trump's "zero tolerance" border crackdown were at the core of what is now widely regarded as one of the biggest debacles of his presidency. The rapid implementation and sudden reversal of the policy whiplashed multiple federal agencies, forcing the activation of an HHS command center ordinarily used to handle hurricanes and other catastrophes.
Read the
whole thing here.
Tags: news , politics , immigration , President Trump , The Washington Post , children , family separation , reunification , Image