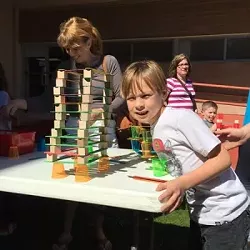 Make it Mondays!
Another Monday, another visit to the Tucson Children's Museum, where this week's theme is "Schoolhouse of Rock–We've Got the Beat!" We're assuming there's going to be some Schoolhouse Rock involved, so kids can learn all about how a bill becomes a law (or at least how it's supposed to work). But hey, based on the title, maybe the Go-Go's are going to get involved too. Regardless, you've gotta love the extended hours and reduced admission prices! 9 a.m. to 7 p.m. Monday, July 30. Tucson Children's Museum, 200 S. Sixth Ave. $3.
Details here.
Mondo Mondays.
It is your last chance to get in on the Trashy Time Travel month of Mondo Mondays at the loft. This week's cinematic spectacular will be "Warlock: Satan Also Has One Son" featuring Julian Sands and Lori Singer. Watch as the murderous warlock escapes and magically enters the future 300 years ahead. Monday, July 30 8p.m. General admission $3, Loft members $2. The Loft Cinema, 3233 E Speedway Blvd.
Events compiled by Emily Dieckman, Dylan Reynolds, BS Eliot, Ava Garcia and Jeff Gardner.