Monsoon Madness Plant Sale.
The old saying is that April showers bring May flowers, but in Tucson, summer monsoon showers bring much a much wider, weirder and more wondrous selection of desert-friendly plants. Local growers and nationally-renowned plant owners alike will be at this annual Tohono Chul event, which will be enjoyable for both botany nerds and people who can't keep houseplants alive. In fact, it's not just a sale—you can also learn about plant care from the professionals. So this event might just be extra beneficial for the succulent-over waterers of the world (like us). 3 to 7 p.m. on Friday, July 27 and 8 a.m. to 1 p.m. on Saturday, July 28. Tohono Chul, 7366 Paseo del Norte. Admissions to the gardens are FREE during the sale.
Details here.
The Western Attraction.
The Wilde Meyer Gallery is hosting a monthlong group show featuring artwork that's all about the West and why we love it. From contemporary cowboy and Native American interpretations to western landscapes to some of the area's most iconic features, you'll walk through the gallery and be reminded of why we love where we live, even in the heat of summer. With artists like Karen Bezuidenhout, Judy Choate, Ka Fisher and Jim Nelson, there will also be plenty of variety. Head down this weekend! Through the month of August. Gallery summer hours are 10 a.m. to 5 p.m. Tuesday through Saturday, but open until 7 p.m. on Thursdays, when there is a weekly art walk from 5 to 7 p.m., and 1 to 4 p.m. on Sundays. Wilde Meyer Gallery, 2890 E. Skyline Drive, Suite 170.
Details here.
Shinrin Yoku "Forest Bathing" Walk.
Join integrative health and wellness coach Carol Roberge on this twilit walk atop Mount Lemmon. These walks, in which you observe and experience the transition from day to night, have become a trend around the world. And it makes sense. Can you imagine a more peaceful or tranquil way to end the day than to head up to the forest and be as present as possible for the sunset? A tea ceremony and snacks will be included on this non-strenuous walk. 5 to 8 p.m. Friday, July 27. Call Carol at 206-714-0544 to RSVP and receive directions. $30.
Details here.
MSA Annex Summer Night Market.
Let's get vintage! Let's get artisan! Let's get handmade! And let's do it all in the evening, so it will be less hot. Mercado San Agustin and the MSA Annex are hosting all of your favorite vendors, and your new favorite MSA Annex shops will be open as well. Grab a drink at Westbound's outdoor bar and treat yourself—and the local artists you're supporting—to a moonlit shopping spree. This is the second of three summer night markets, so keep an eye out for the next one in August! 6 p.m. Friday, July 27. MSA Annex, 267 S. Avenida del Convento. Free entry.
Details here.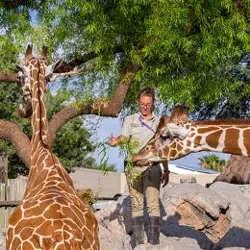 Summer Safari Nights at Reid Park Zoo.
If the kids are complaining about how, at summer's end, they'll have to go back to school, this is your chance to show them that even animals in the zoo spend their time learning. And they have to do it during the summer! Animal Enrichment Night will feature animals like the grizzly bear, lion, otter, goat, anteater, giraffe and tiger, and will demonstrate how the zoo keepers provide mental and physical activities for the animals to do every day. The best part? You'll basically be tricking your kids into learning over summer vacation too. As usual, live music, food and drink specials and local vendors abound. 6 to 8 p.m. Friday, July 27. Reid Park Zoo, 3400 Zoo Court. $10.50 adults, $8.50 seniors, $6.50 children ages 2 to 14. Half off for zoo members.
Details here.
Southern Spain Wine Dinner.
Experience a night inspired by the flavors of Southern Spain, no passport needed. The second wine dinner of Maynards Market and Kitchen's Summer Wine Tour features food by Executive Chef Brian Smith paired with wine by sommelier Will Olendorf. Enjoy classic Spanish dishes like Spanish tortilla and squid-ink rice, along with twists like smoked-paprika yogurt. 7 to 9 p.m. Friday, July 27. 400 N. Toole Ave. $60, excluding tax and gratuity, per person. Tickets can be purchased online or in person at the restaurant.
Details here.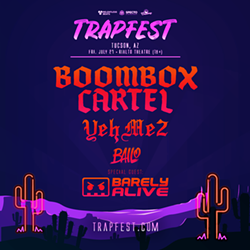 Boombox Cartel.
If trap music – its creation and appeal—reflects the coming-of-age isolation and despair of this craptastic modern world, then trap concerts are its antidote. Seriously. Throngs of disparate masses, all races, genders and classes, jump and shout along as one. At the center of Tucson's Trapfest are two DJ/producers who embody the challenges of border living in Trump's America. Born in Mexico, now hailing from L.A., Boombox Cartel are self-aware of their cultural-and-class straddling and weave that tension throughout their low-end/trap/hip-hop grooves. Tunes like "Whisper" conjure an after-hours world weariness, but most joints have them clearing a channel through the crowd right down the middle so everyone can jump before, "fucking going crazy." Seriously. Jorge Medina and Americo Garcia have set EDMers ablaze all over the world with their signature deep bass grooves that grip the skull till the screeching speeds up and then BAM! Here comes that drop. TRAPFEST featuring Boombox Cartel with Bailo, Barely Alive and Yehme2. Friday, July 27, Rialto Theatre, 318 E. Congress. Doors at 8 p.m. $30-$55, 18+. —B.S. Eliot.
Details here.
Breeze in the Trees 5K.
Green Valley is continuing its series of fun runs with the eighth annual iteration of this 5K through the Green Valley Pecan Farm, at which all ages are welcome (provided they're human—no dogs allowed on the course). All runners and their guests get a complimentary pancake breakfast served by the Green Valley Firefighter's Association, and runners get a 10 percent discount at the pecan store for the weekend. Beat the heat at this early race, and support a good cause: Proceeds benefit the Men's Active 20-30 Club of Tucson, a service organization of men and women in their 20s and 30s who work to improve the lives of children in the Tucson area. 6:30 a.m. start. Saturday, July 28. Green Valley Pecan Company, 1625 E. Sahuarita Road, on the north side of Sahuarita Road, on the east side of the Pecan Store building. $35.
Details here.
Peach Mania at Apple Annie's.
There's lots to celebrate about peaches! For one, they're versatile—put 'em in a pie! Eat one for lunch! Have peach-flavored iced tea! For another thing, they don't actually grow as large as that peach in James and the Giant Peach, so eating one doesn't send you off on a horrifying adventure with giant spiders. Anyway, the 18th annual Peach Mania starts with an all-you-can-eat peaches and pancakes breakfast in the mornings, free wagon rides, free samples of peaches and peach products (if you still have room after breakfast), homemade peach pie and peach ice cream (if you somehow still have room?) and apple-smoked burger lunches (seriously, it would be wild if you still had room at this point). 7:30 a.m. to 5 p.m. Saturday and Sunday July 28 and 29, and Aug. 4, 5, 11, 12, 18 and 19. Apple Annie's Fruit Orchard, 2081 W. Hardy Road, Willcox.
Details here.
Tomato Basil and Garlic Festival.
These three key ingredients take center stage at the Heirloom Farmers Markets Tomato Basil and Garlic Festival this weekend. Explore different kinds of local-grown garlic ranging from elephant garlic from Richcrest Farms to purple Italian garlic from In the Beginning Farm. Once you've got your fill of garlic, check out salsa, olive oil and other goods to complete your feast. While you're there, shop to the tune of live performances by local artists. 8 a.m. to noon Saturday, July 28, at 10901 N. Oracle Road and Sunday, July 29 at 4502 N. First Ave.
Details here.
National Day of the Cowboy at Empire Ranch.
Put on your cowboy boots! Shine your spurs! Get on a horse and say "yee-haw!" Because it's National Day of the Cowboy down in Vail, and they're celebrating with the whole enchilada…. Or should we say the whole beef jerky, or whatever cowboys eat? We're talking leather making, mule packing, saddle making, blacksmithing, regatta braiding, roping, horse demos and a raffle. They'll also be playing western pilot movies, doing a reenactment of the story of Walter Vail, offering docent-led tours and hosting a talk by Ian and Addie Tomlinson about multi-generational ranching. Giddyup! 9 a.m. to 1 p.m. Saturday, July 28. East Empire Ranch Road, Vail, AZ. Free entry.
Details here.
Raw Foods: Dangers and Doing it Right.
If you've ever wanted to try out the raw food diet, here's the chance to learn all about what you're getting into. This class, hosted by Food Conspiracy Co-op and Wild Success, will delve into how to do the raw diet right, with approaches from raw chefs, advocates and doctors, as well as how to go about making the switch to raw food. Still unsure if it's the meal plan for you? Class attendees will get a chance to try out the raw diet themselves with recipes. 9 to 10 a.m. Saturday, July 28. 425 E. Seventh St. $10 per person. Register for the class online at foodconspiracy.coop.
Details here.
HarvestFest at Sonoita Vineyards.
If you've been waiting for a chance to show off your grape-stomping skills, this is it. At Sonoita Vineyards' annual HarvestFest, put your grape-stomping skills to test in a competition, take a horse-drawn vineyard tour and more. Taste the wine and enjoy pairings as well. Sounds like a grape way to spend a day! 10 a.m. to 4 p.m. Saturday, July 28. 290 Elgin-Canelo Road. $25 general admission ticket includes wine tasting with souvenir glass, winery tour and more. Purchase tickets online at sonoitavineyards.com.
Details here.
Sweet and Savory Superfood Breakfast Bowls.
Pancakes, waffles, French toast—let's face it, these breakfast staples aren't always the healthiest choice. Learn how to kick your breakfast's healthiness up a notch with this class hosted by Natural Grocers at Tucson River Road. The class will spotlight nutritional superfoods and how to prepare them in breakfast foods. The best part: attendees will get to taste them! The class is open to all dietary styles. 11 a.m. to noon Saturday, July 28. 5600 E. River Road.
Details here.
Cotton Candy at 1912 Brewing Co.
Now here's a sweet combo to try out: cotton candy and beer. 1912 Brewing Co. is bringing together your two favorite fair treats for one afternoon. The event is family-friendly, so you can enjoy a cold one while the kids snack on the sweet stuff. Win-win! 12 to 4 p.m. Saturday, July 28. 2045 N. Forbes Blvd., Suite 105.
Details here.
The Effect.
Ah, there's nothing quite like the feeling of new love: Pounding heart, sweaty palms, libido through the roof, thinking for the first time in a long while that maybe the world's not all that bad. You know the drill. Unfortunately, the lead characters and lovers in this show, Connie and Tristan, aren't totally confident that all of these symptoms aren't just side effects of the antidepressants they're taking as clinical trial participants. This clever look at love, attraction and all the mysteries that come with them is the second show in Live Theatre Workshop's 2018 to 2019 season. Thursday, July 26 through Saturday, Aug. 25. 7:30 p.m. Thursdays through Sundays and 3 p.m. on Saturdays. $15 to $20.
Details here.
Night Wings at the Pima Air and Space Museum.
It really is fascinating learning about the history of aviation by looking at all sorts of different planes. But lately, it's been too hot to do pretty much anything, let alone find the brainpower to go learn about the history of aviation. Never fear! Now's your chance to explore the local air and space museum in the cool of the evening. In addition to the usual museum offerings, they'll also be showing screenings of the short film Earthrise. The Flight Grill will be open to fuel your learning! 5 to 9 p.m. Saturday, July 28. Pima Air and Space Museum, 6000 E. Valencia Road. $10 adults and free for kids 12 and under!
Details here.
Earthrise.
The Pima Air and Space Museum invites you in from the hot summer evenings to enjoy the chilly void of space. The recurring Night Wings event involves screenings of the historic astronomical films, such as Earthrise, the first time humanity ever saw their own planet floating in space. 5 to 9 p.m. Saturday, July 28. 6000 E. Valencia Road. $10. Kids 12 and under free.
Details here.
Cool Summer Nights at the Desert Museum.
Over in the jungle (the mighty jungle), the lion is sleeping tonight. But here in the desert (the Sonoran Desert), bats, owls and kangaroo rats are just a few of the animals that are out and about after dark. This week's "Creatures of the Night" theme features two 30-minute "Fur, Feathers and Fans" presentations by keepers about what it's like working with animals, as well as a 45-minute class on how to take great photos with any camera led by Jay Pierstorff. As usual, the Packrat Playhouse, the Stingray Touch Exhibit, family art activities, the art exhibit "Becoming Animal" and plenty of docent stations will be on hand as well. 5 to 10 p.m. Saturday, July 28. Arizona-Sonora Desert Museum, 2021 N. Kinney Road. $22 GA, $20 seniors 65 and up, $9 kids 2 to 12, $18 military, $17 Arizona/Sonora resident.
Details here.
The Second Annual Harry Potter Charity Ball.
Sometimes being a good person is a real drag. But sometimes being a good person means you get to dress up as your favorite Harry Potter character, hang out downtown and play Wizard's Chess and Quidditch cornhole (the closest we're going to get to real Quidditch, being Muggles and all). They're also raffling off lots of cool prizes, like a Harry Potter gift bag from Bookman's and tickets to the Wizarding World of Harry Potter in Hollywood (trust us when we urge you to please try the butterbeer). There'll also be food from places like Sweet Tomatoes, the Orowheat Bake Shop and the Gypsy Caravan Generations of Flavor food truck. And there's an open bar. Accio cocktail! Proceeds go to at least four local charities, including Literacy Connects and Youth on Their Own. 5:30 to 10:30 p.m. Saturday, July 28. Tucson Scottish Rite, 160 S. Scott Ave. $15 GA, $50 VIP (early entry, VIP parking, and a special gift).
Details here.
Speakeasy: Live at the KAT Club.
If you haven't checked out Kinetic Arts Tucson yet, now is your perfect chance to head over to this safe, loving and inclusive environment for anyone who's ever been interested in pole, dance or acrobatics. This variety show will have a 1920s theme (and audience members are encouraged to dress accordingly!), and will include pole dancing, vaudeville acts and other forms of dance. There will also be a cake walk, a tarot card reader, a raffle, live music, food and beverages AND it's kid friendly, making this an event literally anyone can enjoy. This is just the first in a community performance series KAT plans to host. 7 to 10 p.m. Saturday, July 28. Kinetic Arts Tucson, 17 E. Toole Ave. $10 includes a raffle ticket, entertainment, tapas and treats.
Details here.
Dawnland.
The Sea of Glass Center for the Arts is screening a documentary on Native American children and their systematic treatment. As recently as the 1970s, one in four Native children nationwide were living in non-Native foster care, adoptive homes, or boarding schools, essentially erasing their cultural identities and stripping them from their families. Now, for the first time, they are being asked to share their stories. 7:30 to 9:30 p.m. Saturday, July 28. 330 E. Seventh St. $10.
Details here.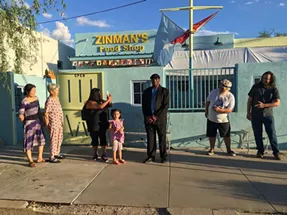 Pop-Up for the Mariachi Miracle.
Celebrate mariachi with a meal at Zinman's Food Shop. The restaurant is hosting a pop-up dinner to promote "The Mariachi Miracle" a book and film by Dan Buckley that reveals the educational impact of local schools' mariachi programs. For $8.75, grab a plate of rice, beans and squash with cracker bread. While you're eating, you can enjoy what the night is all about: mariachi! Mariachi Estrellas de Tucson will perform. 8 to 11:59 p.m. Saturday, July 28. 111 W. Fourth St.
Details here.
Round Up at the Ranch 5K.
Head over to Oro Valley to participate in this third annual summer fun run along the multi-use path, beginning at Steam Pump Ranch. If running isn't your thing, then consider the run (or walk) as the appetizer, and the watermelon, water balloon toss and snacks as the main course. Runners, walkers and strollers are all welcome on this course, which will head east toward Catalina State Park and feature prizes for overall male and female winners and for five-year age groups. Socks will also be on sale both onsite and during online registration. Proceeds benefit the town's Round Up For Youth Recreation Scholarship Program. 6 to 8 a.m. Sunday, July 29. Steam Pump Ranch, 10901 N. Oracle Road. $20 prior to race day or $25 on race day.
Details here.
Yoga in the Park with Live DJ.
You've been meaning to get into yoga, so now's a pretty good chance. This fun (but challenging!) yoga flow class is held outdoors at Reid Park, and everyone is welcome. Bring a mat or a towel, as well as some water and even a friend if you want. This is a recurring Sunday event that goes through the end of September, and on the last day of class there will be locally sourced vegan donuts and coffee. If that isn't a good incentive to at least stick with yoga for a few weeks, then I don't know what is. 8 a.m. Sunday, July 29. Reid Park, 3400 E. Zoo Court, near ramada 18. Donation is recommended, please pay what you can.
Details here.
Reilly's Beach Club.
It's that time of the summer when the only seemingly plausible escape from the desert heat is to head to the beach. If you're not feeling the six-hour drive to California, The Rock has you covered. This weekend, the bar is hosting a beach club party on its patio, with food and drink specials like $2 tacos and beer. There will also be acoustic performances by Kimberly Scarsella, Brooke Povadora and more. Come decked out in beach attire. All ages welcome. 5 to 10:30 p.m. Sunday, July 29. 136 N. Park Ave. Free event.
Details here.
Fine Wines for Felines.
Helping out a good cause? Check. Focusing on local producers? Check. Getting to drink lots of wine? Check! This Arizona Wine Collective wine tasting raises funds for Pawsitively Cats, a no-kill cat shelter. At the event, attendees can sample five wines from around the state, as well as enjoy light snacks. Part of the event fee will go to Pawsitively Cats. 5:30 to 7:30 p.m. Sunday, July 29. 4280 N. Campbell Ave. $25 per person. 21+. Tickets can be purchased online via Eventbrite.com.
Details here.
Kurt Braunohler
pens PG-13 observational humor, with or without the foul words. His standup has appeared on Jimmy Kimmel and Conan and though a charming "everyman," his humor is neither edgy nor particularly smart. Braunohler's main asset as a performer is high relatability—he's the Bill Pullman of TV comedy, with his jokes about PT Cruiser drivers and doorknob inspirational signs. There is an urgency in his humor to fight against middle-aged mediocrity that anyone over 35 can understand—a need to stay relevant and make people laugh. Braunohler's charm is his openness about expressing this vulnerability—one sketch has him slaving to make the Uber driver smile. His standup is less about zany humor and more about barenaked humanity. In this age of Shakespearean-level tragedy, the court jester is once more a hero, distracting us, pointing out our flaws and perhaps lightening the weight of the world for just a few minutes. Sunday, July 29, 191 Toole, 191 E. Toole Ave. Doors at 7 p.m. $12-$15, 21+.
Details here.


Events compiled by Emily Dieckman, Dylan Reynolds, BS Eliot, Ava Garcia and Jeff Gardner.