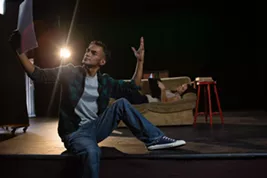 Third From the Right
is an "all-inclusive" talent agency that represents actors, actresses, models, singers, bands and other musicians to get them connected with casting directors and creative projects.
To celebrate their new establishment, Third From the Right is hosting an
open casting call
at the Screening Room at 6 p.m. on Thursday, August 2. If you want to share your talent with the larger community but don't know where to start, this is a chance to audition for a talent agency that is open to all ethnicities, genders, body types and minors older than the age of 13.
The team want you bring headshots and a resume to the casting call. If you don't have any of these things, that's ok! Third From the Right still wants to meet you, and they will help you get these things together.
Vocalists, be prepared to sing 6 to 8 bars of music. Bands, be prepared to play 6 to 8 bars of acoustic music.
If you have a digital talent reel, send it to agent@thirdfromtheright.com to expedite the interviewing process.
The Screening Room is located at 127 E. Congress St. You can call (520) 203-7189 for any other questions.
Good luck and break a leg!