The five Democratic state congressional candidates in LD-3 met at Pima Community College West campus Friday evening, July 20, to debate policy and take questions from potential voters.
The debate was sponsored by the Citizens Clean Elections Commission, an organization that enacts voter education, clean funding for candidate campaigns and campaign finance enforcement. Complete video of the event can be
viewed
on YouTube.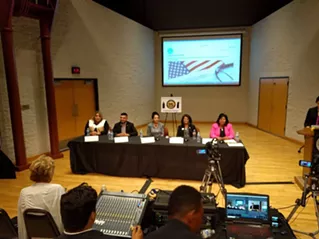 Present at the debate were the three Democratic House candidates Alma Hernandez, Andrés Cano and Olivia Cajero Bedford, as well as the two Senate candidates Betty Villegas and Sally Ann Gonzales.
In the first question after opening statements, candidates were asked to state their top priorities and the first piece of legislation they would submit if elected.
Villegas said she would address public education funding first. Cajero Bedford said she hopes to continue serving on the appropriations committee, where she has experience setting the state budget. Cano said he would take a look at special tax breaks for the upper class on the first day of the legislature. Hernandez would address health care first, hoping to put money from the budget towards prevention programs. Gonzales, a former school teacher, said education is her top priority.
Other questions asked about climate change, random acts of kindness and what distinguishes the candidates from their opponents.
In response to that third question, Villegas said she would engage with the community through town hall meetings, forums and newsletters. She said Gonzales, the incumbent, has not been doing this.
"In fact, I didn't even meet my opponent until I started running for office, and I've lived in her district all my life," she said.
Later, Gonzales countered by saying Villegas is part of the state's establishment of power.
"I think the hardest thing that I have faced this election is campaigning against my opponent, who is an establishment candidate," she said. "That means that everybody and their brother that are recognized people are supporting my opponent."
Throughout the debate, each candidate presented platforms that did not differ greatly from the other candidates'. There was near-universal support for increased public education funding, opposition to private prisons, protection of Arizona's environment and improved health care.
Unique ideas were presented — such as Cajero Bedford's plan to give people more time to file a claim against public agencies in wrongful death cases — but all-in-all, these candidates hold similar beliefs.
Due to these similarities, the race may ultimately be decided by whether voters want experience or new faces. In his closing statement, Cano positioned himself as someone who would be a fresh face in the legislature— young, Latino and a member of the LGBT community. In her closing statement, Cajero Bedford positioned herself as an experienced legislator who has served at the state level for 16 years, and a member of her family has been serving for the past 45.
There are no Republican challengers in the general election, so whichever candidates win the primary are likely to be elected in the general, unless Green Party candidate Beryl Baker (who distributed campaign flyers outside the debate venue) can gather support and pose a challenge in November.