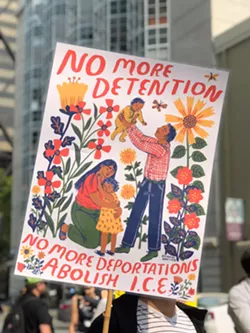 On Wednesday, the U.S. House of Representatives voted on a GOP resolution that voiced support for Immigration and Customs Enforcement, as a response to mounting pressure from activists to abolish the government agency because of its history of infringing on immigrants' human rights.
The resolution passed overwhelmingly with 244-35, while 133 Democrats voted "present."
Among those 244 yeas, 18 came from Democrats, with two from Arizona: Rep. Tom O'Halleran and Rep. Krysten Sinema. Reports have suggested that Republicans pushed this resolution through the House to test how Democrats respond to the left's calls for an end to ICE.
On Wednesday the Arizona Republic
reported
, "All five of Arizona's House Republicans voted for the resolution. Rep. Raúl Grijalva, D-Arizona, voted against it. Rep. Ruben Gallego, D-Arizona, voted 'present.'"
At yesterday's Democratic primary Congressional District 2 forum, hosted by Represent Me AZ, moderator Marion Chubon asked the candidates to raise their hands if they would have joined the Democrats in the House who voted in favor of supporting ICE. Former Congresswoman Ann Kirkpatrick was the only one who raised her hand, to a chorus of boos.
Kirkpatrick said in an interview after the forum that ICE performs a lot of different functions. She said she supports immigration reform, but ICE should be a part of that reform.