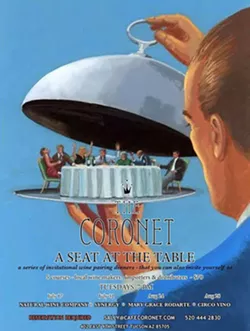 Summer Invitational—A Seat at the Table.
The Coronet is celebrating the summer season with a series of great eats, especially for those who make it to their five-course dinners. This time around, they are pairing with The Natural Wine Company, and the menu includes red wine braised rabbit and chilled burnt tomato and peanut soup. To make reservations, call (520) 444-2830 or email sally@cafecoronet.com. $70 per guest with wine pairings or $50 per guest without the wine. 7 p.m. Tuesday, July 17. 402 E. Ninth St.
Details here.
Jerry Maguire.
Harken back to the '90s! A carefree time when all we were concerned about was Tom Cruise's sweet, unctuous bangs. Harkins Theatres invites you to one of the most iconic rom-com-drams of them all. There are pre-millennium ties, fat cell phones, and enough one-liners to get just about anybody wrapped up in the melodrama. 7 p.m. Tuesday, July 17. 5455 S. Calle Santa Cruz.
Details here.
Arizona Biennial 2018 at the Tucson Museum of Art.
Artwork from all over the state was juried into this exhibition by guest juror Rebecca R. Hart, curator of modern and contemporary art at the Denver Art Museum. Works by dozens of artists, in dozens of mediums, will be on display in the James J. and Louse R. Glasser Galleries, the Chann Gallery and the Green Gallery. After all, you can't spell "Tucson, Arizona" without "art." On display through Sunday, Sept. 16 at the Tucson Museum of Art, 140 N. Main Ave. Hours are 10 a.m. to 5 p.m. Tuesday through Sunday and 10 a.m. to 8 p.m. on the first Thursday of each month. $12 adults, $10 seniors 65+, $7 college students with ID and youth 13-17, free for kids 12 and under, veterans and museum members.
Details here.
Dog Days of Summer menu.
Bring your four-legged friends to Café Botanica inside the Tucson Botanical Gardens from now until Sept. 30 for a chance to try out the café's new menu. Your dog can enjoy an upgrade from their bone; the café is debuting three different options from a dog-friendly menu, such as a hamburger, chicken and rice or a handmade dog biscuit. For the humans, the café offers a menu including apricot-glazed chicken, sweet cornbread strata and more. To visit the café, pay the Tucson Botanical Gardens' admission, which for non-members is $15 for adults and $8 for children over 3. Admission for dogs is $3 a day and $10 for additional dogs. 7:30 a.m. to 4:30 p.m. 2150 N. Alvernon Way.
Details here.


Events compiled by Emily Dieckman, Dylan Reynolds, BS Eliot, Ava Garcia and Jeff Gardner.