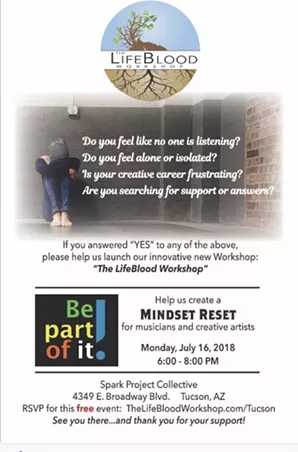 Tucson is brimming with artistic talent, but resources to help support that talent are not as abundant. The LifeBlood Workshop was formed by a group of artists and experts to help facilitate discussions around mental health in the creative field.
This evening from 6 to 8 p.m. the LifeBlood Workshop will be in Tucson to offer a two-hour conversation with the goal of brainstorming solutions and decreasing the stress and anxiety associated with the artistic lifestyle.
According to their website, "the rate of depression and suicide among musicians and creatives is three times that of non-musicians. The pressure of being in the public eye, of having to create and still have some sort of personal life can lead to bad decisions. Professionals may prescribe medication for the symptoms, but it doesn't solve the underlying problem."
The workshop will include a panel discussion, followed by a Q&A session and small group settings where artists will be given the chance to tell their stories and talk about their issues in a judgement-free environment. It's a chance to receive advice from the experts and other attendees who share the same experiences.
The LifeBlood team, which consists of career artists and health and wellness experts, have a singular goal: to provide an alternative approach in helping the creative community manage mental and physical wellness.
The workshop will be held today, July 16, from 6 to 8 p.m. at the Spark Project Collective, a nonprofit organization that produces local art to raise money for local children with disabilities. Their building is located at 4349 E. Broadway Blvd.
The workshop is free, but the LifeBlood team requests that attendees RSVP beforehand at thelifebloodworkshop.com/tucson/
Tags: LifeBlood , artists , musicians , creative , art , music , mental health , wellbeing , awareness , workshop , Image