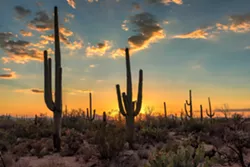 The thought of spending time in sweltering temperatures has a way of postponing all outdoor excursions, but don't let the triple digits prevent you from satisfying your desert wanderlust this summer.
The kids are out of school, so there's no better time than the present to use some of that vacation leave you saved up. Go ahead, plan a mini road trip close to home and pack your trekking bags. Here are a few great staycations for your family.
Kartchner Caverns State Park:
This limestone cave is home to unique ecosystem in Southern Arizona that's known for its seasonal bat colony. But don't worry about getting bombarded with guano, guided tours of the bats' living quarters are suspended until the winged inhabitants migrate in October. Temperatures inside stay around 70 degrees, making it a comfortable environment for a 90-minute tour of underground passages. Your kids will become experts on stalagmites and stalactites by the end of the day. Take advantage of the park's $3 tour discount for adults and active military until October 31. $7 entry fee per vehicle. June 1 through Dec. 18, 9 a.m. to 5 p.m. Dec. 19 through May 31, 8 a.m. to 6 p.m. Check
azstateparks.com/kartchner
for trip information.
Copper Queen Mine:
Take a trip to Bisbee to see one of the most lucrative mining digs in the industry that produced copper, lead, silver, gold and zinc from the Mule Mountains until it closed in 1975. It was the hub of Bisbee's economic growth for almost a century. Retrace the steps mineworkers trudged with a group tour led by former miners who have first-hand insight of what life was like when the mine was in operation. Visitors gear up in hard hats and go down more than a thousand feet on a rail tram into the depths of the 47-degree mine. Head into the core of Bisbee's history with sensible walking shoes, curiosity and maybe even a light jacket. $13 adults. $5.50 ages 6-12. Daily, 9 a.m. to 3:30 p.m. Call (520) 432-2071 for reservations.
Patagonia Lake State Park:
This is the ultimate getaway, overflowing with wildlife and recreational opportunities. Its pristine waters are perfect for water sports, swimming and licensed fishing. Hike a half-mile trail located at the end of the campgrounds for prime birdwatching at Sonoita Creek Preserve. Overnight guests can book RV, tent or cabin sites just minutes away from the sandy beaches. Stay for a couple hours or a few days for an active family outing. $15-20 entry fee per vehicle. 8:30 a.m. to 4:30 p.m. Monday through Thursday. 7 a.m. to 10 p.m. Friday and Saturday. 7 a.m. to 6:30 p.m. Sunday. More at
azstateparks.com/patagonia-lake
.
Colossal Cave Mountain Park:
Do you want to enrich your family with an educational experience? Ancient Hohokam dwelled in the area thousands of years ago and left behind historical artifacts. They farmed on the land that's known today as La Posta Quemada Ranch. Choose from different daily tours of Colossal Cave, just under 30 miles southeast of Tucson in the Rincon Mountains. Discover the cavern's legends, humans history and structural geology as you savor its 70-degree atmosphere. You and your family can also hike, horseback and picnic above ground in the park's 2,400-acres. Following the scenic trails is a great way to see desert wildlife. Check out
colossalcave.com
for events and tours. Free park admission. 8 a..m. to 5 p.m. Every day.
Salt River Tubing:
If you feel like basking in mother nature this time of year, inner tubing down the Salt River in the southern Tonto National Forest just makes sense. Park for free and take a shuttle for a two, three or five-hour float. You might even get lucky and see wild horses grazing along the 68-degree water banks. The two hour drive north of Tucson to Mesa is worth the commute when you're looking for a place to relax in an ethereal oasis with spectacular views. $14 for shuttle. Daily, 9 a.m. to 6:30 p.m. Visit
saltrivertubing.com
for safety requirements and info.