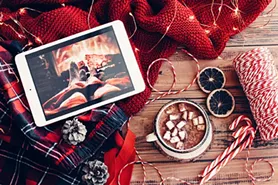 It's summer, it's over 100 degrees outside, but it's time to pull out the hot chocolate and get cozy in your fuzzy socks, because Hallmark's Christmas Keepsake Week starts this Friday, July 13.
This year's line up includes 14 days of cheesy, corny, candy-cane-y films that are bound to get you in the Christmas spirit. Get ready for weird looks at the grocery store as you hum those Christmas carols that are stuck in your head, but don't worry, because you are having more fun than they are anyway.
The first day of Hallmark Christmas Keepsake Week 2018 includes:
12/11c: Miss Christmas
2/1c: Sharing Christmas
4/3c: A Royal Christmas
6/5c: The Christmas Cottage
8/7c: Finding Santa
The Christmas in July films run from July 13 to July 26. Find the full Hallmark Christmas Keepsake Santa-filled
schedule here.
There should be just about enough holiday spirit to last you the next six months until actual Christmas rolls around.