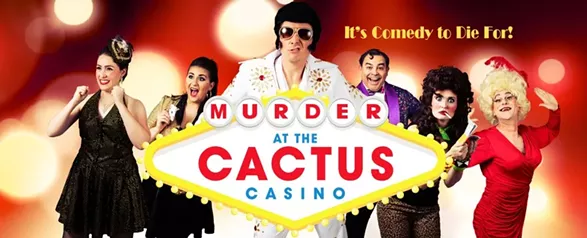 Murder at Cactus Casino.
We don't know what it is about murder, but for some reason it's not fun when it happens to you, but true crime television shows and musical murder mystery dinners are some of the best ways there are to spend time. You can watch Forensic Files anytime, so if you're looking for something a little more special, head over to the Gaslight for this interactive murder mystery wrapped around a multi-course meal. Guests in the audience will be given new identities for the evening, and are welcome to interrogate the suspects. (If they're not too busy eating, that is. You can choose roast chicken, halibut or pasta primavera for your entrée, and there's a salad and dessert as well.) The person who comes closest to solving the mystery gets a prize! 6:30 p.m. Monday, July 9 through Monday, Sept. 24. Gaslight Music Hall, 13005 N. Oracle Road, Oro Valley. $39 includes dinner. Discounts available for students/seniors/military.
Details here.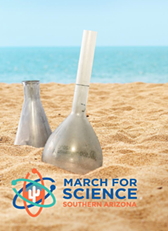 Summer Science Trivia.
Borderlands Brewery and the March for Science Southern Arizona are teaming up again for the summer for these family friendly events that will feature all of the science—and all of the fun—that you could ever hope for. Plus, there's great local beer. The first hour of the event features an as-of-our-print-date unannounced speaker (but, for some context, past events have included PhDs speaking about everything from "the evolution of complexity" to mosquitos). Then, put your thinking cap on (and maybe put your growler down) for an hour of science trivia. 7 p.m. Monday, July 9. Borderlands Brewing Company, 119 E. Toole Ave. Free.
Details here.
Desert Sun.
In the heat of the summer, when you might be wondering why exactly you still live in Tucson anyway, there's nothing like a desert sunset to remind you that we actually live in a pretty, beautiful, wonderful place. Unfortunately, it's about a million degrees at sunset, so driving to the edge of town or hiking up A Mountain to get that perfect view isn't as fun as it is in the fall. Enter the Madaras Gallery: Throughout the month of July they'll be featuring Southwest and desert sunset paintings by Diana Madaras herself. Gallery hours are 9 a.m. to 5 p.m. Monday through Saturday and 11 a.m. to 5 p.m. Sundays. Madaras Gallery, 3035 N. Swan Road. Free entry.
Details here.


Events compiled by Emily Dieckman, Dylan Reynolds, BS Eliot, Ava Garcia and Jeff Gardner.