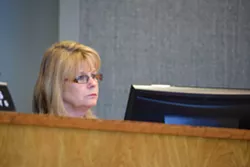 County sources tell The Weekly that Lori Hunnicutt, the woman behind the online Arizona Daily Independent, is going to work for Pima County Supervisor Ally Miller.
Hunnicutt, who regularly publishes glowing articles about Miller and attacks on Miller's political enemies, filled out paperwork this week for the new job.
Hunnicutt did not respond to an email asking if she would continue in her role as as an editor and publisher of ADI (which has been called the "Ally Defense Initiative" around county offices for some time) while drawing a county paycheck.
A collection of emails from former staffers
unearthed by the Tucson Sentinel
showed that Hunnicutt would run stories by Miller's office before publishing them.
Miller has employed dozens of staffers in her six years in office, as her management style often drives away workers.
As one of them told us after leaving the office
: "She's a horrible manager. She doesn't know how to ask people to do things in a professional manner. It's just kind of bark, bark, bark."