Lovers: Part One.
Talk about tension. In this play by Brian Friel, two teenagers in 1966 Ireland meet up on a hilltop to study for their exams. As if that's not stressful and high-stakes enough, they're also there to discuss their unplanned pregnancy. As Joe, who is studious but not ready to be an adult and Maggie, whose free spirit is getting little anxious about the idea of motherhood, figure out what to do, they talk about all of the things any parties to an unplanned pregnancy would: Family, religion, cultural expectation and their changing feelings. Holly Griffith directs this play, one of Friel's lesser-known productions that's almost as full as witticisms as it is wistfulness. 7:30 p.m. on Friday, July 6; 2 p.m. and 7:30 p.m. on Saturday, July 7; 2 p.m. on Sunday, July 8. Scoundrel and Scamp MainStage Theater, 738 N. Fifth Ave., suite 131. $28 GA, $20 under 30 and $15 students and teachers.
Details here.
First Friday Family Fundays at the Farmers Market.
It's not just a tongue twister! It's also a summer tradition that's finally back. Heirloom Farmers Market and Trail Dust Town are teaming up for an event that has more than just 20 or so local produce, coffee, salsa, eggs, pastries, grass-fed meats and gluten-free goods vendors. There's also $6 wristbands for kids that give them unlimited access to the Ferris wheel, carousel and train at Trail Dust Town. This week also features a hula hoop area provided by Cirque Roots, a "Spin the Wheel" game, face painting and Spanish story time. While you're there, you can also check out the shops and enjoy the music of Mariachi Estrellas de Tucson. Put on your seatbelt and get ready for some fun coming your way! 8 a.m. to noon Friday, July 6. Trail Dust Town, 6541 E. Tanque Verde Road. Free entry.
Details here.
Summer Safari Nights at Reid Park Zoo.
Let your hair down at the zoo, where the theme of this week's program is "Explore Your Wild Side." If you have anything in common with goats, snakes, bearded dragons, giraffes, rhinos, otters or ferrets, it's that you all like to play. Connect with all of these animals over your common interest and learn a little more about what makes them tick. The Just Intervals provide the live entertainment, and as always, there'll be food and drink specials, animal biofacts and local vendors onsite. In celebration of Independence Day, all military (with ID) will receive free admission. 6 to 8 p.m. Friday, July 6. Reid Park Zoo, 3400 Zoo Court. $10.50 adults, $8.50 seniors, $6.50 children 2 to 14 and half off for zoo members.
Details here.
Sylvester Stallone's Over the Top Birthday Bash.
In honor of the big 72, Casa Video is celebrating Sylvester Stallone AKA the Italian Stallion AKA John Rambo AKA Weaver from Antz in the only way they know how: Screening one of Stallone's most ridiculous movies, Over the Top. It's an '80s movie about a competitive arm-wrestling truck driver. What more do you need to know? 7 to 9 p.m. Friday, July 6. 2905 E. Speedway Blvd.
Details here.
Anarbor.
It's hard to hate a band based on real teen angst. And this Phoenix foursome have been at it since high school, churning out pop punk and then alternative pop (think 311 meets Green Day post "I Walk Alone") for nearly a decade. Whether "18 and Crazy" and pissing off her rich girlfriend's parents or chasing down "Dopamine," Anarbor pump each song with heart. It's easy to see why they are longtime soundtrack faves, having appeared widely across television networks and in the movies—they are the snot-nosed sound of awkward, rebellious but ultimately remorseful suburban-raised pups. And yes, one of them really did off himself during the struggle of adolescent self-discovery. Although myriad bands have come up with a similar sound before them, Anarbor has never made the mistake of playing what others want to hear—so they remain, forever young and self-deprecating and painfully true to themselves. With Silent Rival and The Sometimes. Friday, July 6. 191 Toole. Doors at 7 p.m. $10. 16+. —B.S. Eliot.
Details here.
Spacefest IX.
Do you like astronomy? Robotic space exploration? Commercial space development? Space history? Basically, are you at all interested in outer space, in any way? Of course you are. Outer space is crazy! Hear from speakers ranging from NASA life scientist John B. Charles to software developer and part time musician Rick Armstrong to space historian Jay Gallentine. Get autographs from the dozens of real, live astronauts who will be an attendance! Go to panels on Apollo, Neil Armstrong, space threats and space exploration! Space is the Place, of course, but if you can't be up there, you might as well learn as much as you can about it from down here. Thursday, July 5 to Sunday, July 8. JW Marriott Starr Pass Resort, 3800 W. Starr Pass Blvd. Daily admission is $30, Sunday admission is $12, kids 12 and under are free, and the STEAM portion of the conference is free and open to the public. VIP packages that include food and other special perks are also available.
Details here.
Apollo 13.
This is much more than just a screening of the sci-nonfi classic, it's a must-attend for any space fan. Spacefest is teaming up with JW Marriott Starr Pass for an outdoor, under-the-stars extravaganza. It features a pre-show Q&A with Astronaut Fred Haise, Apollo 13 Flight Directors and Controllers Gerry Griffin and Jerry Bostick and the man who may have saved the Apollo 13, Sy Liebergot. 7 p.m. Friday, July 6. 3800 W. Starr Pass Boulevard. $6. Please bring your own seating.
Details here.
Happy Hour Hobble at Gentle Ben's.
Need extra motivation to go for a run? Look no further than this free social run that ends at Gentle Ben's. Run three to four miles around the University of Arizona with the Southern Arizona Roadrunners, and then refuel with craft beer and snacks at Gentle Ben's. 6:30 to 9 p.m. Friday, July 6. 865 E. University Blvd. Event is kid-friendly.
Meet the Distiller
with Jeff Smith from OHSO. Ever wondered how a new kind of alcohol is created? Cocktail bar Series19 is offering a chance to get the behind-the-bar scoop on the creation of your favorite drink. Get to meet Jeff Smith, the creator of the Arcadia line of flavored vodka from OHSO Distillery. Smith will give a talk on distilling, and then customers can give the vodka a try for themselves after hearing about it with $8 Arcadia cocktails all night long. 7 to 9 p.m. Friday, July 6. 13 N. Stone Ave.
Details here.
First Fridays at the Arizona History Museum.
For this week's first Friday, the Arizona Historical Society put together an exhibit called Todos Unidos: The Hispanic Experience in Flagstaff. Don't know much about Flagstaff's Hispanic community? Until recently, it was largely overlooked. Breann Velasco uses oral histories, photographs, newspapers, city documents and an array of other sources to chronicle the group's history—from immigration at the turn of the 20th century to the vibrant culture that exists there today. 6 to 7 p.m. Friday, July 6. Arizona History Museum, 949 E. Second St. Program included with museum admission, which is 2-for-1 on first Fridays from 4 to 8 p.m. Regular admission prices are $10 adults, $8 65+, $5 students, $4 ages 7 to 17 and free for veterans, AHS members, kids 6 and under and—through Labor Day—active military.
Details here.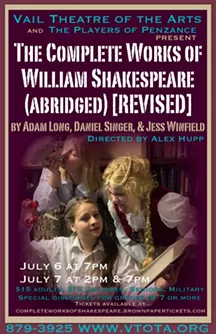 The Complete Works of William Shakespeare, Abridged, Revised.
It's never been done before, and we can't say for certain how it's going to be done now, but three actors are coming together to perform the complete works of William Shakespeare in just 97 minutes! Just kidding. It has been done before—it's actually one of the world's most frequently produced comedies, and with good reason. There's traditionally lots of improvisation, but, just to give you an idea, they do
Titus Andronicus
as a cooking show,
Othello
as a rap song and a big portion of the rest of the shows as a football game. Ah, the theater. 7 p.m. on Friday, July 6 and 2 p.m. and 7 p.m. on Saturday, July 7. Vail Theatre of the Arts, 10701 E. Mary Ann Cleveland Way. $10 to $15.
Details here.
Scarlet Street.
From the visionary—and I do not use that term lightly—director of Metropolis and M comes a film noir from 1945. It's part crime, part drama, part mental trickery against every character involved. The Screening Room is proving that Fritz Lang, the man who made some of the best silent films of all time, is also pretty damn good at making talkies. 7 p.m. Saturday, July 7. 127 E. Congress St.
Details here.
Board Game Night.
Amazing Discoveries hosts this event every week, giving everyone in Tucson the perfect opportunity to try out a new board game, and maybe even make some new friends. It's a different game every week, and players can get 10 percent off the featured game if they decide they want to take it home to play some more. There's also a raffle with promo items at the end of the night. Look, if you don't branch out now, you're just going to be playing Monopoly for the rest of your life. And probably the same game of Monopoly. 2 to 8 p.m. Saturday, July 7. Amazing Discoveries, 2410 E. Broadway Blvd. Free.
Details here.
2018 Old Pueblo Jiu-Jitsu Open.
If you've ever met anyone who's into Jiu-Jitsu, you probably know that, like most people who are into Jiu-Jitsu, they're not just sort of into it—they're REALLY into it. If you're a person who does Jiu-Jitsu, then you, of course, know this better than anyone. Go check out a bunch of people doing what they love, and see if you don't get sucked into the world of this martial art yourself. There are divisions for kids, men and women, as well as go and no-go divisions. There are also prizes ranging from $200 to $400 for division winners. 9 a.m. to 5 p.m. Saturday, July 7. Pueblo High School, 3500 S. 12th Ave. $10 entry.
Details here.
JourneyDance First Saturdays.
What is a JourneyDance? Well, first of all, it's the kind of dance you don't need any dance training to do, so you can start by breathing a sigh of relief. All bodies are welcome! Instructor Joanna Carichner is both a yoga teacher and a certified JourneyDance facilitator, if that gives you an idea of what to expect. More specifically, it's a dance form that combines freestyle and structured movement to help you get out of your mind and really inhabit your body and the moment. We think it's safe to say everyone could stand to do a little more living in the moment, so why not give it a try? 4 p.m. Saturday, July 7. Tucson Yoga Studio, 150 S Fourth Ave. $15 in advance or $20 at the door.
Details here.
Preschool of Rock.
Do you have a 2- to 5-year-old who's demonstrating the qualities of a budding musician? Give your child a fun head start to his or her music career with this class taught by Paulina Kervran. (Don't worry, you're not leaving your kids with Jack Black.) They'll have the chance to try out guitars, drums, keyboards and more, and even to try out rhythm exercises and participate in sing-alongs. Special guest presenters (oh, maybe you are leaving your kids with Jack Black) are on deck to make the experience as engaging and fun as possible. It's a perfect way to prepare your child for music lessons in the future. 10:15 to 11 a.m. Saturday, July 7. Drum & Drummer School of Music, 210 S. Plumer Ave., Suite 150. Free. $7.
Details here.

Havana Nights!
Third Anniversary. If you haven't been to Cuba, here's your chance to channel the island nation's spirit with brews and food. 1912 Brewing Co. is hosting a Cuban-themed party with Latin-inspired beers and new bottles to celebrate the brewery's third anniversary. In between the beers, grab a Cubano sandwich or empanada from DC Jumbie Caribbean Food Truck, which will be at the party from 2 to 8 p.m. 11 a.m. to 10 p.m. Saturday, July 7. 2045 N. Forbes Blvd.
Details here.
Cool Summer Nights.
The Arizona-Sonora Desert Museum is keeping this week's theme simple, with a focus on the creatures of the night, like bats, owls, kangaroo rats and Whitney Houston, the Queen of the Night. "Becoming Animal" the black-and-white photography exhibit, gives you a chance to explore the similarities between animals and humans, while the Packrat Playhouse will let your kids do the same thing. The stingray touch exhibit will also be open, and staff members from the Herpetology Department will be doing two live animal presentations with venomous reptiles. As always, Museum Docents will be roaming the grounds ready to drop some knowledge on you at every turn—so watch out! 5 to 9 p.m. Saturday, July 7. Arizona-Sonora Desert Museum, 2021 N. Kinney Road. $22 GA, $20 seniors 65 and up, $9 kids 2 to 12, $18 military, $17 Arizona/Sonora resident.
Details here.
Run with the Roosters Kinney Road 5-miler.
No one wants to run five miles in the middle of the summer. UNLESS it's at the crack of dawn, before it gets too hot. If you're not a runner, this might sound crazy, but there's something truly incredible about starting a run at 5 a.m. and being done by 6 or 7. Most people haven't even started their days, and you're already off the hook for doing anything the whole rest of the day! Everyone Runs, Everyone Walks is hosting this run at Old Tucson, and they make the deal even better by providing custom shirts, a Mexican breakfast, photos, a slip 'n slide (!!!), overall and 5-year age group roster trophy awards. 5:05 a.m. or first light on Sunday, July 8 (but get there early! They have to close the road at 4:40 a.m. for runners' safety). Packet pick-up times, dates and locations are available at everyoneruns.net. Old Tucson, 201 S. Kinney Road. $35+.
Details here.

Second SundAZe Family Day at the Tucson Museum of Art.
Hooray for the Stonewall Foundation, which is giving Arizona and Sonora, Mexico residents free admission to TMA on the second Sunday of each month. This week, the museum is kicking off its celebration of the Arizona biennial with a focus on art-making activities. Try printmaking in the Margaret E. Mooney Hall, making cyanotypes in the upper plaza and the hall, and making a contribution to a collaborative mural on the upper plaza. 10 a.m. to 5 p.m. Sunday, July 8. Tucson Museum of Art and Historic Block, 140 N. Main Ave. Free.
Details here.
MRCH.
Phoenix's MRCH might make ultimate summer jams. Breathy pop hooks arch across electro beats and melodies, nodding to at once to Blondie, Mazzy Star and Broken Social Scene, while spicing the genre with up-to-the-minute recording and production. The dynamic, married duo plays live guitar, drums and synth while singer Mickey Pangburn vamps, eggs on and powers her way through one dreamy hook-fest after another. "Highway drivin' in the city streets/Gonna get my baby up to speed." Repetitive and hypnotic, like an aural Warhol, MRCH lures the listener in and drives him on a cross-town, top-down cruise through fifty years of pop music. There is a deceptive simplicity to the melodic ramblings, and a loyal adherence to groove which makes every song on their most recent album, Reactions, compelling. And at the band's core is an unquestionable lover's interlanguage, with palpable and sustaining chemistry. With Fringe Class, Infinite Souls and Sur Block. Club Congress, 311 East Congress St. Sunday, July 8, Doors at 8 p.m. 21+. Free. —B.S. Eliot.
Details here.

Cup Café summer menu and promotions.
The unrelenting heat may be getting old, but Cup Café is keeping things fresh with a new summer menu. The restaurant is unveiling a new collection of summer dishes, like calamari bánh mi, shrimp bruschetta, salmon faro salad and Santa Cruz flank steak. The restaurant is also offering deals special for the summer: "Uncork Sundays" mean half-off all bottles of wine (except from the reserved list) from 4 to 7 p.m. Sundays, and a special deal celebrates local shows by taking off 10 percent of your meal if you show a paid ticket for a local venue's show the night of your meal. Open 7 a.m. to 10 p.m. every day. 311 E. Congress St.
Details here.
Desert Sun.
In the heat of the summer, when you might be wondering why exactly you still live in Tucson anyway, there's nothing like a desert sunset to remind you that we actually live in a pretty beautiful, wonderful place. Unfortunately, it's about a million degrees at sunset, so driving to the edge of town or hiking up A Mountain to get that perfect view isn't as fun as it is in the fall. Enter the Madaras Gallery: Throughout the month, they'll be featuring Southwest and desert sunset paintings by Diana Madaras herself. Throughout July. Gallery hours are 9 a.m. to 5 p.m. Monday through Saturday and 11 a.m. to 5 p.m. Sundays. Madaras Gallery, 3035 N. Swan Road. Free entry.
Details here.


Events compiled by Emily Dieckman, Dylan Reynolds, BS Eliot, Ava Garcia and Jeff Gardner.