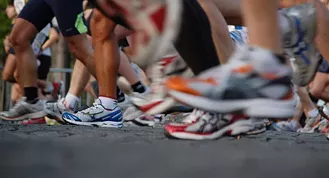 10th Annual Fourth of July 5K Freedom Run/Walk.
If you have the day off for Independence Day, it might be tempting to sleep in. But think of it this way: The earlier you get up, the longer your holiday will last. This short race takes you through the Golf Links Sports Complex, so you can start your day the scenic way. Event host Tag Run has once again partnered with the That Others May Live Foundation, a nonprofit that provides support, scholarships and immediate tragedy assistance for the families of U.S. Air Force rescue heroes. It's a run that will have you feeling good in more ways than one. 6:30 a.m. (bib pickup begins at 5:30) Wednesday, July 4. Golf Links Sports Complex, Ramada #3, 2400 S. Craycroft Road. $35.
Details here.
Celebrate 4th of July, Old West Style.
It's hard to believe it's been nearly 250 years since our Founding Fathers looked Great Britain in the eye and said, "They're ain't enough room in this continent for the two of us." And so it is in their honor that you might consider spending your holiday in the wild, wild West. Kids 11 and under get into Old Tucson for free from July 4 through 8, and there will also be a pie-eating contest, a special Independence Day show in the Grand Palace and an all-American menu that includes smoked turkey legs and lots of other barbecue selections. Oh, and don't forget about the daily patriotic flag ceremony, to help your holiday live on into the weekend. 10 a.m. to 5 p.m. Wednesday, July 4 through Sunday, July 8. Old Tucson, 201 S. Kinney Road. Adult tickets are $19.95, with discounts for seniors, military and Pima County residents available.
Details here.
Let Freedom Sing.
One of the best things about America has always been its diversity. And the diversity of our nation's cultures and backgrounds will be mirrored in this star-spangled event, which features everything from patriotic standards to all-American pop hits. The Arts Express choir and band will be making music alongside stars like Armen Dirtadian, Crystal Stark, Chach Snook, Dennis Tamblyn, Domingo DeGrazia and you (because there's no way you're going to make it through this whole show without singing along at least a little bit). 3 p.m. Wednesday, July 4. Centennial Hall, 1020 E. University Blvd. GA is $10 for adults, $5 for teens 12 to 18 and free for kids under 12. Reserved seating in the front is $25 for adults, $10 for teens and $5 for kids.
Details here.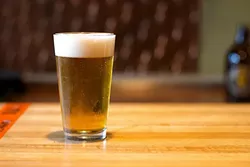 Fourth of July Beers and Bayou with Sentinel Peak.
Celebrate the Fourth of July with a Cajun twist at Saguaro Corners. The restaurant will host an all-you-can-eat Cajun feast and a Sentinel Peak Tap Takeover. For $25, guests can snack to their hearts' content and wash it all down with a Sentinel Peak draft. There will also be raffles and a chance to meet the brewers. The Sentinel Peak Fire Truck will also make an appearance. And during it all, guests can enjoy the music of Andy Hersey. 4 to 7 p.m. Wednesday, July 4. 3750 S. Old Spanish Trail.
Details here.
Tucson Saguaros vs. Ruidoso Osos.
Okay, we have to admit that this week, our beloved baseball team's opponent has a team name that fits perfectly with their city name. But somehow, the "Tucson Fawns" or the "Tucson Prawns," just doesn't have the same intimidating effect. Let's stick with the majestic, impressive team name we already have. Anyway, these two teams are playing a Fourth of July game at Reid Park, from which you'll be able to see the A Mountain fireworks perfectly. All of the truly patriotic Americans will be at baseball games on the Fourth… don't you want to be one of them? 5 p.m. Wednesday, July 4. Reid Park, 900 S. Randolph Way. $7.50.
Details here.
Star Spangled Spectacular in Marana.
Looking to spend your Independence Day in Marana? They've got just the event: Live music, tons of food trucks and, of course, a fantastic fireworks display. While you wait, the kids can play on the inflatables, while the adults can exercise their childlike sense of wonder by exploring the on-site beer garden. Bags and containers will be checked prior to entering the park, and this year, there are designated smoking areas. Oh say does that star-spangled Marana yet wave? Yes! It does. 5 to 9 p.m. Wednesday, July 4. Crossroads at Silverbell District Park, 7548 N. Silverbell Road. Free.
Details here.
Diamonds in the Sky Celebration.
As we celebrate our country's 242nd birthday, we can also come together to celebrate the third annual iteration of this Independence Day event at Kino Sports Complex. With an All-Star game by the Sun Belt College Baseball League, live music by Rhythm Edition, and as many $1 hot dogs as you could ever want (well, four per transaction), this isn't the sort of thing you want to miss. Of course, games, face-painting, bounce castles and a fireworks display are also on the agenda for the evening. Make sure to adhere to the clear-bag policy! 5 to 9:30 p.m. Wednesday, July 4. Kino Veterans Memorial Stadium, 2500 E. Ajo Way. $4 GA, free for kids 5 and under. Parking free for people who buy tickets in advance (at the Kino admin office or box office), and $5 otherwise.
Details here.
'A' Mountain Fireworks.
The big show for most Tucsonans features fireworks atop 'A' Mountain, followed by the firefighters putting out the blazes of various size around the mountain. You can enjoy the rocket's red glare when the show starts shortly after 9 p.m. on Wednesday, July 4. There are plenty of places to see it all from downtown, including convention center parking lots and various parking garages. Just bring your own chair!
Events compiled by Emily Dieckman, Dylan Reynolds, BS Eliot, Ava Garcia and Jeff Gardner.