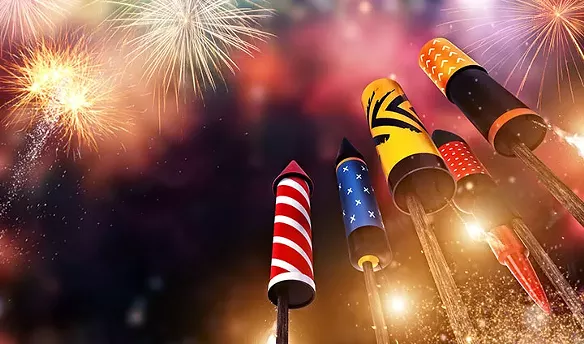 It's that time of year again as grills get fired up, firework tents are popping up all over town, dogs are looking for good hiding spots, and Americans are getting ready to celebrate the 4th of July.
Here are five tips each with five tricks to make sure you have a fun, safe and legal Independence Day:
1. Make sure your fireworks are legal:
Aerial fireworks such as sky rockets, roman candles and firecrackers are all
illegal
in Arizona outside of professional shows. But don't fear, according to Tucson Fire Department, you can still set off smaller fireworks from June 24 through July 6. Be careful with all firework use as if damage occurs to someone else's property, the firework launcher is responsible.
Legal fireworks include: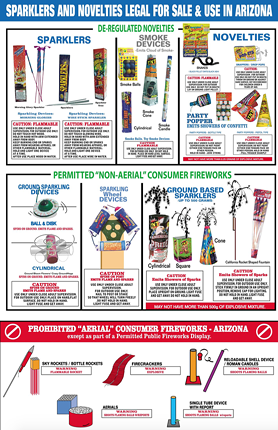 1. Sparklers, including Morning Glory and sparkler trees
2. Smoke Balls, Smoke Cones, Smoke Candles
3. Ground-based sparklers, including ball and disk, and cylindrical sparklers
4. Sparkling wheels
5. Ground Sparklers (up to 500g) including cylindrical, square, cone and California Rocket fountains.
2. Leave it to the pro's:
There are many professional shows happening locally where you can sit back, relax and let someone else do the work:
1. "A" Mountain Fireworks - Downtown 9 p.m.
2. Star Spangled Spectacular - Marana 5 to 9 p.m.
3. Diamonds in the Sky Celebration - Kino Sports Complex 5 to 9:30 p.m.
4. Oro Valley July 4 Celebration - Naranja Park 5 to 9:30 p.m.
5. Red, White and Boom - Sahuarita Lake Park 6 to 10 p.m.
Check out
our event calendar for a full list
of local shows.
3. Stay safe while handling fireworks:
Safety must be a priority when using fireworks as they can be a danger to yourself, others and the environment. Tucson Fire Department recommends you always use fireworks in a clear area away from your house or any plants. Fireworks are only allowed on private property, never in the street or on any city property. Be careful of all plants and dry brush as Smokey the bear says only you can prevent wildfires.
1. Know your fireworks: always read all of the packaging instructions
2. Never give fireworks to children
3. Alcohol and fireworks is not a good combo, don't drink and firework.
4. Never carry fireworks in your pocket (ouch!)
5. Wet finished fireworks before throwing away
4. Pets and fireworks do not mix:
If you lose your dog during a fireworks show, make sure to check underneath your bed. The 4th of July is a time of celebration and fun for people, but not so much for pets. Fireworks can be terrifying, too many hotdog scraps can make tummies rumble and July's high temperatures can be dangerous for our furry friends. Keep your pets safe with
these five tips:
1. Make sure the name and phone number on Fido's tag is correct.
2. Even though many fireworks celebrations are in parks, leave your pets at home.
3. Make sure they have a safe and comfortable room or crate to stay in during fireworks shows.
4. If your pet is out celebrating with you in the heat, make sure to give them plenty of water and stay away from being over generous with the table scraps.
5. Never leave your pet in your car.
5. Firework Fun Facts:
1. It is thought that fireworks were invented in China as early as 200B.C. where bamboo shoots were burned until they popped to scare away evil spirits.
2. In England, the earliest recorded fireworks show was at Henry VII's wedding in 1486.
3.
Apparently,
in the U.S. fireworks have been part of Independence Day celebrations since the very beginning:
"On July 3, 1776, the day before the Continental Congress adopted the Declaration of Independence, John Adams wrote a letter to his wife in which he presaged the role of fireworks in Fourth of July celebrations. 'The day will be most memorable in the history of America,' he predicted. 'I am apt to believe that it will be celebrated by succeeding generations as the great anniversary festival. It ought to be solemnized with pomp and parade…bonfires and illuminations [a term for fireworks]…from one end of this continent to the other, from this time forward forevermore.'"
4. Disney World uses the most fireworks out of anyone on Earth. Therefore it is the happiest place.
5. Sparklers sparkle at between 1800 and 3000 degrees Fahrenheit, yowza!
So, everyone, Happy Independence Day! Have a safe, legal and most importantly fun Fourth of July.