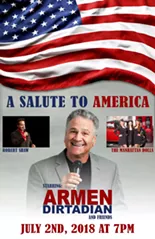 A Salute to America.
If you thought the Gaslight Theatre wasn't going to do anything for the Fourth of July, we don't know what you were thinking, but you were definitely wrong. They're going all out with this tribute to all of the brave members of our country's armed forces, hosted by Armen Dirtadian and with a world-class band. You'll hear all of your favorite patriotic hits, from "America the Beautiful" to "You're a Grand Old Flag," and everything in between. The Manhattan Dolls and Robert Shaw will make special guest appearances, and…well, let's just say there might be a few other special guest appearances as well. 7 p.m. Monday, July 2. The Gaslight Theatre, 7010 E. Broadway. $22.95 adults, $12.95 children, $20.95 seniors/students/military.
Details here.


Mondo Monday:
So it's Monday and you are wishing it was Friday? So you wish you were from the future? So you need to see
Yor, The Hunter from the Future
at The Loft Monday, July 2 at 8p.m. Watch Yor, a powerful warrior from the future, battle for the survival of his people in a prehistoric land on the big screen. This is one you sure don't want to miss as it is also the kick off to The Loft's Trashy Time Travel month of July! 3233 E Speedway Blvd, $3 tickets, $2 members.
Details here.


Events compiled by Emily Dieckman, Dylan Reynolds, BS Eliot, Ava Garcia and Jeff Gardner.