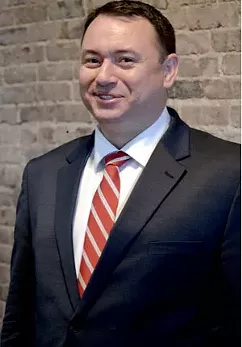 Motivated by a dissatisfaction with the inner workings of Washington, Army Instructor Brandon Martin has thrown his hat into the ring for Martha McSally's open seat in Congress.
He believes it is his mission to educate the people of Congressional District 2 about what roles the federal government is supposed to have.
A self-titled "constitutional conservative," Martin's main campaign policies include beefing up national and border security, shrinking other federal spending and transferring power from D.C. to the states.
On a recent segment of "Wake Up Tucson," Martin warned radio listeners about the future of America and where conservatives fit into it: "We are losing our Republic, we are losing our freedom, we are losing everything that our founders fought for."
When host Chris DeSimone asked him to give examples of what is being lost, Martin mentioned Second Amendment rights, free speech and national sovereignty. The hashtag #MartinforFreedom has become a highlight of his campaign.
The southern Indiana native first got a taste for the Southwest when he was stationed at Fort Huachuca in 2004. After serving in Afghanistan for 15 months, he came back to the U.S. and moved to Sierra Vista, where he has lived permanently since 2006.
Since he first arrived, Martin has been heavily involved in the operations of Fort Huachuca. He has worked as an instructor, a civilian training coordinator and has managed some of the post's budgets.
"I understand how the Army post and the Air Force base work, I understand what their missions are," Martin said in a phone interview. "So I want to bring meaningful missions to Davis Monthan and to Fort Huachuca. I want to make sure that there's a national security plan that supports the post and the base so that way they stay operating for those national security interests."
Martin sees these two military operations as a top priority. He believes they are the key to stopping crime at the border, and they are necessary to keeping Arizona communities safe.
He does not put federal programs like Medicare and Social Security in the same light. If elected, Martin hopes to make strides towards ending these programs permanently and turning the responsibility over to state governments or private entities.
"It really goes back to 'What is the ability of the federal government?'" he said. "Nowhere in the Constitution have I read that it is to provide health insurance for people. It just drives up costs unnecessarily."
Martin said he wants to get the government out of the health insurance business and start looking at alternative options. If healthcare was privatized, he believes that more options would be available to the consumer, which would effectively drive down prices.
On Wake Up Tucson, Martin laid out his plan for dissolving Social Security. He wants to guarantee those aged 62 and older the money they were promised through the program, then give those between the ages of 18 and 62 the option to "opt-out." Anyone who opts out would be paid back any money they put into Social Security in full. For everyone 18 years old or younger, Social Security would not be offered to them at all going forward.
When asked about his stance is on federal education funding, Martin said he wants to work towards dissolving the U.S. Department of Education as well.
"I believe education is a local matter, and I don't believe it's a federal issue," he said. "I think that what we could start by doing is to put a sunset clause on the Department of Education, let that expire over a period of five to 10 years and get rid of the Department of Education."
Martin believes the Department of Ed is ineffective. He said the funding from that department should be split up among the states, in addition to opening up federal lands, which would provide extra funds gained to put towards education.
Referencing the recent $1.3 trillion spending bill passed under a Republican Congress, Martin said, "Both sides have gone past their authority and their scopes and we have to cut down our spending, and that's across the board."
Martin mentioned that he supported Sen. Rand Paul's plan for a 1 percent cut to the federal budget over the next five years, and was frustrated by the fact that only 21 Republicans voted "yes" on it.