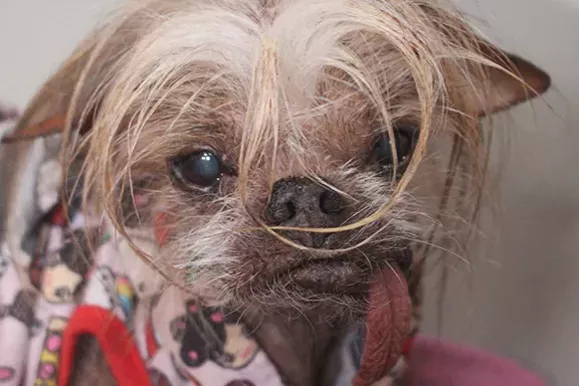 Note from Lulu's human:
Lulu is a Chinese crested and Japanese Chin mix. She is the last of her clan. She is 15 years old and a lovely old girl. When she gets excited she twirls around. She lives on a goat farm in Arivaca but gets to come to Tucson every Tuesday and Friday with her owner. She comes in to visit her friends and play at the cat facility of Saving Animals from Euthanasia. She is also an ambassador for Southwest Hairless Rescue.
In our first annual Ugly Pets Contest, you have sent us dogs, cats and frogs (alongside a few missives informing us that we are cruel and heartless because all pets are beautiful in their own way).
After putting the editorial team to work judging the entrants, we have a winner alongside some of our finalists.
The winner, Lulu, gets a $25 gift certificate for a local pet shop. And her owner, Jacque Howell, also gets a $25 gift certificate, but for something a little more appealing to humans.
Thanks to everyone who entered. While your pets may be a little ugly on the outside, we know they have beautiful hearts on the inside.
2nd Place: Josie
Note from Josie:
My name is Josie. I am a Chinese Crested mix. I am about 7 years old. I have a very happy life in Tucson Arizona, where I am part of a pack of 7 other rescued dogs. I wasn't always so happy. For the first few years of my life I lived in a cage in a puppy mill having babies. I was rescued and came to live with my foster mom. She fell in love with me and adopted me and the rest is history. I am very good at helping other fosters that come into our home to adjust to their new life after rescue. I teach them to howl with the pack and to respect my sunning spot.
3rd Place: Roxi
Note from Roxi's dad: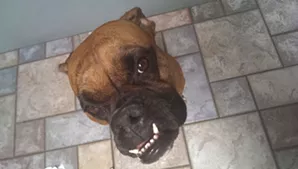 This is Roxi, aka "The Bean". She is a 7 year old boxer mix, she was the runt of the litter, now she weighs in at about 75 pounds. She has a bit of an under bite, a slightly twisted jaw and a very long tongue. Some have said that she could win the ugly dog contest, but when I look at her all I see is absolute perfection!

Honorable Mention: Majesty
Note from Majesty: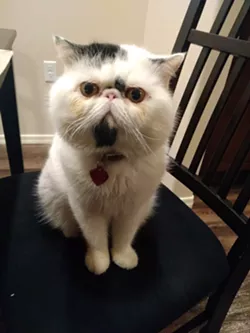 I'm Majesty, an ugly cat born on the island of Puerto Rico. Not so long ago, I would sweat profusely everyday while I watched the birds as a kitten from the comfort of my window. Now, I'm a solid man cat living in Tucson. My owners say that I'm an Exotic Shorthair (whatever that means). Anyways, I eat food 60 times a day, even dog food. I have a pretty basic schedule... I'm a simple man really. I sleep, wake up, sneeze in my owner's face, watch the birds, watch people, watch my dumb dog friends play; you name it! Of course, all of these daily activities are regularly interrupted for a nap. What is the meaning of life without naps? Some of my passions (besides looking funny) include snoring and staring off into the sunset.You know what else!? I've ridden on a plane a few times too, and I love it.
Bonus submissions: Donny, Ms. TeeTee, Peanut and Rodente
Note from Donny's human:

This is my Plains Spadefoot Toad Donny. He honestly isn't that ugly and shouldn't be entered...but the problem is that he just can't photograph well. Enclosed is a collage of the best pictures of him, which still aren't great. He just doesn't love the camera the way some frogs do.
Note from Ms. TeeTee:
I am a Crestie Mix from Tucson, Arizona. Due to some bad breeding I was just not cute enough to sell. Somehow I ended up in the streets. I was owned by a homeless man for a few years. He had several other dogs. We all got taken away from him and I ended up in a rescue and I got a great new home with my foster mom. I was up for adoption for months, but alas, no one wanted me. I guess I am just not cute enough. But my foster mom fell in love with my wonderful spirit, great sense of humor, and my cute little tongue.
Note from Peanut's human: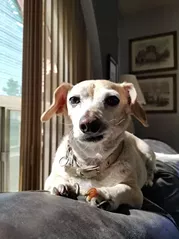 This is Peanut. We found her 10 years ago, curled up on our porch during a monsoon. She has hair like Brillo pad, nearly-impossible-to-cut nails, and had two rows of teeth! She can perform gymnastic feats to get food off the counter and will gladly act as " doggy dust buster" should you drop anything. She's covered in bumps and lumps, but we have a vet in the family that takes good care of her. We love Peanut, in all her wart covered glory!
Note from Rodente's human:
I love my dog to pieces. But, she has been the subject of ridicule and so many "she's so ugly she's cute" Her name is Rodenté (french for rodent) I think she is so beautiful. She has saved my life so many many times.