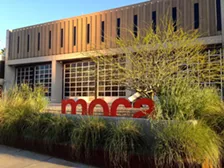 5 Minute Film Fest. For their monthly Free Third Thursday event, the Museum of Contemporary Art is showing a series of local films that are, you guessed it, five minutes. The films range from documentary to experimental to animation. Including films from local artists: Jazzy Boho, Michael Fenlason, Eric Flores, Scott Graham Bell and many more. 6 to 8 p.m., Thursday, June 21. 265 S Church Ave. Details here.

The UA Art Museum. The UA's art museum has several exhibitions up right now, including one on the evolution of women printmakers, one filled with art created by local high schoolers, an exploration of light and photography by multidisciplinary artist Richard Slechta and The Altarpiece of Ciudad Rodrigo, one of the most important works to come out of 15th-century Spain. Check them all out, by do try to see the exhibit "X, Y, Z: Art in Three Dimensions" which features art that's been formed, molded, carved, cast or otherwise arranged. As you take in the art, you can reflect on what it means to take up space, cast a shadow and have texture. "X, Y, Z" is on display through Sunday, June 24. Museum is open 9 a.m. to 4 p.m. Tuesday through Friday, 9 a.m. to 5 p.m. Saturday, noon to 5 p.m. Sunday and closed Monday. UA Museum of Art, 1031 N. Olive Road. $8 GA, $6.50 seniors and groups of 10 or more. Free for members, students with ID, faculty, staff, military personnel, AAM members, visitors with a SNAP card or tribal ID and children. Details here.
Meet the Artists: Miniatures by Members of SAME.
If you're ever feeling small, there may be no better remedy than to head over to the Mini Time Museum of Miniatures to feel big for the day. If you check out the museum's Community Corner, where work by members of the Southern Arizona Miniature Enthusiasts' club is on display, you may end up feeling a little lousy and untalented, just knowing what sorts of incredible and tiny art your neighbors are capable of. Once a week, a SAME member is at the museum demonstrating their work and taking questions from the public. This week, it's Tori West! 10 a.m. to 1 p.m. Thursday, June 21. Mini Time Machine Museum of Miniatures, 4455 E. Camp Lowell Drive. $9 GA, $8 military, $6 students and youth 4 to 17, free for kids 3 and under.
Details here.
Red, White and Tuna. Live Theatre Workshop is presenting the third in a series of plays that take place in Tuna, the (fictional) "third-smallest" town in Texas. Hey, every town deserves to have some sort of claim to fame. Tuna's just happens to be more of a claim to lame… Anyway, Keith Wick and Stephen Frankenfield play a cast of more than 20 wacky characters, both male and female, both young and old, Portlandia-style. In this chapter of Tuna's tale, new town residents crash Tuna's Fourth of July High School class reunion, and fireworks and funny stuff ensues. Thursday, June 14 to Saturday, July 21. Shows are usually at 7:30 p.m. Thursday through Saturday and 3 p.m. on Sundays. Live Theatre Workshop, 5317 E. Speedway Blvd. $15 to $20. Details here.

Events compiled by Emily Dieckman, Dylan Reynolds, BS Eliot, Ava Garcia and Jeff Gardner.