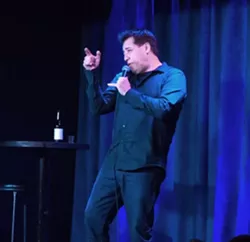 Comedians Willie Barcena and Gilbert Esquivel bring their combined 50 years' experience in high-energy showmanship and irreverent comedy to the Fox stage at 8 p.m., Saturday, June 16. Tickets for the 18-and-over show are $22 to $47 via foxtucsontheatre.com.
Barcena, a 12-time guest on the "Tonight Show," is known to fans for appearances on several TV series, tour stops all over the world, and his own stand-up specials on Comedy Central, Showtime and Netflix. He also hosted Si TV's "Latino Laugh Festival: The Show." Barcena's live appearances are said to cover everything we wouldn't talk about in polite company.
Esquivel was practically born a road warrior having grown up following the harvest seasons across the U.S. with his migrant-worker family. Now he tours comedy clubs, colleges, prisons and the Las Vegas strip, taking time out to reap TV credits and produce a commercially available DVD, "Thou Shalt Laugh."
Take the kids retro!

See "Fast Times at Ridgemont High" at 7:30 p.m., Saturday, June 23, and "Clueless" at 7:30 p.m., Saturday, June 30 at Fox Tucson Theatre. Tickets are $7, $5 for students and free for Fox members and kids under 12. Did you know that the Fox was Tucson's first air-conditioned entertainment venue?
Unscrewed Theatre Lives: Neighborly and kid-friendly.

As its new space in Midway Business Park #39 (4500 E Speedway Blvd.) is being transformed, Unscrewed sustains its fans with free weekly comedy, hosted by two of its new neighbors. Four of the company's house teams cycle through shows at 7 p.m. Fridays at Dedicated Gluten-Free Coffee Shop, #41, and 7 p.m. Saturdays at Mama's Famous Pizza & Heros, #79. Visit the Unscrewed Theatre page on Facebook for updates on the new theater's progress.
Unscrewed also offers summer camps for teens. Two, one-week sessions for ages 12 to 14 and 15 to 18 take place July 16 to 20, and 23 through 27. Kids can have fun building listening and communication skills, teamwork, character development and the selflessness of making their scene partner look good, all within the context of improv games that encourage noisy, active fun. Visit unscrewedtheater.org/teen-workshops/ for more information and to register.
Date Night!

With the fabulous Lola Torch as host, the Tucson Libertine League features a DJ throw down as the sound track for its burlesque show at 9 p.m., Saturday, June 16 191 E. Toole. Tickets are $12. DJ Herm and B-Rad provide the beats. Acorn B-Corn perform live music with dancers and Lela Rose is a special guest among the dozen dancers featured.