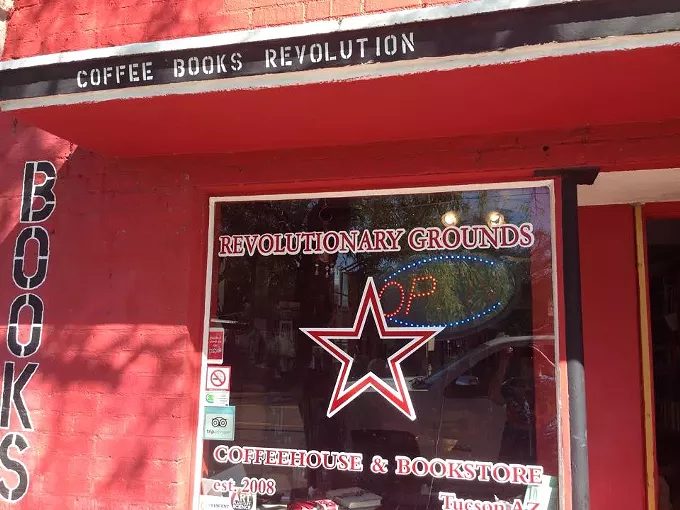 Revolutionary Grounds Coffee and Books, the small storefront on Fourth Avenue near the corner of Fifth Street, is closing its doors for good on Sunday, June 17. But a revival may be on the horizon.
Usually invisible to the average tourist, the store's red brick walls housed a vibrant local community for the past decade. The place has a collection of leftist and progressive books that are sourced and sold by the owners, Joy Soler and her husband, attorney Paul Gattone.
You can find paperbacks about Marxism, sustainable food sourcing, feminist memoirs, the Civil Rights Movement and much more stacked on the shelves, adjacent to a comfy seating arrangement with faces of famous activists accenting the wooden tables.
Soler received a letter earlier this month from her landlord, Andy Fried, announcing that their rent has been increased, again. The monthly bill has risen to a point where her family can no longer afford it.
"Our landlord sent a letter saying that he had increased [the rent] back in January and we hadn't been paying it, but he never told us he increased it back in January." Soler said.
The letter Fried also said he will be increasing the rent again this month, and he expects back rent to be paid from January through May on top of this increased price.
"He wants us out, so he told us if we leave by the 30th he'll forgive one month's rent," she said.
Soler and Gattone have spent the last decade building up their business at 606 N. Fourth Ave. She told me they have been paying on a month-to-month basis, and although Fried has been slowly raising the rent in the last couple of years, it has never been this drastic until now.
Fried, who also owns the connected buildings where Tallboys and Myztic Rootz are located, told the Weekly he increased the rent because Pima County increased the value of the property, and therefore his property tax.
Records from the Pima County Treasurer's Office showed the property tax was $8,636 in 2017, compared to $7,856 in 2013.
Soler's regular customers are understandably upset about this news, which she announced through the store's Facebook page a few weeks ago. Revolutionary Grounds hosts a lot of niche community events and outreach activities that can't be found elsewhere.
"A lot of people feel like [Revolutionary Grounds] is a safe space on the Avenue for folks who don't have many safe spaces to go to," she said.
At their last open mic poetry reading, which happens every second Friday of the month, Austin Thacker stood at the front of the room and told the intimate group he wished to have met them when he was telling a happier story. His poem was about a life-long friend who recently died as a result of mental illness. He was calm and deliberate as he delivered each line.
Afterwards, Thacker told me this was the first poetry reading he's ever done, but writing has always been an escape for him. Before he jets off to Grand Canyon University this upcoming fall, he hopes to return to Revolutionary Grounds at wherever their new location may be.
Soler is considering a reopening in South Tucson, at a place where they can potentially separate the cafe and bookstore into two buildings that live across the street from each other. This option means the shop would be closed for several months, so she is still actively looking for the best route to take.
"This is our only location, it's not like we have this, that and the other thing," Soler said. "This is it, and it's a labor of love."
Soler appreciates the support her family has received from the community so far, but is still overwhelmed by the work that lies ahead. On top of owning and managing the store, Soler has two young children and takes care of two elderly family members. Her daughter sat with us in the store, unconcerned, as we spoke about the uncertainty of the future.
Before Soler and Gattone took over the storefront, it was Rainbow Planet Coffee House, the only LGBTQ cafe in Tucson. Soler said it was a fabulous place, but the previous owners were struggling for a while and she and Gattone faced challenges in getting the operation onto solid ground while keeping the same staff employed.
Soler has renovated and repaired the shop on her own dime over the last decade. She's especially going to miss the garden that thrives behind the store; it's been her oasis, she says.
Downtown revival takes its toll

Soler complains the last decade of revitalization in the downtown area has hurt her small business. The installation of curbside parking meters, the Fourth Avenue underpass construction, the lengthy installation of rails for the SunLink Streetcar and the District on 5th student housing apartments all created periods of little to no business for the coffee shop. The challenges put Soler and her family in a dismal financial position as property values and rent continue to increase.
"When they opened [District on 5th], they said for sure that was going to bring so much business because there were so many people coming to the Avenue, but there was no business here," Soler said. "That business goes to Main Gate or elsewhere."
Soler has seen less than a handful of people from the student housing apartments come into her shop. Even though they tried advertising to students, she said it hasn't helped at all.
Fred Ronstadt, the executive director of Fourth Avenue Merchants Association, said despite these recent events at Revolutionary Grounds, the population of locally owned businesses is stable. To his knowledge, Soler is the first business owner on the Avenue to be priced out of her space by a landlord.
If Tucson residents don't want to see other independent business folding, Ronstadt said they should come down to Fourth Avenue and support the merchants.
Mike Peel is the Southern Arizona director for Local First Arizona. His nonprofit promotes local businesses in the state and advocates for a strong local economy. Peel also writes a column about localism for Inside Tucson Business. He believes businesses like Revolutionary Grounds can't survive without the community's support.
He believes shopping local also creates a multiplier effect. Independent businesses spend their money in the local economy and they tend to utilize local suppliers, so there are secondary and tertiary jobs created from these relationships.
Peel said promoting "smart growth" in the economy and practicing localism are the most important things to work towards in the future. Growing and expanding the economy is a good thing, but it needs to be done with small independent businesses in mind so they don't get shut out by national chains with deep pockets. Supporting local business has a ripple effect across the local economy.
"Up to four times more dollars stays in our community when we spend it at locally owned independent businesses compared to chain businesses," Peel said.
Soler said she was worried about the future of independent businesses on Fourth Avenue.
"Fourth Avenue is very eclectic, at least it has been until now. " Soler said. "It's not luxury stores, it's not chain markets, it's very eclectic, small, individually owned businesses and I think the folks who are looking to rent the luxury student apartments are looking for a different kind of shopping experience. And maybe that's what's going to come."
To find updates about the shop's relocation and fundraising efforts, go to
facebook.com/Revolutionary.Grounds/