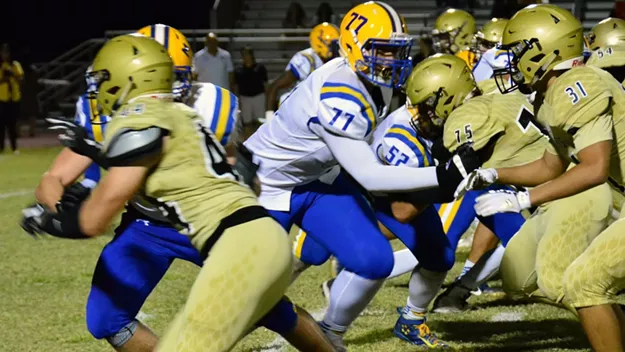 Jordan Morgan received the news he's waited his whole life to hear at a summer football camp at Northern Arizona University last weekend.

Morgan, who's been a larger-than-life figure on the Marana Tigers' offensive and defensive lines over the last two years, was gifted the opportunity to play the sport at its highest collegiate level.

The 6-foot-5-inch, 265-pound lineman—the younger brother of former Tiger and current Pima Aztec John Morgan—has the opportunity to continue his playing career, receiving an offer at the NAU camp to play for the University of Arizona.

Morgan's good fortune came during the camp, when first-year offensive line coach Joe Gilbert pulled him aside, sending the rising senior into a state of euphoria.

"He told me that he was going to offer me a full ride scholarship to U of A, and I was speechless," Morgan said. "It was pretty mind blowing. So yeah, it's a pretty big step forward for me."


Morgan's only offer coming into the Flagstaff trip was to Football Championship Subdivision program South Dakota State.
He picked up an offer from the host during the weekend-long trip, then received the news from Gilbert.
For Morgan, getting offers from big-time programs that he grew up idolizing is a dream come true.
He's thrilled that his work in practice and in the weight room has paid off, with an opportunity to play on the sport's biggest stage.
Morgan's efforts have stood out for first-year Coach Louie Ramirez, who praised the rising senior for his accomplishment.
"It is a tremendous opportunity to see our student-athletes get an opportunity to pursue higher education and continue to play the game they love," Ramirez said. "No matter what level it is, the continuous pursuit of knowledge and a degree is what matters the most!"
Morgan and his teammates are seeing the direct result of Ramirez's connections across the country—coming to Marana after stints at NAU and Truman State University.
That previous collegiate coaching experience draws coaches from across the country to the Northwest Pima County campus, allowing players that previously went unnoticed to receive deserved attention.
For Morgan, said attention is a definite morale booster, giving players greater motivation to go out each day and put in the extra work, so they can play at the next level.
"It's actually helpful because it pushes the whole team harder to get what they want to have in their future," Morgan said. "And the kids who want to play in college, they push harder this season this summer and in the fall. So, it's pretty cool to get that kind of attention as a player."