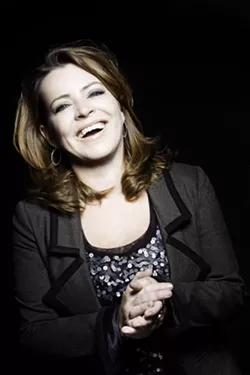 "I don't think you can make an unfunny person funny," says Kathleen Madigan. She's responding to notion that she's a natural comedian. Her comedic storytelling style belies her heritage; it's akin to the Celtic oral tradition of blarney, a colorful twist of truth and fiction, structured and paced for maximum side-splitting. Her gift is a keen eye for the ridiculous in everyday life.
Asked how her comedy has evolved since her first open mic at age 23, she says "I haven't changed in 30 years. I don't know if that's a good thing or a bad thing. I was never really dirty. I've never done celebrity gossip. I'm most apt to talk about travelling and silly stuff and my family," Madigan says. Her steady flow of fresh, true-ish tales turns out a growing audience for her TV and Netflix specials and 250 tour dates year after year. "It is a lot but it's still a lot of fun, so I guess when it's not any more I'll just stop."
She's performed on nearly every standup show ever made, and has done three Comedy Central specials, Madigan has no interest in scripted television series' or movies. "I don't like the waiting around," she says. "I don't like having all those coworkers and bosses. I just want to be my own boss."
She's won the American Comedy Award for "Best Female Comedian" and the Phyllis Diller award for "Best Female Comedian." She remains the only comedian in the history of NBC's Last Comic Standing to go unchallenged by any other comedian; no comedian would say they were funnier. And she's repeatedly voted an audience favorite by Sirius FM listeners.
Asked what current comedians are bubbling under big careers, she suggests Dusty Slay, Raanan Hershberg and Bryan Hamilton, all of whom she deems naturally funny. "I think you can sing or you can't. Comedy is sort of the same thing." But she holds out hope for the multitudes of hopefuls. "If you do have it, you go practice it and you get better and better. But if you don't have it, people can keep trying and have fun with it. As long as you're not getting paid to be funny, it doesn't matter."
Madigan performs at the Rialto Theatre at 8 p.m., Thursday, June 14. Tickets for the all-ages show are $26 to $42, available via rialtotheatre.com. She says she is looking forward to playing the Pop A Shot in the green room.