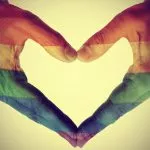 How does Pima County Public Library uphold its values? We celebrate diversity and find strength in recognizing differences. For 20 years, the Library's LGBTQ+ Services Committee has committed to providing welcoming, inclusive opportunities for everyone. Come see what it's all about at these upcoming events, including the brand new Stonewall Series!
The Stonewall Series


Saturday, June 2
(2–4 pm, Joel D. Valdez Main Library)
Fenton Johnson presents "The Future of Queer: A Manifesto"
Wednesday, June 20
(6–8 pm, Murphy-Wilmot Library)
Bill Konigsberg presents "Is Cis Gay White the New Straight"
Saturday, June 30
(2–4 pm, Woods Memorial Library)
Rachell Mindell presents "Bi is Not a Bad Word"
Rainbow Reads: A Positively Queer Reading Circle
Alternating between book chats and book clubs, this reading circle is held on the 3rd Sunday of the month at Exo Roast Co.
The
next book club
will be held on
June 17
. The book selection is Virginia Woolf's
Orlando
.
Rainbow Storytime

Wednesday, June 6
(11–11:45, Woods Memorial Library)
Thursday, June 7
(10–10:45, Santa Rosa Library)
Friday, June 22
(10:30–11:15, Sahuarita Library)
For more information, visit the
Library's website
or call Infoline at (520) 791-4010.