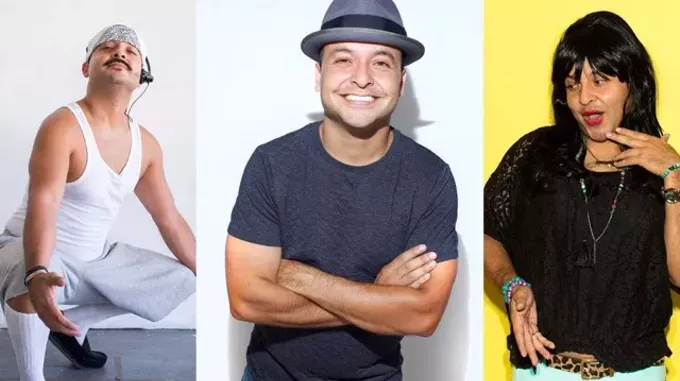 Best known for the breakout "Cholofit" videos on his YouTube channel "The Funny Drop," San Francisco comedian Frankie Quiñones comes to Laff's Comedy Caffe on Sunday, June 3, courtesy of
tucsoncomedy.com
, Chad Lehrman's new website promoting our town's expanding comedy scene.
Quiñones' stand-up set inspired Saturday Night Live auteur Lorne Michaels to recruit him to the Más Mejor lineup of Michaels' production company, Broadway Video. "The Funny Drop" chronicles the cholo life of Creeper, a cross between Noel Gugliemi, Richard Simmons and Mister Rogers.
"Creeper's a positive character," says Quiñones. "A lot of times cholo culture is associated with gangbangers, but (Creeper is) trying to get people safe, to get in touch with their spirit."
A cholo's look may represent a legacy of badassery, but Quiñones says that in real life, they take care of their families and communities. Their vehicle of choice is the low rider; their language is a kind of Spanglish version of hip hop flow. And the lifestyle has spread wide from its Southwestern U.S. origins. "In Japan it's huge," Quiñones says, recalling his tour stops there. "They have a whole cholo culture. They embrace the whole low-rider scene."
Creeper and other Quiñones characters, like the popular Juanita Carmelita, are based on his family. As himself, he's appeared on Comedy Central, Nickelodeon, and Funny Or Die.
"Standup is my first love," Quiñones says. "I've been doing (it) for 11 years, but now I come onstage three times. I do my standup as myself, and then I come up as Juanita and the Creeper."
The show is at 7 p.m., Sunday, June 3; age 21+. Tickets are $20 via
tucsoncomedy.com
or at 520-247-0988. There's a two-item minimum.
Local Jokels

Tucson Improv Movement now serves beer and wine. Special shows for Memorial Day weekend include gubernatorial candidate Kelly Fryer in The Soapbox at 9 p.m., May 25 and executive directors of TIM and Unscrewed Theater competing in the Game Show Show at 7:30 p.m., May 26. Comedy at the Wench celebrates its second anniversary at 9 p.m., Monday, May 28, with Phoenix comedian Leslie Barton and top locals Monte Benjamin, Chris Thayer, Matt Ziemak, Rory Monserrat, Steena Salildo, Aaron Panther and Kristofer Royer. The Mint's Tuesday open mic closes until fall after the 9 p.m., May 29 show reprising Kristine Levine's Critical Comedy,d in which she critiques comedians' sets. Clint Lapsansky's Monday open mic at The Garage is now at 9 p.m. Dogs are welcome.