Flip Schultz headlines Laff's Comedy Caffe shows Friday and Saturday, May 18 and 19. In the feature slot is Arizona comedian Jill Kimmel, who probably wishes we would all stop mentioning that she's Jimmy's sister. Although she's performed sketches on her sibling's show, she's compiled her own solid credentials in top comedy clubs and at U.S. military bases throughout Europe and the Middle East.
Flip Schultz' destiny was ordained at age eight when his comedy set swept the voting at a summer camp talent show. This was no fluke. He had for years made the rounds of family gatherings, bar mitzvahs, senior centers—wherever he found an audience.
At 18, he won the first open mic contest he ever entered. His commitment to standup survived college and a degree in theatre. He has since performed in comedy clubs throughout the world. Per his bio, he is now especially "sought-after" in Scandinavia. Yes! We feel cooler just typing Scandinavia.
John Stringer headlines and Jimmy Earl opens on Friday and Saturday, May 25 and 26. The Sunday, May 27 show has sold out.
Stringer brings some trademark Austin weirdness to the Laff's stage. His comedy is accessible, high-energy, physical and loud-ish, reflecting a singular resistance to maturity.
Jimmy Earl's name and coloring conjure the Ozarks and secret sausage recipes, but he often introduces himself as a Filipino from Canada. Humor ensues, often revolving around his family's unique cultural mélange.
Laff's shows are at 8 and 10:30 p.m. Fridays and Saturdays. Tickets are $12.50 and $17.50 via laffstucson.com.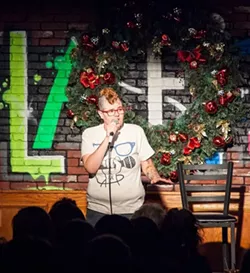 On losing the beloved Jen Finley

Few things focus the attention like a bald comedian onstage with a feeding tube, but even laid low with cancer at 32, Jennifer Finley was crazy funny. She joked mainly in one-liners—original, twisted, unique and, whenever possible, shocking. Tucson comics were united in love for her and inspiration they took from her commitment to comedy. Literally from her deathbed last week she made jokes for those gathered to say goodbye. There may never have been so much laughter at a funeral. Thanks, Jen.
Mic news

Kev Lee hosts the new"Sunday Night Live Stand-up or Shut Up Open Mic" at Flycatcher, 9 p.m. Sunday, May 20. Rory Monserrat and Cindell Hansen, hosts of a former mic at Loudhouse, reboot at 7 p.m., Tuesday, May 22 at the new Cans Deli, 340 N 4th Ave. Word is that both these mics will continue if there's support. You know what to do.