Your
Weekly
guide to keeping busy in the Old Pueblo.
Music and Shows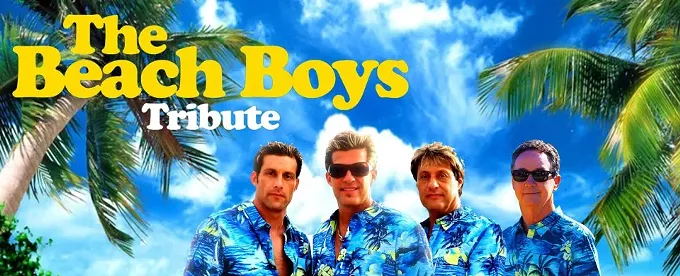 Beach Boys Tribute
. The Beach Boys used to wonder, "Wouldn't it be nice if we were older?" But now their loyal fanbase can't help but sometimes wonder, "Wouldn't it be nice if they were younger?" Enter Surf's Up, one of the world's first "true" Beach Boys tribute bands, made up of a couple brothers, their dad and their cousin who have spent the last 25 years working on their sandiest harmonies. 2 p.m. and 6 p.m. Sunday, May 6. Gaslight Music Hall, 13005 N. Oracle Road. $30 adults, $29 senior/student/military, $13 children.
Adrián Uribe and Omar Chaparro, Imparables, El Show
. You know when you laugh so hard that your stomach hurts and you can't breathe and it's actually kind of scary for a minute? Buckle up, because two of Mexico's favorite comedians are coming to Tucson with a comedy battle, featuring characters that include El Policia de Transito and La Litenciada. There will be wigs, there will be short-sleeved, button-up shirts paired with ties and there will be a lot of laughing until it hurts. 9 p.m. Saturday, May 5. Tucson Music Hall, 260 S. Church Ave. $45 to $95+.
Sounds of Spring
. Spring is upon us (if you didn't notice based on the way it's no longer borderline comfortable to wear a sweater outside), and what sounds more like spring than the sweet sound of a girls' chorus? That's right! Nothing! The more than 200 young women in the Tucson Girls Chorus, directed by Marcela Molina, will perform everything from traditional seasonal music to contemporary and folk pieces. 3:30 p.m. Sunday, May 6. Fox Tucson Theatre, 17 W. Congress St. $15 to $18.
Tucson Folk Festival
. Tucsonans, it's time to get folked up. Here are just some of the bands who will be playing at this year's festival: Pokey LaFarge (national headliner), Greg & Randal Morton Band & Special Guests (local headliner), Peter Alsop (children's show headliner), Kay Miracle, Minute2Minute, Igor, Odaiko Sonora, The Cat Wranglers, Bobby Rondstadt and Baba Marimba. And that's just a little slice of this deliciously acoustic pie. It's taking place at several different venues downtown, so it's kind of like Tucson's own little SXSW. Noon to 10 p.m. Saturday, May 5. 11 a.m. to 9 p.m. Sunday, May 6. Historic Downtown Tucson. Free.
Art and Museums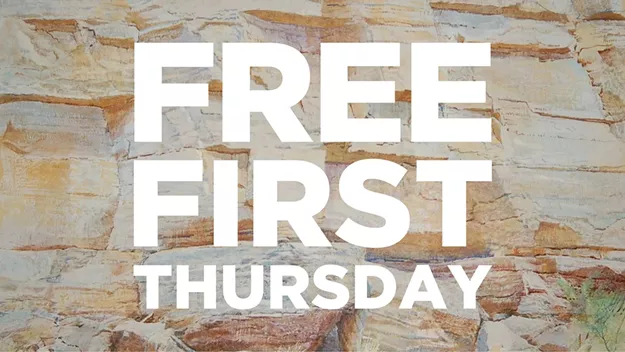 Free First Thursdays at the Tucson Museum of Art
. Happy First Thursday! TMA has an awesome lineup of events celebrating members of our community's immigrant and refugee population along with their artistic and cultural contributions. They'll be displaying Sanctuary Benches developed in tandem with local schools and other organizations, as well as a project documenting the stories of Tucson refugees, "Dismantling Fear: Voices of Tucson's Refugee Community." Artists from Syria, Bulgaria and Morocco will play live music, and museums exhibition tours will be offered in Spanish and Arabic. 5 to 8 p.m. Thursday, May 3. Tucson Museum of Art and Historic Block. Free.
Desert Artisans' Gallery Trunk Show
. Local artist-owned and operated space the Desert Artisans' Gallery is featuring artwork by painter Judith Probst for three hours midday. Probst creates desert scenes and depictions of animals, and she'll be displaying much of her work at this event. Stop by to check it out, have a chat with the artist and maybe even head home with a new piece! 10 a.m. to 1 p.m. Saturday, May 5. Desert Artisans' Gallery, 6536 E. Tanque Verde Road. Free.
First Fridays at the Arizona History Museum
. Here we go again! Two-for-one admission to the museum is available every first Friday of the month from 4 to 8 p.m., accompanied by a special program. While you're there, check out History Lab, in which community curators share family histories in a steampunk-y style, and 1987 Tucson, which displays photos capturing Tucson's transition from the Old West to the New City in a category all its own. 4 to 8 p.m. Friday, May 4. Arizona History Museum, 949 E. Second St. $10 adults, $8 seniors 65+, $5 adult students, $4 kids 7 to 17, free for kids 6 and under, museum members and veterans. And don't forget it's two-for-one admission!
Sunset Trays at Frog and Firkin
. Tipsy Picassos presents another opportunity to get trashed and create a treasure (though drinking in moderation might be more conducive to the art process for a beginner). This week, you'll combine utility with glamour by painting a gorgeous sunset scene right onto a useful tray. A regular sunset won't hold your bowl of ramen, and a regular tray won't hold your rapt attention. But this one will do both. 7 p.m. Sunday, May 6. Frog and Firkin, 874 E. University Blvd. $35.
Cinco de Mayo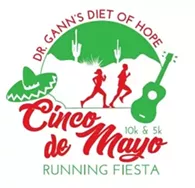 Dr. Gann's Diet of Hope Cinco de Mayo 10K, 5K and FitKidz Mile
. Like in any race, there will be awards for the top finishers in different age groups and categories, but here's a secret: You can just walk the full thing and you can still get a free T-shirt a free massage, a mariachi performance by Cholla High School Mariachi Club, a post-race breakfast burrito and a post-race eegee's. There's so much to gain—not to mention the gorgeous views and the right to brag all week about how you did a 5K/10K. There's a sombrero dash, a bounce house, piñatas and a water balloon toss for the kids too! The first race is the 10K walk, which begins at 6:30 a.m. Sunday, May 6. Cholla High School, 2001 W. Starr Pass Blvd. $40.


Family Friendly Cinco de Mayo
. If the Agave Heritage Festival has had you drinking tequila and mescal every night of the week and you're looking for a night that's a little more family-oriented, this event (also part of the festival) has got you covered. Try wild foods from across the Sonoran Desert, learn how to roast agave yourself, check out art installations and enjoy a pop-up farmers market. There's also live music and a screening of two documentaries,
Mesoamerican Diet
and
Agave Is Life
. And if you don't want to go stone cold sober for the evening, don't worry: There's also tequila tasting for the adults while the kids are playing tug of war and getting their faces painted in the kid zone. Noon to 4 p.m. Saturday, May 5. Tohono Chul Park, 7366 N. Paseo Del Norte. Free.
Cinco de Mayo
. Back in 1862, while the U.S. was entrenched in its own ugly civil war, France was trying to build an empire in Mexican territory. On May 5, about 6,000 French troops attacked the city of Pueblo. A ragtag team of 2,000 or so mixed-ancestry Mexicans, led by General Ignacio Zaragoza, defended the city until the French withdrew, vastly raising morale and support for the resistance. We'll definitely drink to that. In 2018, head down to Club Congress for a night of live music, dancing, bacanora, mezcal, xotol and tequila-infused cocktails. 8 p.m. on Saturday, May 5 to 2 a.m. on Sunday, May 6. Hotel Congress, 311 E. Congress St. $5.
Cinco de Mayo Chihuahua Fiesta
. Do you have a need for speed and/or a need for tiny dogs? Then you need to go to this event! Harley-Davidson Tucson is hosting a morning event to kick off Cinco de Mayo right, with a nacho bar that opens at 11 a.m., a Harley-Davidson chica bike wash, music, raffles and 30 percent off barware and wallets. And the best part? They're hosting KIIM-FM's 10th Annual Chihuahua Races! If you didn't register your dog in advance, you can still do it from 8:30 to 9:30 a.m. on the day of the event! Ready, set, dog! 8:30 a.m. to 3 p.m. Saturday, May 5. Harley-Davidson Tucson, 7355 N. 1-10 EB. Frontage Road. Free.
For a Good Cause
Delicious Dishes
. Donating to a good cause like the Make-a-Wish Foundation always feels good, but sometimes it feels even better knowing that your donation is going somewhere local, like to Make-A-Wish Arizona. One hundred percent of proceeds from ticket sales go to the foundation, and you get small plate offerings of unique culinary creations from chefs all over Tucson. Southern Arizona breweries and distilleries will also be there to make the night extra magical. You get great food and a kid gets a wish granted. What are you waiting for? 5 to 8 p.m. Sunday, May 6. Marriott University Park Hotel, 880 E. Second St. $60 adults, $100 couples, $30 kid 12 to 18, $10 kids under 12, $1,000 VIP sponsor tables, additional donations gratefully accepted.
The Centurions' Splish Splash Beach Bash
. Ah, the beaches of Tucson. There's so much sand, you can hardly see the water. The Centurions provide services to underserved members of the community, especially children, and this is your chance to have fun while you help them do it. There's dancing! There's a muscle beach playground! There's a casino and a costume contest and a buffet! Bring your sunscreen and your sandcastle building equipment! 6 p.m. to midnight. Saturday, May 5. Kino Sports Complex, 2500 E. Ajo Way. $95, $60 of which is tax-deductible.
LovePup Family Fest
. As it turns out, "Lovepup" isn't just a cute pet name for your favorite dog (though it can certainly be that as well). It's also a nonprofit that helps rescue animals, and an event that's all about how lovable pups are! Vendors will set up booths in Reid Park, and you can listen to music while the kids enjoy activities just for them. Feel free to bring your well-behaved pets, and know that you may leave the event owning more than you did when you arrived, thanks to the onsite pet adoptions. 5 to 9 p.m. Friday, May 4. Reid Park, 100 S. Country Club Road. Free.
Fun in General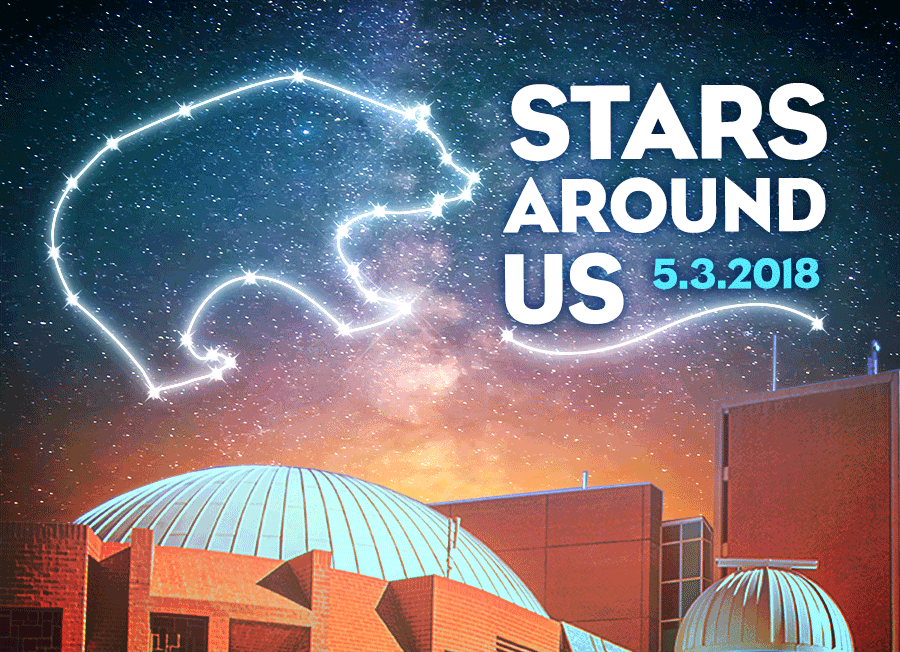 Stars Around Us
. If you're not excited about the UA's OSIRIX REx mission, are you even from Tucson? Now's your chance to be brought up to date, or, if you are up to date, another chance to geek out over astronomy. OSIRIS-REx mission leader Dante Lauretta will be talking about the spacecraft's mission to collect a sample from near-Earth asteroid Bennu later this year. There's also a wicked auction, where they'll be selling off experiences like a behind-the-scenes tour of the Kennedy Space Center, the OSIRIS REx facilities, Biosphere 2 and Kitt Peak. Yes please! 5:30 to 8:30 p.m. Thursday, May 3. Flandrau Planetarium,1601 E. University Blvd. $100.
Kentucky Derby at Rillito
. Ladies, put on your wackiest hats. And if you forget to wear one, then buy a derby hat at the Rillito. Because we're going to the races! Or at least we're going to watch the races on television at the Rillito Race Track. This is the 144th running of the Kentucky Derby, and there's no better way to commemorate it than heading to the track, where betting begins at 8 a.m. and the bar opens for mint juleps and bourbon flights at 10 a.m. (That way you have two hours to make rational decisions before you start your decline). Festivities begin at 11 a.m. Saturday, May 5. Rillito Park Race Track. $5 GA, $10 clubhouse admission.
Free Comic Book Day and Tucson Comic Book Collectibles Swap Meet
. Head over to Fantasy Comics to pick up some of the free comics they're giving away starting at 10 a.m. Then, while you're there, check out this comic-filled swap meet for everything from rare comics to the latest comics to whatever kinds of comics your heart desires—comical comics? Comet comics? Cognizant comics? There's plenty of vendors, plus Tim Champion on deck doing sketches. See you there! 10 a.m. to 6 p.m. Saturday, May 5. Fantasy Comics, 2595 N. First Ave. Free.

Mercado San Augustin Block Party
. What are we celebrating? The real question for Mercado San Augustin this weekend is "What's not to celebrate?" This weekend marks the seventh anniversary of MSA's opening, the annual Mercado Spring Bazaar and the opening of Tucson's newest shopping center, the MSA Annex. A weekend-long block party is definitely in order, with a pop-up market full of handmade and vintage goods, live music by local bands, a performance by Flam Chen and plenty of good cheer. 7 p.m. on Friday, May 4 through 4 p.m. on Sunday, May 6. Mercado San Augustin, 100 S. Avenida del Convento. Free entry.
Nightcrawler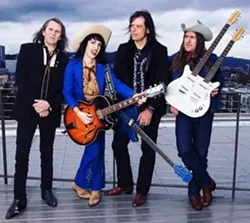 Jenny Don't and the Spurs
. Jenny Don't is one part vulnerable, one part come-hither. It's the former, that high, thin, sometimes flat, but always searching voice that makes her and the Spurs' maddeningly compelling. More than a half century after the Man in Black stuck dirty cowboy boots on country, Jenny and pals are jumpstarting a few sonic outlaw traditions. Marketing themselves as "outlaw garage country," this Portland combo affects a self-conscious rebellion that flowed naturally from Cash or Kristofferson. Jenny's voice isn't strong, grounded like Patsy's, and she isn't writing from experience. "The sunset is pretty on the Alamo, from what I've heard/But ain't never seen." No matter. She's ably backed by, and sometimes duets with, shiny surf rock and rockabilly pile-ups and cool turns that'd do Rank & File (punks turned country punks, ya know) proud. (Also, the band contains Sam Henry from The Wipers!). But there's sweet longing for the lonesome here, sometimes the fabled West of TV Land, sometimes the open railcars rattletrapping out near Las Cruces. The poignancy comes easy, then. Friday, May 4 at the Owls Club, 236 S. Scott. Doors at 7 p.m. 21+. —B.S. Eliot
Carter Winter
. His rich, quantized country voice is nothing compared to his ass magnetism. From tune one it's clear he's partial to brown booze and honky tonks with jukes stocked with George Strait and Miranda Lambert, where he can "roam free" before returning to his woman. At least in song. The instrumentation, the power-pop-country guitars and pedal-steel workouts underscore Winter's time-honored "tatted badass with a heart of gold" marine persona as much as his studied songwriting and chesty singing. He's best writing of simple pleasures—smoking weed, cornfield party nights, and running his fingers through the sky, "you can grade that." He sometimes drops into self-pity, appealing to higher powers to "do her proud," but either way it's all American proud, and oh-so-palatable. Who's to argue with common dreamscapes crammed of good-old days when love reigned and hard-living, loyal men ruled the land? With Billy Shaw Jr. Band and Drew Cooper on Saturday, May 5. The Flycatcher, 340 E Sixth St. Doors at 7 p.m. $12, 21+. —B.S. Eliot
Entresol
is a floor tucked between the first and second of a building. Rather, it's the low drone floating between your sub and waking consciousness. Entresol is a one-man experimental pop-noise-ambient project as subtle as it is prolific. Best heard through headphones in a darkened room, this is perhaps the only suitable music to accompany a first float tank session. Once the mind slows and subtle shifts come into focus, Entresol rumbles slowly, creaks and shines. Often recorded in "splits" of Static/Voice/Static, these 30-minute ambient compositions reward patient listeners with occasional vibraphone and guitar melodies inside well-sculpted white noise. By re-training the ear to pick up on slowly evolving variations, imagination engages. Erie and uncanny, the soundscapes of Joshua Isaac Finch can transport and hold listeners in creepy headspaces as well as open skies. With John Melillo on Sunday, May 6. Venue TBA. Doors at 7 p.m. Check Entresol Facebook for more info. —B.S. Eliot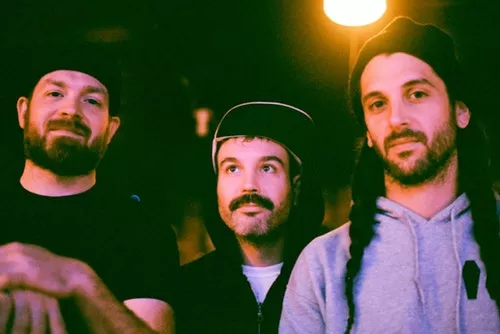 P ink Mexico
. Finally there's a band for alienated "Dumbfucks" who consider Nirvana's Bleach and the Butthole Surfers to be their version of classic rock! Sped up and slowed down feedback sets the tone for what morphs into a full-throttle fuzzy guitar anthems and slacked-out jams. "Somewhere I think I lost my mind, it's OK." The sweetly pysch (see melodic) vocals are suitably buried, drenched in verb, nose-dive guitars and crashing cymbals. Founded by drummer Robert Preston, this music actually succeeds where a band like, say, the Foo Fighters, fail miserably—it's self-deprecating and self-assured at once, filled of sweet nostalgia and bombast, driving painful screeches into the ears while bestowing upon listeners smart, flippant words. Yes, they're straight outta Brooklyn and Preston's an underground doll part, having banged skins for Shilpa Ray and WALTZ, but don't hold that against them. Should be as big as the Foo Fighters should be obscure. Wednesday, May 9 at Club Congress, 311 E. Congress. 8 p.m. 21+. Free.