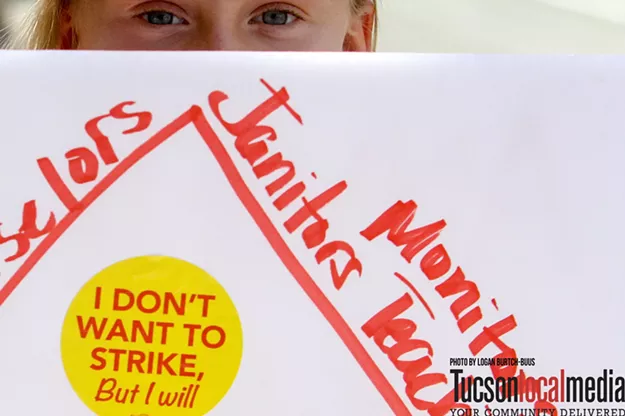 Although a number of local school districts announced they would reopen tomorrow, because lawmakers have yet to vote on a budget that increases education funding, districts reversed their decisions Wednesday afternoon.
As many schools across the state continue into their second week of teacher walkouts, leadership with Arizona Education United put out a video on Facebook yesterday saying that while they oppose the budget proposal, it's the best they're going to get right now, and teachers should return to their schools though the fight for better school funding shall continue.
The caveat was that educators would only return to school if the budget passed, and as of late Wednesday afternoon, it was still on the House floor.
"We need to continue our dedication to this fight, and I can tell you right now, my personal dedication to this fight has never been greater," AEU organizer Noah Karvelis said in the Tuesday video. "And we will continue to fight until we have $1.1 billion restored and we end the education crisis."
The Pima County districts that announced reopening in anticipation of an agreement that has yet to come included Amphi Public Schools, Marana Unified School District and Catalina Foothills Unified School District.
Tucson Unified School District hasn't said when schools will reopen, and Sunnyside Unified School District is closed the rest of the week.
MUSD said in a statement that they're talking with the Department of Education about what options are available to avoid adding days to the end of the school year.
Amphi Public Schools said the district will need to make up instructional time, but that potential options to minimize the impact to families is being explored. A few options they are looking at is extending existing school days by a few minutes each and cancelling scheduled early-out days.
Vail Unified School District reopened on Tuesday, with a teacher attendance rate of 77 percent.
"I would like to publicly thank all of our teachers—those who are in their classrooms today and those who are not. It was a difficult decision for many of them," Superintendent Calvin Baker wrote in a letter to parents.
The bill proposal on the house floor today includes a $371 million restoration to school funding, not the $1.1 billion the Red for Ed movement has been asking for to return education funding to pre-recession levels.
That annual funding, increasing incrementally to $371 million over five years, will fund things such as increasing pay for classified and support staff, textbooks, curriculum, technology and school buses. How that money is spent will be up to individual districts and charter schools.
The proposal also includes 20 percent teacher raises by 2020, $53 million for maintaining school facilities and $88 million cash funding for five new school buildings for districts that have been waiting for money to rebuild or expand school buildings. There's also funding for state universities, Maricopa and Pima Joint Technical Education District, and behavioral health specialists in districts and charter schools.
Christine Thompson, president and CEO of the education advocacy group Expect More Arizona, says the bill is a good start though more needs to be done to find revenue sources that support teachers and support staff, maintain school infrastructure and provide students with wrap around services.
"We need long-term investment, and we need support," she said. "A sleeping giant has been awakened, and we need to make sure everyone is paying attention as we go into an election cycle."
The state plans to pay for the increased education funding through a number of measures, the bulk of which would come from projected increases in state revenue.
One way that some Red for Ed supporters are aiming to find another revenue source to completely restore education funding is through a ballot initiative called the Invest in Education Act.
If the initiative wins the uphill battle of gathering 150,642 signatures by the July 5 deadline, voters could decide whether to raise income taxes on the wealthiest 1 percent of Arizonans to fund education. As reported in the
Arizona Republic
, leaders of the initiative expect it to provide $690 million in new education funding.
This story was updated at 6 p.m. Wednesday.