Your
. The Oro Valley Theatre Company is opening up their very first season with a bang—but maybe not exactly the kind of bang you'd expect. Our Town, written by Thornton Wilder, won the Pulitzer Prize for drama in 1938. It's performed on a mostly bare stage, with actors miming their interactions with imaginary props, and the main character is a stage manager who narrates the story, speaks to the audience and plays several characters in the story. The play turns 80 this year, but it's as fascinating and refreshing as ever, whether you're a theater person or not. 6 p.m. on Thursday, April 26 and 2 p.m. on Sunday, April 29. Gaslight Music Hall, 13005 N. Oracle Road. $20 adults, $15 kids, $18 senior/student/military.
. Are you ready to be awestruck and inspired, if a little bit depressed? Pretty widely considered one of Shakespeare's greatest achievements, and one of the greatest tragedies of all time, King Lear is just as revered as it is Lear-ed. This production is directed by Rogue Theatre co-founder and UA alumna Cynthia Meier, and musical direction and original composition is provided by Jake Sorgen. Each show will be followed by a discussion with the cast and director, so you can reflect on the play's deeper meanings, or even clear up any confusion you may have had about the plot. Thursday, April 26 through Sunday, May 13, with performances at 7:30 p.m. Thursday through Saturday and 2 p.m. on Sunday, plus 2 p.m. matinees on Saturdays May 5 and 12. The Rogue Theatre at the Historic Y, 300 E. University Blvd. $38, or $28 for previews on Thursday, April 26 and Friday, April 27. $15 student rush tickets available 15 minutes before curtain, pending availability.
. Steak is a kind of magic unto itself, and it's the kind of magic you can get all year at Pinnacle Peak. But the parlor show, with its mindreading magic led by magicians Nate Anderson and John Redmon, is more rare. Before you watch the wonder unfold before you, enjoy a three-course dinner of chicken, filet mignon or salmon; a baked potato or fresh vegetable; a garden salad; a dessert sampler (why should you have to choose just one dessert?); and either a glass of house wine, a draft beer or a golden margarita. Doors at 5:30, dinner at 6 and show at 7:30 p.m. Thursday, April 26. Pinnacle Peak, 6541 E. Tanque Verde Road. $55 per person or $100 for two people.
. Let's get theatrical! ARS music director Elliott Jones explains that this oratorio by Arthur Honegger didn't premiere in a concert hall—it premiered in a theater, which left more opportunity for elements like staging, a character followed through time (first sung by a boy soprano and later by an adult tenor) and a character singing from offstage. It really spans the board in terms of influences and sound, from Middle Eastern chords to jazz influences to Gregorian chants to dissonant modern sounds, Bach influences and—of course—a Hallelujah chorus. 7:30 p.m on Friday, April 27 at Catalina United Methodist Church, 2700 E. Speedway Blvd. 3 p.m. on Sunday, April 29 at Temple Emanu-El, 225 N. Country Club Road. $23 in advance, $25 at the door. Students admitted free!
. Founded in 2002, the TWC operates on a strict "come as you are" policy, which means the group ranges from experienced vocalists to first timers with an interest in singing. The a capella group's spring concert is called "The Earth is a Woman," and is a (belated Earth Day?) celebration of life, love and how everything we do, we do on our good ol' planet Earth. 7 to 9 p.m. Saturday, April 28. St. Mark's Presbyterian Church, 3809 E. Third St. Free to $15, pay what you can.
Tucson Noise Symposium: Noise Night Panels I
. Different sounds collide, and noises clash and symphonies form at the Tucson Noise Symposium, where talks, workshops and performances will explore the role of noise in our lives. Tonight, enjoy "panels" by Zachary James Watkins, a composer/guitarist/electronic musician; Lana Del Rabies, a Phoenix-based dark, rhythmic electronic music project and Amy Cimini, a violist and PhD in historical musicology. You'll also hear from the Non-Binary Noise Choir, a person called Ryan Chavira described only as "glimmer, shimmering of" and plenty of other noisemakers, movers and shakers. 7 p.m. to midnight. Friday, April 27. Dunbar African American Culture Center, 325 W. Second St. Free.
Miss Olivia and the Interlopers at Public Brewhouse
. Did someone say "a belty fusion of blues, gospel and soul?" Or did they say "huge selection of craft beer?" It's your lucky day, because someone out there said both! A local band with a mix of sounds and a local pub with a mix of brews make for a pretty good way to mix up your Sunday evening and see the weekend all the way through, if you ask us. 5 to 7 p.m. Sunday, April 29. Public Brewhouse, 209 N. Hoff Ave. Free.
Kyklo presents: Lust, Loss and Love: a Variety Show
. First things first: Kyklo means "circle" in Greek, and is also close to the Turkish word "Kukla," which means puppet or doll. Second things second: the local musical group Kyklo, which explores music and dance of the Mediterranean, first came together in 2014 for the UA School of Anthropology's centennial celebration. As for the event itself: This variety show will feature stories about love in the form of poetry, dance and musical pieces played on instruments ranging from a violin to a tambura to a bendir. Kyklo and their special guest performers from all over will have you thinking (and humming) about love in a whole new way. 8 to 10 p.m. Saturday, April 28. Exo Roast Co., 403 N. Sixth Ave. $8.
Art
Art Exhibit: Diane Bombshelter
. As you no doubt saw on the front page of the website, The Agave Festival is in full swing. If you're in the mood to see some art that employs a lot of the chiaroscuro technique, or contrasting light and dark, head over to Hotel Congress to check out Bombshelter's black velvet paintings. Black velvet paintings go way back, and involve painting right on the velvet to make the colors stand out vividly (so those black fuzzy posters with the white parts for you to color in when you were a kid don't count). Her work has appeared in galleries across several states, including the Velveteria in downtown Los Angeles. Also, it's been featured in a Jay-Z music video. 6 to 8 p.m. Friday, April 27. Hotel Congress, 311 E. Congress St. Free.

Indigo Days
. Creative Tribe, a community of creative women who like to get together and lead really neat arts and crafts workshops, is hosting a whole weekend worth of not just workshops, but free beauty services, fabulous panel discussions, tons of community art projects and installations, and plenty of chances to shop. The options are practically unlimited? Want to go to a minimalist flower crown workshop? They got it. A beauty inclusivity panel? Check. A HIIT class, a hand-lettering workshop and a panel on creative blogging? Check, check and check! And the shopping options? Handmade pottery, artisan beauty products, home décor, jewelry, clothes, plants, probably even a kitchen sink. 5 to 9 p.m. on Friday, April 27 and 11 am. to 9 p.m. on Saturday, April 28 and Sunday, April 29. Brings Building, 236 Scott Ave. $5 daily admission.
May Flowers
. We didn't have much in the way of April showers this year, but we still get to reap the May flower rewards at the Madaras Gallery, where they'll be showing some of Diana Madaras' finest floral works throughout the month. Plus, check out the expanded the selection of flower-themed goods in the gift shop! Mothers' Day is coming, and even better than getting your mom flowers is getting her a painting of a flower or a flowery gift that lasts forever and doesn't need any water. All month at the Madaras Gallery, 3035 N. Swan Road, open 9 a.m. to 5 p.m. Monday through Saturday and 11 a.m. to 5 p.m. on Sundays.
Speed Dating With Your Favorite Artists
. Are you into art, but not too sure which kind is your favorite? Maybe you feel the same way about artists? What better way to get a little taste off several different kinds of artists than to speed date some of the best in Tucson? Jim Waid, Craig Cully and Andy Burgess, the artists behind Etherton Gallery's current exhibition, In Their Nature, will each give 20-minute talks and Q&As, so you can learn about the artists behind the art, and perhaps the art that inspired the artists. Light refreshments will be served, and Waid and Burgess will be signing books afterward. 6 p.m. Friday, April 27. Etherton Gallery, 135 Sixth Ave. Free.
Outdoors
Catalina Wildflower Park
. No one strides like Gaston! No one guides like Gaston! No one points out wildflowers on hillsides like Gaston! For this seven-mile round trip hike through Catalina State Park, your guide Gaston will take you down the 50-Year Trail, through the CDO Wash and to the park boundary's Western Bluff. Your reward for all of this hiking? Well, let's just say that the area is usually a hotspot for wildflowers, and this is exactly the time of year where you'd expect to see the most wildflowers. Your Instagram is going to be poppin', or your heart is going to be all full of love for nature. 7:30 a.m. Sunday, April 29. Catalina State Park equestrian center, 11570 N. Oracle Road. $7 per vehicle for park entrance. Email Gaston at VHC.Gaston@gmail.com to register.
Urban Garden Festival
. Do you have a garden full of vegetables and are looking for some new recipes? Are you interested in gardening but have no idea how you're supposed to keep anything alive in the heat of a Tucson summer? Are you somewhere in between? If you fall anywhere on the "Interested in Plants" spectrum, this even is for you. The Tucson Botanical Gardens are offering a full day of classes, live cooking demonstrations and vendors with all the plants and accessories a gardener could dare to want. Bring money for the food vendors and alcoholic beverages, and bring your ears so you can enjoy all the live music performances. 8:30 a.m. to 4:30 p.m. Saturday, April 28. Tucson Botanical Gardens. Event included with admission to the gardens, $15 adults, $13 student/military, $8 kids 4 to 17 and free for members and kids 3 and under.
Southwest Wings Spring Fling Festival
. Let's get ready to biiiiiiiiirdwaaaaatch! Whether you're the type of person who prefers to spend a full day out in the field with a provided box lunch, a half day trip with the freedom to bring your own lunch or even an overnight experience that includes lodging and meals, this festival has a bird watching experience for you. What are you waiting for? This is your chance to become a true beast of birdin'. Times of field trips vary from Wednesday, May 2 to Saturday, May 5. Cochise College Library, Building 900 at 901 Colombo Ave. in Sierra Vista. $250 overnight trip, $90 full day, $45 half-day or half-day owl trip.
Fun in General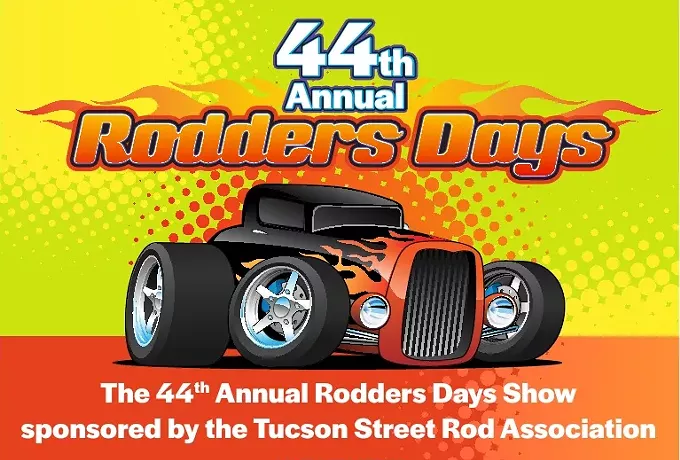 Rodders Days
. It's hard to believe we're already on the 44th annual iteration of Arizona's oldest street rod show but here we are! Cars will be on display from 9 a.m. to 2 p.m. at this open-to-the-public event, and there will also be show vendors, food vendors, raffles, door prizes and a DJ. Throughout the day, co-sponsor Pima Community College will offer tours of the Science & Technology facilities and Automotive Technology training center. Hey, even if you're not into cars, after this event, you just might be! Registration begins at 7 a.m. and show ends at 2 p.m. on Saturday, April 28. Pima Community College Downtown Campus, 1355 N. Stone Ave. Free. West parking lot. Free.
May Day 2018 at the Museum of Miniatures
. Isn't it strange that people say "Mayday" when they need help, while the holiday May Day is pretty much the most carefree, cake-filled, frolic-in-a-field holiday you can imagine? For example, the Museum of Miniature's May Day festivities involve making finger puppets, playing with a fairy garden, dressing up and meeting local children's book author Adiba Nelson. There's also stories, a sing-along and a strong encouragement to dress in fairy, goblin or elf attire—enough to have us all shouting "May Day! May Day! May Day!" Noon to 3 p.m. Sunday, April 29. Mini Time Machine Museum of Miniatures, 4455 E. Camp Lowell Drive. Included with the cost of admission: $9 GA, $8 senior/military, $6 kids 4 to 17, free for kids 3 and under and for museum members.
Buddhist Ethics and the World Crisis: How to Have Fun While Doing the Right Thing
. Do you ever just think about how difficult and confusing it is to be a good person and have fun at the same time? No worries. Robert Thurman, a professor of Indo-Tibetan Buddhist Studies at Columbia, co-founder of an organization dedicated to preserving Tibetan civilization (along with Special Agent Dale Cooper, presumably?) and close pal with the Dalai Lama, is coming to give a speech about how to do it. The two hours you spend at this talk really could change your life for the better. 7 to 9 p.m. Thursday, April 26. Environmental and Natural Resources Building 2 (ENR2), room N120 on the UA campus. The Sixth Street Garage is your best bet for parking, and it's only $1 an hour after 5 p.m. Free.
Tucson Bird Expo
. Have you bird the news? The largest bird expo in Southern Arizona is happening this weekend! Buy a bird! Buy bird supplies! Buy a bunch of birds and a bunch of bird supplies! Bird experts will also be on hand with lots of advice on bird handling. Raffles and donation opportunities that allow you to support the Avicultural Society of Tucson, your local nonprofit bird club, will abound. 9 a.m. to 4 p.m. Sunday, April 29. 1365 W. Grant Road. $5 or free for kids under 12.
12th Annual Autism Walk & Resource Fair
. Education. Advocacy. Services. Support. Your attendance at the largest autism event in Southern Arizona can help provide all of these things to and for members of the autism community. The event is designed to raise money for the Autism Society of Southern Arizona's programs and services, including Sonoran Dolphins Swim & Safety Scholarship Program, Sensory Friendly Films and the Speaker Series Program. If you can't make the walk (or aren't into walking), you can still make a donation to a good cause on the online event page or Facebook event. 7:30 a.m. to 1 p.m. Saturday, April 28. Kino Sports Complex., 2500 E. Ajo Way. Online preregistration is $19 for individuals 15 and up, $5 for anyone younger until through Thursday, April 26. Registration fees increase to $25 for adults on the day of the event.
Nightcrawler
Ugly God
. In the post-Kanye world, it's now popular for an emcee to admit flaws. Being up front about self-consciousness perhaps signals an evolution of the form itself; a music once born of street corner zingers and playground takedowns can now be self-effacing too. Indiana's Ugly God, as his moniker implies, is part of this anti-braggadocio new school. Instead of exaggerating his sexual prowess, it's "no worries, bitch, I'm neutered." Instead of a hype track, he wrote "Fuck Ugly God," which calls out all his flaws, including being so broke as a kid that he had to borrow clothes in grade school. While the more melodic, liquid synth production on tracks like "Water" and "Bitch" are beautiful, the real power of Ugly's quick flow deadpan lies in his repetition. By repeating the song titles until the listener experiences dissociation, the words eventually become sounds, devoid of meaning. Ugly God's music isn't just evolving rap as genre, it's deconstructing it syllable by syllable. With NATHO, Germ and EZ Goin' on Friday, April 27. Rialto Theatre, 318 E. Congress. Doors at 7 p.m. $26-$31. All ages. —B.S. Eliot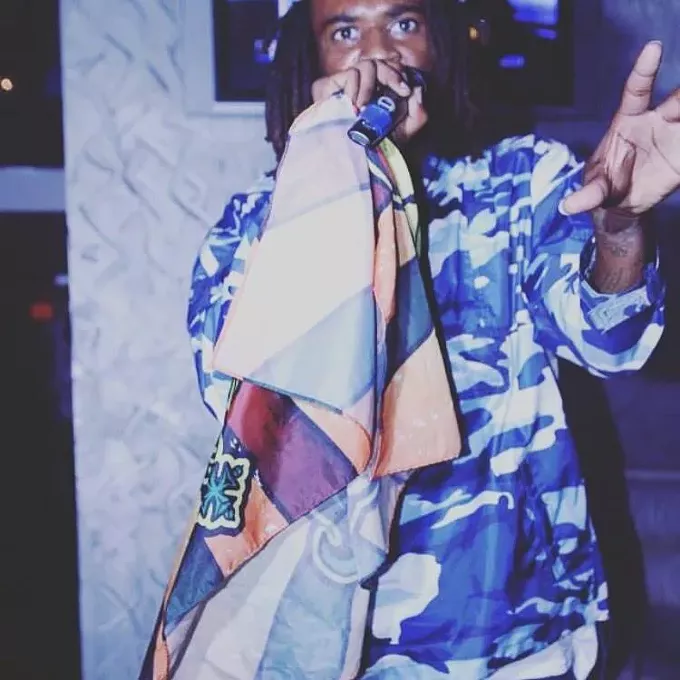 Leon the God
has, um, great faith in his production. A richly layered cosmic background draws us in, complete with slowing sweeps of lilting synths, (with jet planes soaring through) and lots of negative aural space between verses. See, it's all about Leon's messages: this Big Easy emcee head straight at the heart, "Limitation lies in the mind you can beat the odds/Keep your eyes on the prize and you'll rise like a Phoenix." Following Mos Def's mighty footsteps, Leon quickly morphs through Black Star-like incantations, to "New World Water"-style call outs on GMO's, straight through to Mos' more recent, direct attacks on the government. Leon manages to create the perfect wet spot of rage and hope to empower and inspire the listener; get out and fix this shit before it's too late. Leon the God with J. Lately. Saturday, April 28 at Ceedee's, 5305 E. Speedway. All ages, 7 p.m. RSVP via band Facebook. —B.S. Eliot
Paper Foxes
. Giorgio Moroder beats, droning bass and echoing pop synths set up skittering guitars that do old Keith Levene proud. Topped by the wiseass voice of lead singer CJ Jacobson and a sizzle of theremin, and you've got Phoenix's Paper Foxes. Capitalizing on sexy-danceable, Gang of Four-y style post-punk, complete with flawless pocket drumming, the quintet's dramatic flair comes with Interpol-inspired minor melodics. The lyrics muse philosophical—"Nothing is what I have that drives me crazy." It's this unlikely, original grafting of indica-induced emo- to post-punk rhythms that has earned the Foxes lots of national ears. Blinky enough to be embraced by Portland and Seattle, the band remain desert rats; after all, "it rains every day up there." With M. Crane and Fools Like Me on Sunday, April 29. Club Congress, 311 E. Congress. 7 p.m. 21+. Free. —B.S. Eliot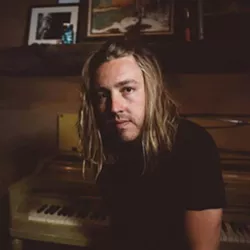 Tyson Motsenbocker
wrote an album walking from San Diego all the way to the Golden Gate Bridge, reflecting on childhood and past loves. Simply sung, his voice is a gentle mix of country lilt and rambling '70s folkie, but the lyrics are exacting in decidedly modern poetics. And while beginning a song with, "Don't text me anymore," would be dicey in shaky hands, Motsenbocker pulls it off, following up with, "keep your words to yourself for a while." In fact, the entire record sagely urges the world to pause and reflect before acting. Every song on
Letters to Lost Loves
defiantly lives in the present, even as the weight of women and their exquisite memories flash before and threaten to pull the protagonist backwards. Melodic guitar lines carry Motsenbocker's voice ever forward atop understated instrumentation and hush. There's undeniable realness here—this by a dude who walked thousands of miles before saying any damn thing to the world. Good on him. With John Van Deusen and Matthew Wright on Thursday, May 3. At House of Bards, 4915 E. Speedway. 7 p.m. $10. All ages. —B.S. Eliot
Tags: our town , no props , pantomime , community theater , gaslight , king lear , Shakespeare , parlor show , magic , Arizona Repertory Singers , King David , Bach , Gregorian chants , Tucson Women's Chorus Spring Concert , sing , sung , singers , singer , singing , sings , tucson noise symposium , noisy , noise , whale , Miss Olivia and the Interlopers , Kyklo , variety show , anthropology , Diane Bombshelter , art , agave festival , tequila! , indigo days , ladies night , ladies day , ladies , may flowers , april showers , speed dating , artists , Catalina Wildflower Park , Gaston , Urban Garden Festival , Tucson Botanical Gardens , bird , birding , beast of birdie' , rodders days , car show , May Day , Museum of Miniatures , Buddhist Ethics , Tucson Bird Expo , Autism Walk , Ugly God , Leon the God , Paper Foxes , Tyson Motsenbocker , Image