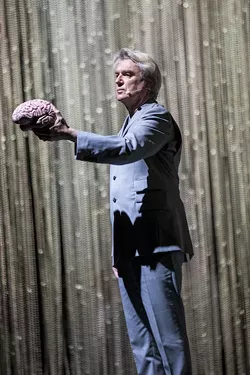 Attempting to make sense of a paradoxical world, on Sunday, April 15, David Byrne presented
American Utopia
, the ex-Talking Head's first solo album in 14 years, to a sold-out audience at UA Centennial Hall.
As the house lights dimmed, a single beam of light shone upon a folding card table. There Byrne sat, clad in grey suit, holding an anatomical model of a human brain. Playing along to pre-sequenced tracks, musicians and singers, also attired in the very same grey uniform, entered the stage barefooted marching with instruments. As the stage slowly illumed, a futuristic and Spartan set bordered by a chain curtain was revealed as the tribal drums to "Here" pounded.
Like an academician Byrne pointed out the lobes of the cerebrum. "Here is an area of great confusion/Here is a section that's extremely precise/And here is an area that needs attention/Here is a connection with the opposite side." Filled with both cynicism and wonder, Byrne said of his latest work, "It portrays the state of the country: Who we are, who we hope to be."
Comprised largely of Baby Boomers and Generation Xers, the crowd rose to greet their hero. Byrne met their enthusiasm. "People of the desert, Thank you."
Forever the pop-artist, Byrne's idea for the futuristic stage show was to create a blank canvas—all equipment is hidden behind the chain curtain—so that the 12-member neo-marching band can wander freely. Byrne has called this tour "the most ambitious show I've done since the shows that were filmed for
Stop Making Sense.
If there is an overarching theme to
American Utopia,
it's optimism. Syncopated beats—snare drums, djembe, marching drums and hand percussion—had the audience dancing in the aisles. A funky bass thumped and chrome plated Fender twanged and scratched. Byrne executed his spastic dance moves during "Everyday Is A Miracle": "You've got to sing for your supper/Love one another." Byrne addressed the audience afterwards, "We're all in this thing together, and we just need to know that."
But, unlike the character in the 1913 children's book, Byrne is no Pollyanna. In "Dog's Mind" he bares his teeth and makes poignant political statements. "The judge was all hungover/When the president took the stand/So he didn't really notice/When things got out of hand.../Where reality is fiction/But the dogs show no concern."
Advocating for democracy, Byrne announced that for this tour they are partnering with HeadCount.org, a non-profit, nonpartisan organization to help register concertgoers to vote.
Inspired by refugee camps and people being displaced, in "Gasoline and Dirty Sheets," Byrne ponders, "Does freedom cost too much?"
In addition to Brian Eno behind the mixing console,
American Utopia
injects new blood in Daniel Lopatin and Rodaidh McDonald (Sampha/The xx), who also receive production credits. The album is part of a larger multimedia project:
Reasons to Be Cheerful
, inspired by the title of the Ian Dury song, which affords reasons for being optimistic in spite of political strife and environmental problems.
Stumbling about the stage disoriented, like a time traveler struggling to regain stasis upon re-entry, Byrne proclaimed, "It's good to dance, It's good to be alive," as the opening groove of "Once In A Lifetime" kicked. The jubilant crowd rose to their feet preparing for a rollercoaster ride.
After introducing the band, another highlight came. "I Dance Like This," addresses inequality in society. "And the truth don't mean nothin'/If you ain't got the cash/A credit card mommy/An invisible dad/Career opportunities/That you never had."
The end of the set came when Byrne strapped on an acoustic guitar and strummed out "Burning Down the House." Chaos ensued, before the band took their bows.
The most poignant moment of the performance came after the thunder of the audience compelled the band to return to the stage for a third encore: "Bullet," whose simple melody belies its lyrical power. From out of the darkness, Byrne appeared standing center stage next to a single Edison bulb floor lamp. He sang with conviction. "A bullet went into him… Say his name." As a roll call of the dead commenced: Freddie Gray. Michael Brown. Sandra Bland. Eric Martin. Stephon Clark. The marching band paraded around in solemnity before the final curtain call.
And so it was. The 2018 version of David Byrne is assuredly not "the same as it ever was." He's better than ever. At one segue in the show, arms outstretched Christ-like, Byrne flung himself backwards trusting that the two background singers positioned at his side would break his descent. Symbolically, resurrected he has returned, unafraid to ask questions and quest for solutions. "Is there another way?" Byrne wrote in a press release, "Many of us, I suspect, are not satisfied with the world we have made for ourselves." From his early angst-ridden persona fronting the Talk Heads to that of aware spiritual guru, David Byrne's evolutionary journey sets another high watermark.