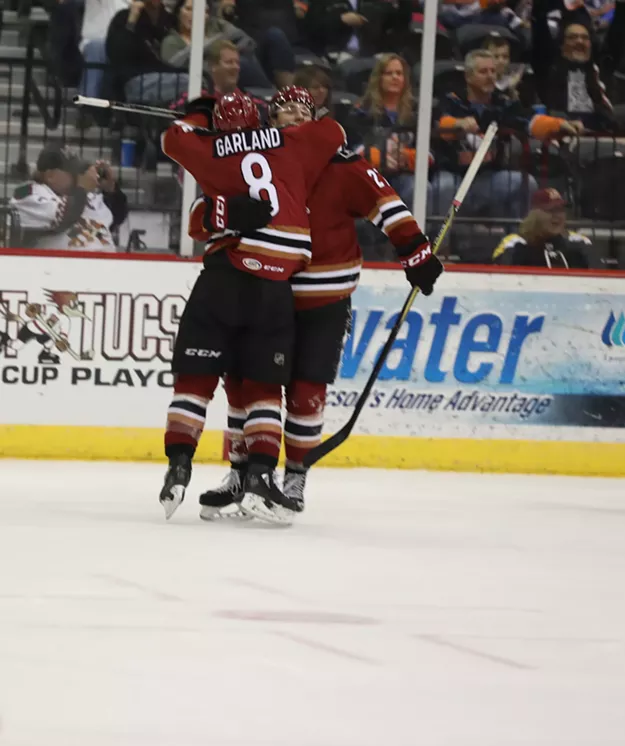 It was an unlikely twist on the evening of Saturday, April 14, as a cavalcade of maroon-clad fans poured into the airy entrance of the Tucson Arena.
The twist, which seemed impossible a few years ago, was the thought of playoff hockey happening in the heart of the second-largest desert in North America.
More than 10,000 people found their way to the venerable arena to catch the final regular season home stand of the Tucson Roadrunners' regular season.
The Roadrunners, in their second season of existence, clinched the American Hockey League's Pacific Division crown on Friday, beating rival San Diego 3-2, thanks to an improbable off-balance goal by Swedish winger Mario Kempe.
Not to be outdone, the Roadrunners came back and clinched the last hurdle in their way the following night, earning the top spot in the AHL's 15-team Western Conference in a 6-3 win.
The team, under first-year coach Mike Van Ryn, finished the regular season with an eye-popping 42-20-6 record.
They enter this week's opening round of the playoffs with a red-hot 7-2-1 record in their last 10 games, winning three straight games against San Diego to cap off the season.
Van Ryn's squad finishes the regular season with the second-best road winning percentage (.750), allowing the fewest goals of any of the league's 30 teams on the road (78).
Tucson has a legitimate shot at making a deep playoff run, thanks to a youthful front line of Dylan Strome, Mike Sislo and Michael Bunting—who scored 68 goals combined this season.
They enter this week's opening round matchup against fourth-seed San Jose with a full gust of confidence at their backs, seeking to become the first Tucson team to win a conference championship since the Tucson Sidewinders won the Pacific Coast League crown in 2006.
Van Ryn expects a battle against the Barracuda, the lone team that the Roadrunners had a losing record against in the 68-game regular season.
"It's going to be a be a hard-fought series. I mean, they've played us well all year," Van Ryn said. "I think we've got to be ready for them. And we've got to put together maybe a better game plan than we have in the past, and our executions got to be better. And we're getting to work already on it. So, we just go to be ready to go. And we've got guys rested now, and we'll try to give them our best."
Van Ryn said his team's confidence has gone through the roof during the course of the regular season, coinciding with their continued success.
"Coming in, I think we just were like, 'Oh, let's try to make it in the playoffs, and give the young guys a taste of what that's like'," Van Ryn said. "And you know what? They just kept growing. I think from day one, they bought in. We pushed them hard, and they accepted."
That drive to succeed has resulted in a regular season few will forget, including winger Tye McGinn, who's scored 10 goals this season.
McGinn is impressed by the team's ability to weather the highs and lows of the season, and how they've coalesced as a unit entering the month-and-a-half-long marathon that is the AHL playoffs.
"Our forecheck is very strong and we turn over a lot of pucks and that goes a long way," McGinn said. "It's tough for teams to break out in it. As you could see against San Diego here last couple games, it really wore them down. And I think our team is very strong with that and it's going to be an exciting first run."
That excitement was mutual for the 4,000-plus fans that stuck around after Saturday's finale to watch members of the team skate around the rink, tossing T-shirts to the legions of converts.
It's a bold new era for the Roadrunners and the city alike, with the wonder of playoff hockey coming for the first time at 7:05 p.m. on Wednesday, April 25.
Van Ryn is well-aware of the gut-churning anxiety that playoff hockey presents, playing 26 postseason games during his 12-year NHL career.
He's ready to see what his players are capable of when pressure reaches its fever pitch, and the luxuries of the regular season go out the window.
"This is what you worked for all year. The division championship and winning the west is all great, but it's the playoff wins," Van Ryn said. "It's trying to win that trophy at the very end is what matters. And that's what you strive for."