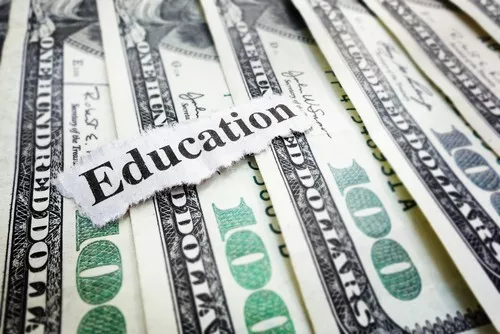 Ducey's offer of a 19 percent raise for teachers is a moving target. Here are a few random thoughts, some of which may be out of date by the time this post hits The Range.
Did Ducey Blink?
Ducey didn't just blink. His knees buckled, he reached for the white handkerchief in his breast pocket, straightened himself out, waved the kerchief over his head, put on his best smile and tried to pretend his offer of a 19 percent raise for teachers is what he wanted to do all along.
It wasn't. The teachers forced his hand. Instead of demonstrating, patting themselves on the back and retreating to their classrooms, they refused to go away. They were out last week, they were out this week, and they'll be out next week in ever growing numbers. It's a rolling thunder sweeping across the nation, from West Virginia to Oklahoma to Kentucky to Arizona, and the storm is building in intensity. First the media covered the spectacle, then it covered the issues. (Lesson learned: If you want media coverage, earn it. Make a spectacle of yourself, then do it again. Say something outrageous, then say it again. That's catnip for journalists.) Nearly all the coverage has been on the teachers' side, because the teachers are right and because they impressed the nation with their tenacity, their unity, their fearlessness.
If I sounds like I'm proud of the practicing members of my profession . . . you goddam betcha I am.
Did I See This Coming?
Nope. Didn't even imagine this moment was possible, let alone that it could come this soon.
Should Teachers Cheer?
Absolutely. They won a big victory. They should cheer for a full minute. Hell, this is a biggie, make it ten minutes. Then get back to the business of guaranteeing increased funding levels for teacher salaries, for support staff salaries, for school repairs, for school supplies — for all the stuff the "Dismantle public schools" Republicans who run this state have refused to pay for.
Did Ducey Win At Least a Partial Victory?
I think he did. He looked good up there when he gave his press conference. He looked gubernatorial. He looked like The Boss. A caring boss who only wants to do what's best for teachers and students.
But his momentary, partial victory could hurt him in the long run. His funding proposal is a high bar for him to jump over, but it's probably too low for teachers to accept. He made teachers look more credible by admitting a 20 percent raise is reasonable, which strengthened their hand. If he has to pull back his offer or has to deal with an even higher demand from teachers, his 19 percent solution may come back to bite him.
Where'd All That Money Come From?
Ducey said he could barely scrape together one percent for teacher raises last budget. Before that, he stole money from the students' trust fund, the State Land Trust, to come up with about $300 million a year, because he said there just wasn't enough money in the budget. Now, in the face of mounting pressure applied where it hurts, right in his electability, Ducey waved a magic wand over his black budget hat, reached inside and said, "Wait a minute! Look what I found. Enough for a 19 percent raise! Without raising taxes!"
If the money is there when the pressure is on, it was there before. Either he's lying now and he doesn't have the money, or he was lying before when he said he didn't have the money.
Is Ducey Lucy?
Ducey took a half inflated football, placed it on the ground in front of teachers and told them to kick it downfield. Is he planning to pull it away at the last minute — put a poison pill in the budget increase or say, "Jeez, sorry, I just don't have enough to give you a 9 percent raise. How about 5 percent?" Or will Ducey stay true to his word, only to have the legislature run up and kick the ball sideways, out of bounds?
Anything is possible. At the moment, Ducey's 19 percent solution is words, not deeds, a tentative proposal he put on the table, maybe a trial balloon so see how teachers will react. It doesn't mean a thing at this point.
What Should Teachers Do Next?
Should teachers accept Ducey's offer? A $4,000-plus raise this year, doubled over the next two years, is pretty tempting. Or should they hold out for the entire 20 percent this year? Should they say, "No deal unless you include the support staff and add more money for schools"? Should they continue with plans for more walk-ins? A walkout? A strike?
I'm not giving these people any advice, only my admiration and praise. They have been so outlandishly successful, they have so far surpassed expectations, it would be foolish for me to tell them what to do. I'll just say, keep it up!