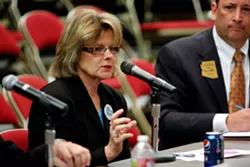 Pima County Supervisor Ally Miller told a radio show host this morning that she'd support
a proposed half-cent sales tax for transportation improvements
—but only if Pima County Administrator Chuck Huckelberry agreed to resign from the top post.
Miller told Wake Up Tucson host Chris DeSimone that she would break her promise to voters to never support a sales tax if Huckelberry quit because she is convinced that the longtime county administrator has a "stranglehold" on the county and his removal would eliminate what she views as rampant cronyism in Pima County.
"It will eliminate that cabal, it will stop it," Miller said. "There will be new people coming in. We're seeing people retire left and right already. And we're going to get new people in, and I believe the Board of Supervisors may—even if the same people stay in there—they would stand up and start doing their job. Because right now, they're completely controlled by Chuck Huckleberry."
Huckelberry told The Weekly he had a counteroffer.
"I'll resign the day she's recalled," said Huckleberry, who expressed skepticism that Miller would follow through on her promise to support the tax even if he did resign.
"She has a habit of being untruthful," Huckelberry said. "I think she's lied once or twice before."
Huckelberry said the offer to pass an ordinance if a county official resigned is something he's never seen before in his 43 years in government, but he's not surprised "because I've never seen a supervisor represent her district as poorly as Ally Miller."
He added that Miller is out to create "false narrative" in order to "for purely political purposes to destroy the brand of Pima County. The brand of Pima County, in my opinion, is pretty strong."
Miller had a few other conditions for her support of a sales-tax hike, including a promise that all the money from the sales tax go to road repair (she took particular exception to the idea that any money be spend on pedestrian walking signals or bike paths) and all projects go out for competitive bid (which is already done, as required by state law).