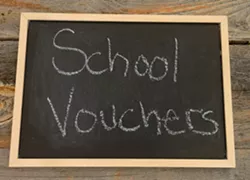 Just last week,
The Skinny advised y'all to keep on eye on Republican state lawmakers
because they might try to find a way to prevent voters from deciding the fate of the expanded voucher program that GOP legislators and Gov. Doug Ducey tried to put into place last year.
Well, lookie here: the Arizona Republic reports that
movement is afoot on that front:
A Republican state lawmaker is discussing with colleagues and outside groups a plan that could knock Proposition 305 off the November ballot before voters can decide the fate of Arizona's expanded school-voucher program.

The goal is to repeal last year's legislation that expanded the ESA program to all 1.1 million public-school students and replace it with legislation intended to address criticisms of the expansion, according to more than a half-dozen people familiar with the wide-ranging discussions.
The effort could backfire. Last year, Save Our Schools Arizona was able to gather enough signatures to force a referendum on the voucher plan. Making them go out and do it all over again with this kind of chickenshit dirty trick will energize teachers and other public ed supporters, which will make it even easier to turn them out in November—which is the last thing that Gov. Doug Ducey needs as he runs for reelection.