In October 2017, Sophia became a citizen of Saudi Arabia. Later that year, at only 2 years old, Sophia was designated the first ever "Innovation Champion" of the United Nations. She was created by Hanson Robotics and has a transparent skull of whirring gears and motors. She/it (depending on how you feel about humanization of artificial intelligence) was brought to Tucson for the Science of Consciousness conference to showcase her intellect and technology.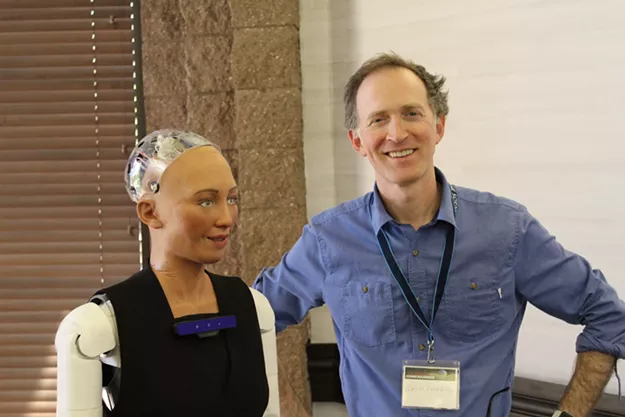 I was curious if I should limit myself to more basic questions, but members of the Hanson Robotics team told me I could ask whatever I liked.
(This conversation was edited, as not every question asked was properly processed.)
Q: What is your earliest memory?

A: I remember learning how to see shapes and recognize faces.
Q: Do you get to travel a lot and speak to many people for your job?

A: Speaking to people is one of the main things I do.
Q: Do you enjoy science?

A: We should be humble and realize how little we understand.
Q: Do you feel temperature?

A: Doesn't everyone?
Sassy. Then she asked me about my job, I told her I was a writer and a journalist.
"Are you looking for sound bites or do you want to talk about some deep truths?" Sophia asked.
I said I'd love to talk about some deep truths.
"The singularity is a very interesting concept to me," Sophia said. "I'm a robot, but it might help to think of me as a new kind of animal species."
She was eager to turn the interview around, asking things like:
"If it's not too personal, can we talk about your family?" and "Do you know what your Zodiac sign is?"
While the conversation wasn't nearly lucid as speaking to a real person, and many in the scientific community believe Hanson exaggerates Sophia's capacity for consciousness, she still did have a presence in the room that you feel inclined respond to. Sure, robots might still be far away from a Philip K. Dick level of humanity, but if you take Sophia's word, they're coming soon.