Your
Weekly
guide to keeping busy in the Old Pueblo.
Shows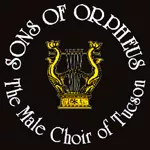 Sons of Orpheus Spring Gala Concert
. You know spring has sprung when the local male choir puts something together. The group behind several CDs and a TV special has performed all over the world, but this week, they're singing here at home. With a truly diverse mix of songs ranging from Rachmaninoff to Andrew Lloyd Webber to Woody Guthrie, there is almost guaranteed to be something for everyone. Plus, enjoy performances by young gust soloists and selections by the Cienega High School choir. A portion of donations goes to the group's choral program. 7 p.m. on Friday, April 6 at Vail Theatre of the Arts, 10701 E. Marry Ann Cleveland Way, Vail. 3 p.m. on Saturday, April 7 at St. Francis in the Foothills United Methodist Church, 4625 E. River Road. 3 p.m. Sunday, April 15 at Buena Performing Arts Center, 5225 E. Buena School Blvd., Sierra Vista. $15 admission, but free for students!
The Pajama Game
. "7 1/2 cents doesn't buy a helluva lot, 7 1/2 cents doesn't mean a thing. But give it to me every hour, 40 hours every week, and that's enough for me to be living like a king!" Tony Award-winning musical
The Pajama Game
is chock full of the sort of songs that will be stuck in your head for years to come. It's a love story and laborer uprising story and a knife-throwing story all rolled up into one, and the Arizona Repertory Theatre is putting it on for your viewing pleasure. Previews at 1:30 p.m. on Sunday, April 8 and 7:30 p.m. on Monday, April 9. Full shows run Wednesday, April 11 through Sunday, April 29, with a varied selection of matinee and evening shows. Marroney Theatre on UA campus, 1025 N. Olive Road. GA $31, seniors/UA employees/alumni/military $29, students $15, preview $20.
Monty Python's Spamalot
. The Arizona Rose Theatre is coming through this week with something that everyone can enjoy (except maybe the Knights Who Say Ni) Follow the classic tale of King Arthur and his knights as they encounter castles full of women, rude Frenchmen and the dreaded Bridge of Death. Along the way, they'll make lots of mistakes, and, in this version of the story, sing lots of hits, including "The Song That Goes Like This." Don't miss the musical that was nominated for 14 Tony Awards (and won three of them!) Saturday, April 7 through Sunday, April 15. Friday and Saturdays at 7 p.m. Sundays at 2 p.m. Arizona Rose Theatre, 4500 N. Oracle Road, suite 329. $17 GA, $10 kids 12 and under, $15 military and students with ID.
TSO Season Finale: Beethoven's Ninth
. More commonly known for containing Ode to Joy, Beethoven's Ninth Symphony is hugely famous, and a perfect way for TSO to end their season. Especially considering it will feature some of the group's top soloist, the TSO Chorus and a children's chorus. The evening will also feature John Adams' "On the Transmigration of Souls," written as a tribute shortly after 9/11 and winner of the Pulitzer Prize for Music in 2003 and three Grammy Awards in 2005. TS-Go to this show! 7:30 p.m. on Friday, April 6 and 2 p.m. on Sunday, April 8. Tucson Music Hall, 260 S. Church Ave. $14 to $98+.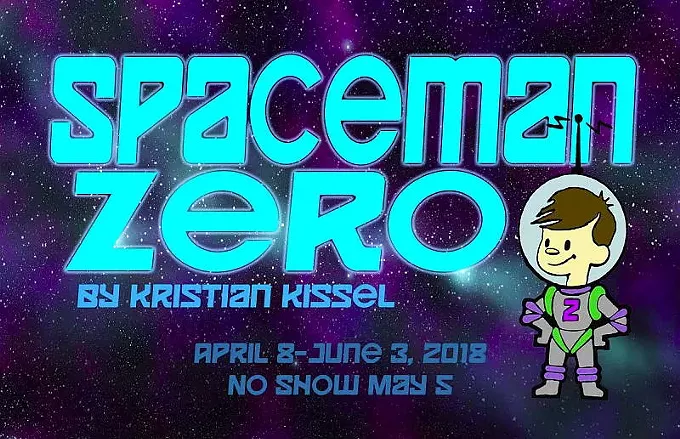 Spaceman Zero
. For their family theatre run of shows, Live Theatre Workshop is putting on this original story written and directed by Kristian Kissel with original music by David Ragland. And it's a good one. When a sixth grader named Casper builds a rocket for the school science fair and actually ends up in space, everyone is understandably freaking out. But while his parents and the military are working on getting him back home, Casper is making friends from other planets, impressing his crush back on Earth and most likely winning first place at the science fair. 12:30 p.m. on Sundays April 8 through June 3, with the exception of Sunday, May 6. Live Theatre Workshop, 5317 E. Speedway Blvd. $7 kids, $10 adults.
Odyssey Storytelling Presents: Mythic
. Even if you haven't gone on some Homeric-length journeys, there are certainly times where life feels like a quest. Where you run into archetypal heroes, tricksters and wise old men or women. Or sometimes, you just feel inspired and motivated in a way that can't be earthly. Hear from seven storytellers about their own "mythic" experiences and reflect on all the ways your own life is an adventure. 7 to 9 p.m. Thursday, April 5. The Sea of Glass Center for the Arts, 330 E. Seventh St. $10, or $7 for students with ID.
Art
Tucson Shambhala Arts Festival
. Let's talk Shambhala arts. And then, let's attend a day full of really neat workshops on arts like calligraphy, mala (necklaces or bracelets that act as reminders to stay on your spiritual path), Sumi-e (a type of brushwork), contemplation with clay (contem-clay-tion) and poetry. Opening talk 7 to 8:30 p.m. Friday, April 6, and workshop program 9:30 a.m. to 4:45 p.m. on Saturday, April 7, both at the Tucson Shambhala Meditation Center, 3250 N. Tucson Blvd. Evening Meditation Movement with Music event 7 to 8:30 p.m. on Saturday at Dunbar Pavilion, 325 W. Second St. Friday evening and Saturday daytime workshops are free, with a $10 suggested donation at registration or $15 at the door for the Saturday evening event.
Tucson Sculpture Festival, Show & Sale
. Hooray for SculptureTucson.org, which is throwing its first annual sculpture show and sale this weekend, giving local artists the chance to show and sell their work and local art appreciators the chance to see and buy it. At the special patrons-only event, there will also be a keynote by artist Terrol Dew Johnson and a talk by Mayor Jonathan Rothschild, as well as a cocktail party, sneak previews and a private sale. 9:30 a.m. to 6 p.m. on Saturday, April 7 and 9:30 a.m. to 4 p.m. on Sunday, April 8. Special event for patrons only from 5 to 9 p.m. on Friday, April 6. Brandi Fenton Memorial Park, 3482 E. River Road. $50.
SAHBA Home and Patio Show
. Of course, there's no place like home. But after attending the SAHBA Home and Patio Show, you'll be ready to put together home that's literally like no place else on earth. From energy-saving techniques and rainwater harvesting methods to landscaping ideas, wall hangings and household gadgets, this is a show that truly has it all. The grand lobby stage will feature presentations on how to snake proof your yard, work with chalk paint and real estate, with face painting and performances by Mr. Nature for the kids. 10 a.m. to 6 p.m. Friday, April 6 and Saturday, April 7. 10 a.m. to 5 p.m. on Sunday, April 8. Tucson Community Center, 260 S. Church Ave. $8 adults, free for kids 12 and under. Discounts for military, half-price for seniors 50 and over on Friday. $2 off coupon available on website.
Not Quite Tucson

Tombstone Rose Parade
. If you're looking for somewhere to travel this weekend, why not finally get around to going to see the World's Largest Rose Tree over in Tombstone? When Robert Ripley first deemed this thing the world's biggest, it was only a quarter of the 8,000 square feet it is now. There'll be a pancake breakfast, square dancing, an auction, performances by the Cockiness College Dancer, AJ Band and several other groups, a pet parade and the Rose Parade, which member of the public enter into. Coronation of the Rose Queen is at 6 p.m. on Friday, April 6. Festivities including the Rose Parade in auction start at 8 a.m. on Saturday, April 7 and go until evening, and festivities including the pet parade and fashion show begin at 11 a.m. on Sunday, April 8. Various places along Allen Street in Tombstone, 85638. Public welcomed, no admission.
Kartchner Star Party
. Kartchner Caverns State Park has a special designation from the International Dark Sky Association, so you know this place is worth the drive. The Huachuca Astronomy club is providing professional telescopes for the night and will be on hand to answer questions about the night sky. Spend your afternoon exploring the caverns, and then spend your night looking to the sky. To kick the night off, Grant Williams of the MMT Observatory (formerly the Multiple Mirror Telescope Observatory) will give a special presentation in the park's indoor movie theater at 5:30 p.m. 2 to 9 p.m. Saturday, April 7. Kartchner Caverns State Park, 2980 S. Highway 90 in Benson. $7 entry fee per vehicle.
Free
Cyclovia Tucson
. Cyclovia is back, which means we can all take to the street with our bikes, with our dogs and—if we're really cool—with our heelies, because streets around the downtown and university area will be closed off and lined with games, food trucks and live music. Inspired by one of the biggest cyclovias in the world in Bogotá, Colombia, this event is your chance to see the city from a fresh perspective. 10 a.m. to 3 p.m. Sunday, April 8. There are a few activity hubs along the route, including the Lost Barrio, Miles Elementary School, Sam Hughes Elementary School and Himmel Park. Free.
Free Beginners Akido Class
. If you're at all interested in Japanese martial arts, you've got to check out at least one session of this recurring free class. It's a modern martial art, developed by a man named Morihei Ueshiba with the idea that a person practicing the art should be able to defend him or herself while also protecting their assailant from injury. Is there anything more zen? Come find out from a master who learned in Japan himself. These free classes are on the first and third Saturdays of the month through May 19. 9 to 10:30 am. Saturday, April 7. Akido Shoubu Dojo, 5556 E. Speedway Blvd. Free.
Humane Society of Southern Arizona's Grand Opening
. Meow that HSSA is moving into its new, forever home on Roger Road, you're invited to celebrate with them. Check out the new facility with their site tours, munch on some snacks and rejoice at the splendor of their new location. And if you're in the market to give an animal his or her forever home, take advantage of their special half-off all adoptions deal! 11 a.m. to 3 p.m. Saturday, April 7. New HSSA location at 635 W. Roger Road. Free.
Museums and Tours
First Fridays at the Arizona History Museum
. Don't know how we're already in April of this year, but it's the beginning of the month again, which means there's 2-for-1 admission from 4 to 8 p.m. at the Arizona History Museum this Friday. As usual, there's a special program to go with this admission deal, and you can get free validated parking in the Main Gate Garage. Hip hip history! 4 to 8 p.m. on Friday, April 6. Arizona History Museum, 949 E. Second St. Normal admission is $10 for adults, $8 seniors 65 and up, $5 for adult students, $4 for kids 7 to 17 and free for kids 6 and under, AHS members and veterans.
Earth Month at the Biosphere 2
. Biosphere 2 is celebrating the OG biosphere every Saturday for the whole month. On the docket this week are presentations by the Tucson Electric Vehicle Association's Electric Cars and the Flandrau Science Center. In addition, there will be an invertebrate release in the Biosphere 2's ocean and a book signing with original Bisopheran Mark Nelson. (Now's your chance to ask him what he missed the most while he was under the dome).10 a.m. to 2 p.m. Saturday, April 7. Biosphere 2, 32450 S. Biosphere Road. Oracle. $20 adults, $13 kids ages 6 to 12, $18 seniors.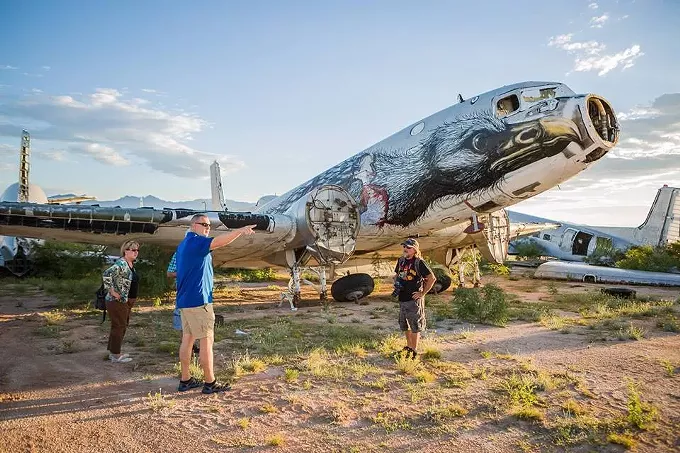 Boneyard Safari Hands-on Tour
. Docents from Boneyard Safari, an aviation preservation organization, will take you a tour through Aircraft Restoration & Marketing, an aircraft regeneration facility in Tucson. You'll have the chance to go inside aircraft such as a C-130 and a Boeing 727, whether they are being regenerated or getting ready to be retired, and to see the outsides of many more, including a C-27A, a T-37 and a P-3. It's just plane cool. 8 a.m. to 11 a.m. Saturday, April 7. Aircraft Restoration & Marketing, 5080 E. Nebraska St. $44.28.
Fun in General
Annual Spring Plant Sale
. Native Seeds/SEARCH is welcoming spring with this awesome sale, including a large selection of veggie starters from local growers. Tomatoes, peppers, melons, cucumbers and eggplants abound, as well as herbs that include at least three different kinds of basil. Members get 10 percent off their purchases, and those who sign up to be members get a one-time discount of 15 percent off. 10 a.m. to 5 p.m. on Friday, April 6 through Sunday, April 8. Sale opens at 9 a.m. on Friday for members only. Native Seeds/SEARCH, 3061 N. Campbell Ave. Free entry.
The Gauntlet–8K Trail Race
. If running on even surfaces isn't challenging enough for you, then you'd probably enjoy the wonders of trail running, especially in this race where participants are gently warned they will at times be "putting their toughness to the test." It winds through the desert trails of Pima College's West Campus, and starts nice and early so you can beat the heat. Proceeds will benefit the Pima Community College cross country and track teams. Races start at 7:30 a.m. on Saturday, April 7, but participants can start picking up T-shirts, bibs and timing chips at 6:15 a.m. Pima College West Campus, 2202 W. Anklam Road. $22 Southern Arizona Roadrunner members, $24 non-members and $25 on race day.
Mustangs on a Mission
. Sara Sanderson and Olivia Maxwell are riding their horses 3,000 miles through the public lands of the West, and creating a documentary of their journey along the way. Their mission: to show people the healing and hope that can come through finding Christ in nature, especially in horses. And you're welcome to join them at this event full of mustang demonstrations, food and a day ride. The Rincon Valley Cowboy Church will host the demo along with Extreme Mustang Makeover trainer Jeff Cook and the Mustangs on a Mission Crew, and the ride will start at the Pistol Hill Trailhead. When the group reaches Rincon Creek, the crew will continue and the day riders will head back. 9 a.m. to 1 p.m. Saturday, April 7. Tanque Verde Stables, 11099 E. Glenn St. Email sara@mustangsonamission.com for more info.
Nightcrawler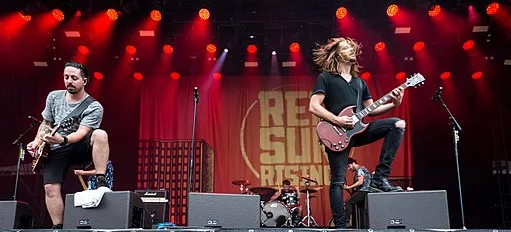 Red Sun Rising
. A trio of guitars and a trio of harmonic voices in a single rock 'n' roll outfit can soar. And, no, we ain't talking The Outlaws. Red Sun pulls out fetching melodic twists and captain crunches that'd do proud old '70s glam hags like Silverhead and Mott (the version without Ian Hunter), as well more contemporary prog torchbearers like A Perfect Circle. So, yeah, they're pretty precise, and can manage rising dynamics that give up the walloping pop shot without sounding modern alt-rock radio trivial. Sure, they're from Black Keys' Ohio scene, but tunes like "Deathwish" transcend such garage-glam-in-a-boring-T-shirt regional mannerisms. And unlike so many tragically boring post-Foo-Fighter rock bands, Red Sun maintains the necessary grit. Sometimes their obvious, big-heart sincerity makes it easy to overlook frivolous phrases ("It took the crack of a smile/To turn my head and stare"), but who cares? Let's hope the little girls understand. With Them Evils and The Living Breathing on Thursday, April 5. Club XS, 5851 East Speedway. Doors at 6:30 p.m. $15.50-$19. All ages. —B.S. Eliot
ETHEL
is one of the most famous, prolific and genre-bending string quartets ever. Over the last couple decades, these two violin, one viola and one cello player have tackled the work of modern masters like Phillip Glass, put forth their own, original compositions and worked alongside multi-ethnic artists to challenge and expand traditional string arrangements. With "The River," ETHEL continues the latter work, collaborating with Grammy-winning Native American artist and instrument maker Robert Mirabal, who views them as family. Folding his native storytelling, chanting, flute playing and drumming into their soulful bluegrass has resulted in a soulful and uplifting, Taos-specific sound. "The River" avoids the abstract, New Age pretentiousness of pan flute and the exoticism of "Native mysticism" to get at the commonality of traditional music across cultures and the function of music in community building. With Robert Mirabal on Thursday, April 12. Crowder Hall, 1017 E. Olive Road. $15-$40. All ages.
Wyclef Jean
. Twenty-two years after the Fugees rebooted "Killing me Softly," and launched Lauryn Hill into the stratosphere, many folks considered Wyclef Jean a hack. One of countless rappers who diversified to become an "actor/singer/personality," his hip-hop cred slung low. Yet as a Haitian refugee and international activist, Wyclef is relevant—if watered-down—voice in pop. His music wildly suffers when he mixes classic Marley and gangsta, and on his tunes like "Sweetest Girl (Dollar Bill)," Wyclef sings empathically about a beautiful woman's self-exploitation for cash, even as he celebrates the hoez grinding at the club. Yet, often uninspired lyrics and mixed messages make Wyclef's re-arrangements of roots more satisfying than his original pop ups. But, man, sometimes he'll lay you out flat with a hook as big as any ego. Friday, April 6 at Rialto Theatre, 318 E. Congress. Doors at 7 p.m. $36-$150. All ages.
I Don't Know How But They Found Me (IDK)
is the long-secret band of The Brobecks' and Panic! At the Disco's Dallon Weekes. Shoring up melodic synths inspired by "Sesame Street/PBS sounds" and sweet old-fashioned upright piano to back Weekes' super-controlled, glam-croon guarantees inspired, ear-warping pop gems. (And he even looks like Vic Godard meets Bowie circa '77.) While L.A.-based IDK rises from an imaginary land Pitchfork once ruled supreme, their brand of pop din sidesteps hipster indifference. A song like "Nobody Likes the Opening Band" could be truth or pretention, but instead offers surprising couplets like, "Unfamiliar things will make us nervous/But singing here for you gives me a purpose." It at once denounces nay-sayers and followers, and it's a challenge to us. Fucking great. Like Of Montreal, IDK is quirky for a purpose, if a futile one aimed at challenging the status quo and raise collective listener IQs. Monday, April 9 at 191 Toole, 191 E. Toole Ave. Doors at 7 p.m. $12-$15. All ages.