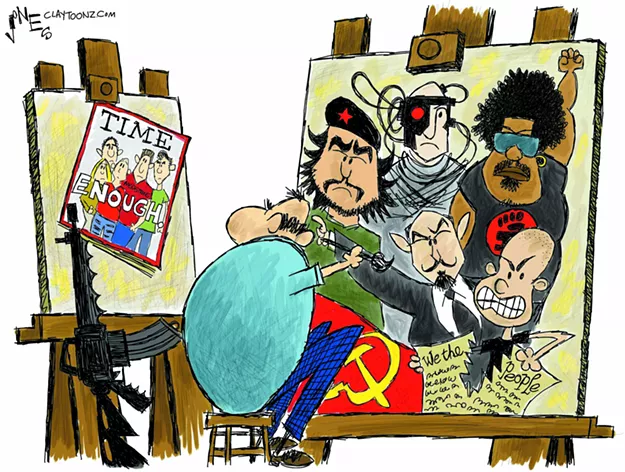 We're happy to introduce a new daily political cartoon from Clay Jones, a nationally syndicated cartoonist whose work will be appearing daily here on The Range and weekly in the print edition. You can
learn more about Jones here
, as well as peruse some of his past strips here.
Here's what he has to say about today's strip:
Conservatives lie. That's the honest truth. They're not just incapable of discussing any issue without fabrications because they lack an ability to comprehend. They use lies because that's their weapon of choice. They use lies because their base is dumb enough to fall for them.

Conservatives amplified fake news from Russian trolls 30 times more than liberals. They even complained when Twitter conducted a purge of Russian bots.

Look at their leader, who is the king of lies. Look at his spokesperson, who told so many lies yesterday it was hard to keep up. Try to find a Republican who realizes we're paying for Trump's stupid border wall, not Mexico.

When Republicans can't counter an argument, they don't just lie about the issue. They lie about the messenger and engage in campaigns to vilify their political opponents. They told us Obama was a Marxist Muslim born in Kenya planning to take everyone's guns away right after he was finished invading Texas.

Enter the students who survived the school shooting in Parkland. This is a situation where victims of a mass shooting are speaking out in favor of gun control, and conservatives and NRA supporters are resorting to their usual tactics of assaulting the messengers. In this case, they're attacking minors who hid in closets during a shooting and had to step over the bodies of their friends, classmates, and teachers to evacuate the building.

Read the rest here.