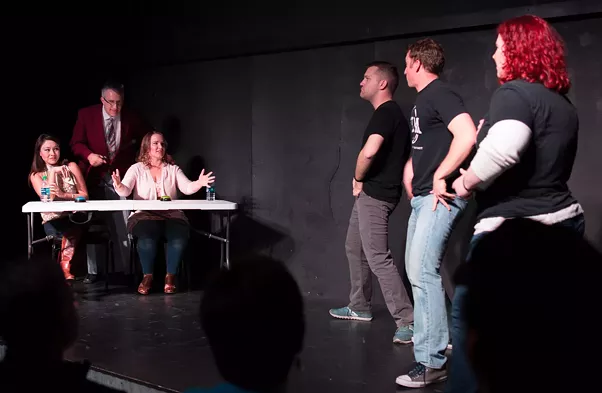 Since Kurt Lueders is the only actual rocket scientist we know, we like to imagine all of them share his love of bad puns, old game-show references and classic lines from popular movies.
Lueders coaches Tucson Improv Movement's Throwdown team, the family favorite in the 7:30 p.m. slot Saturdays. That show's fast-paced, faux-competitive games inspired him to launch a show of his own creation, The Game Show Show, featuring pairs of Tucson celebrities facing off to win (not) fabulous prizes.
Leuders premiered his show last May in TIM's 36-hour Improvathon. Literally an overnight success, it's now featured at 7:30 p.m. the last Saturday of every month. March 31 contestants are Todd Getzelman, who, with his wife, Celene, owns Revel Wine Bar, and Jared Hood, front-of-house manager at The Coronet. Those two establishments flank TIM in its new location at 414 E. 9th St.
To date, Lueders says, his most successful show featured Kristal Pino of 106.3, The Groove, and Tina Jennings from Morning Blend on KGUN 9. "Our competitors are always friendly with each other." April guests will be KXCI DJs Brigitte Thum and Gwen Hernandez.
Each show includes three improv games around suggestions collected in advance from the audience. Suggestions are secret until shown on a monitor that only improvisers and the audience can see. The improvisers act out scenes that reveal clues until a contestant guesses correctly.
"We have three games we play regularly," Lueders says. "In Mix and Mash-Up, we take two movies or TV shows and mash them up together. The improvisers act out what that might look like. The example we use is When Harry Met Sally mashed up with Dirty Harry to make When Dirty Harry met Sally. The improvisers might use famous lines like 'Do you feel lucky, punk?' And then someone might scream like they're shot, and another actor might say. 'I'll have what she's having'. When we had two burlesque dancers as contestants, we mashed up the Robin Williams movie Flubber with Cher's movie Burlesque to make Flubberlesque.'
"The final game is a lightning round where contestants have 90 seconds to guess 8 suggestions. Our improvisers act them out using only mime and gibberish."
Contestants who win at least two rounds have taken home such fabulous prizes as an MTV alarm clock and a set of refrigerator magnets in the shape of insects. "They're not really fabulous prizes," says Lueders. "That's the show's running gag."