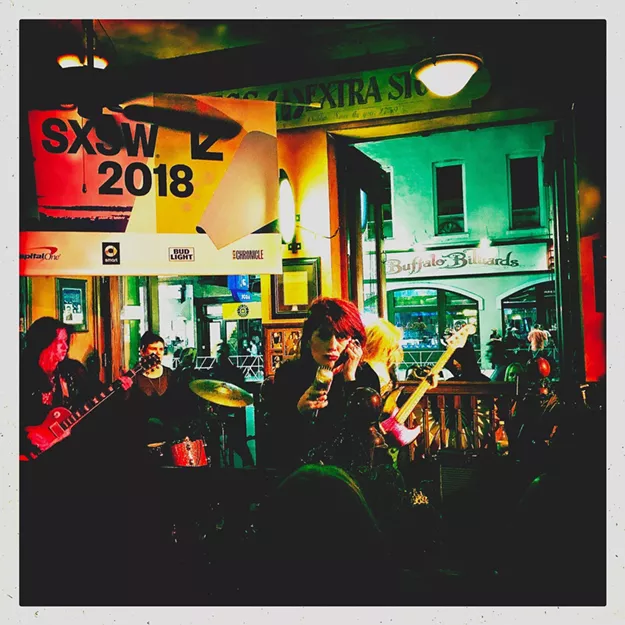 SXSW is an all-you-can-hear sonic buffet—and as with any buffet, you might try something only to realize you don't really have an appetite for it. So it was tonight, as I bounced from a club featuring a droning band with sad songs that lacked the crucial "rock" ingredient of rock 'n' roll to Empire Garage's outdoor venue, where Austin's own Big By's Big Brass Brand helped cleanse my audio palette. Inside the Empire Control Room, Austin's Vapor Caves were doing a mellow electronic thing that was worth a nibble. But across the street, at Barracuda Backyard, the Wedding Present—all the way from Leeds, England—finally got my SX party started with an in-your-face set of screeching guitar, pounding drums and feedback that soaked the packed crowd in sweaty rock 'n' roll. After giving up on getting in to see Lukas Nelson (Willie's kid!) and Nathaniel Rateliff at a Pandora showcase, I wandered through the Sixth Street crowds to BD Riley's to see Belle Adair, an Arkansas band that recorded the recently released
Tuscumbia
at Mussel Shoals' legendary FAME studios with the help of Wilco engineer/producer Tom Schick. After that set of rough-edged Americana, I stuck around for a set from Thunderpussy, who showed that girls can rock just as hard as boys. It was well past midnight so I split before the end of the set, but when I popped into the convenience mart across the street for a few provisions, it felt like the whole store was reverberating from Thunderpussy's licks. Those girls bring the noise.
For those of you who can't get to Austin this year: You can still enjoy a dynamite sampler of 100 of the best bands here. NPR Music has once again assembled The Austin 100.
Check it out and/or download it here.