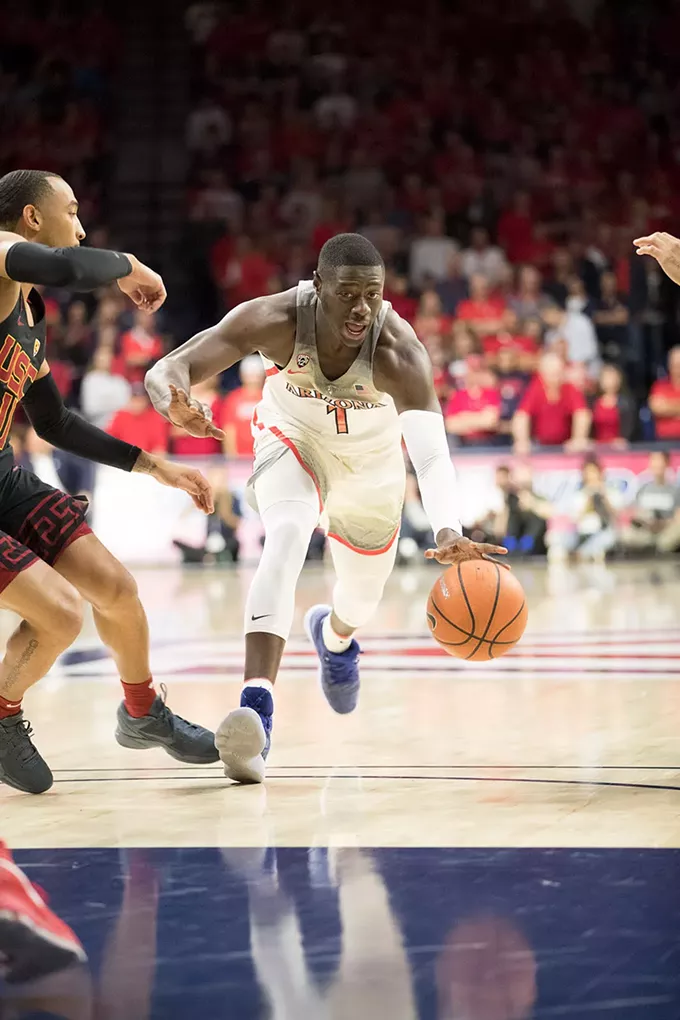 The most wonderful weekend of the sports calendar tips off Thursday, when dozens of teams will start their three-week odyssey to win college basketball's ultimate prize.
The teams, taking part in the annual tradition colloquially known as March Madness, will engage in all-out war for 40 minutes, with one side breathing a sigh of relief as the other weeps at a premature end of their season.

The event, which brings in an eye-popping $10 billion in sports wagers (only $3 billion of which is done legally), features a myriad of storylines, too many to count.
For the hometown Wildcats of Arizona, there's any number of options, from the team's run-ins with the FBI, to the health of players like Rawle Alkins and the issues that arise from trying to prepare for an unfamiliar foe in 72 hours.
The Wildcats' quest to snap the program's well-known 17 year Final Four drought begins at 6:40 p.m. local time Thursday in far-flung Boise.
Raging Bulls
Their quest as the fourth seed in the tournament's South Region starts with The University of Buffalo Bulls, winners of the Mid-American Conference.
The Bulls, who are 26-8 this season, feature a high-powered offense that scores 84.8 points per game, good for eighth overall in the nation.
They feature a cast of blue-collar, experienced players, with a six-man rotation that features four juniors, one senior and one sophomore.
Four Bulls average more than 10 points per game, led by junior guard CJ Massinburg, who averages an eye-popping 7.4 rebounds per game.
That stat is all the more incredible when you realize that Massinburg is all of 6-foot-3-inches tall and 194 pounds.
Massinburg, who hails from the Dallas, Texas area originally, is the driving force and heartbeat for Coach Nate Oats' squad—dictating the pace of both the team's offensive and defensive schemes.
The first team All-MAC selection is the leading rebounder amongst guards in the conference, a feat that comes from his unmatched work ethic.
"It's just an attitude that I have about myself," Massinburg told The Buffalo News. "A lot of guys
are scoring points … I have a really good team and I'm not going to go out there and try to score 30 every night because we share the wealth on this team. So, one way I want to try to separate myself is the rebounding."
Stepping up
Sean Miller knows what awaits his team on Thursday, with a confident Bulls squad that is hungry to spring the upset.
"They have outstanding guards and they're a lot like the teams in our conference. They do a really good job of having almost a wing player playing the four," Miller said. "It's not just like a point guard or a 2, but they play 3 and 4 guards at a time. They have very good depth, some of the guys coming off the bench do the same thing."
Rawle Alkins, who will likely be tasked with guarding Massinburg on Thursday, is embracing the team's difficult path to San Antonio.
"Starting with Buffalo, we don't really know too much about them right now," Alkins said. "But these next few days, we're going to get the scouting report and learn more about them, and then we're just going to take it game by game."
Alkins knows the odds are stacked against the team, with a loaded region that features perennial powers like Kentucky, Virginia and Cincinnati.

He also knows that the Pac-12 regular season and tournament champions can play with anyone in the country, and that they're ready to battle.
"We don't know what to expect. I would like to say we're the underdogs right now. We have a lot to play for," Alkins said. "We're playing against great teams, potentially, and we're just going to have to give it our all."
How to Watch: Fourth-seeded Arizona tips off against 13th seed Buffalo in Boise at 6:40 p.m. Arizona time on Thursday, CBS will air the game live.
How to Bet: Vegas currently has Arizona as an 8-point favorite to win. Stats guru Ken Pomeroy has Arizona as a 7-point favorite over the Bulls.
Who to Watch: The Bulls have four players that average more than 10 points per game, in CJ Massinburg (16.9), Nick Perkins (16.6), Jeremy Harris (15.4) and Wes Clark (14.6)
<!———EndFragment———>