Your
Weekly
guide to keeping busy in the Old Pueblo.
Music
Old Time Rock n' Roll Dance Party with Heartbeat
. Don't you just love that old time rock n' roll? That kind of music just… soothes the soul. At least that's what some people say. At this musical revue, the front seating section will be cleared out, so that you can dance the night away, or feel free to sit back and enjoy the music. Or you could sit back with some food and drink from the kitchen until you've had enough to drink that you want to go up and dance to some classic oldies. 7 p.m. Friday, March 9. Gaslight Music Hall, 13005 N. Oracle Road. $12.50 GA.
Remembering Mr. Sinatra
. You've definitely heard of Frank Sinatra, but you may also may have heard of Julie Budd, who often performed as one of Ol' Blue Eyes' supporting acts at Caesars Palace. OR maybe you saw the oft-compared-to-Barbara-Streisand vocalist star in the 1981 film
The Devil and Max Devlin
. Whether you've heard of her or not, though, you won't want to miss this chance to hear her pay tribute to Frank Sinatra himself at this Invisible Theatre-hosted show. 7:30 p.m. on Saturday, March 10 and 3 p.m. on Sunday, March 11. Berger Performing Arts Center, 1200 W. Speedway. $42.
Arizona Friends of Chamber Music Festival
. If you missed the first few days of this symphonic spectacular, fear not! You've still got two more chances to see performances by Celino Romero, Bernadette Harvey, Romie de Guise-Langlois, Yura Lee, the Morgenstern Trio, the Dover Quartet and the Romero Guitar Quartet. And they'll be playing the likes of Vivaldi's Guitar Concerto in D, Ravel's Violin Sonata No. 2 and Stravinsky's Suite from L'Histoire du Soldat. Friday, March 9 at 7:30 p.m. and Sunday, March 11 at 3 p.m. Leo Rich Theater, 260 S. Church Ave. $30 each day.
Women Rock
. Well duh, women rock. But some women, like Carole King, Tina Turner and Janis Joplin are actual rock 'n' roll icons. Celebrate these babes at this event, which features the Tucson Symphony, a cast of singers, and hits that you're definitely going to be singing along to, like "Proud Mary," "Love is a Battlefield" and "You're So Vain." 7:30 p.m. on Saturday, March 10 and 2 p.m. on Sunday, March 11. Tucson Music Hall, 260 S. Church Ave. $15 to $77+.
Catalina Organ Festival
. The next organ festival event features David Enlow, who's not only the organist and choir master at the Church of Resurrection in New York, but a member of the organ faculty at the Juilliard School, which sounds like a pretty big deal even if you don't know anything about organ virtuosity. He's also the dean of the American Guild of Organist's New York City Chapter. He'll be playing the works of Bach, Franck, Dvorak and Debussy, along with some improvisations of his own, which are no-doubt pretty mind-blowing. 7 p.m. Friday, March 9. Catalina United Methodist Church, 2700 E. Speedway Blvd. $20 online and $25 at the door.
Theater
Abeyance: A State of Temporary Disuse or Suspension
. Everybody loves spending time in a waiting room. Everyone especially loves spending time in the waiting room before you head in for a job interview, where you get sweatier and sweatier as the nerves build and the prospect of being jobless forever stares you right in the face. It's terrible when you're going through it, but it turns out it's hilarious to watch someone else go through it, like Tyler West does in this one-man show about a very broke man waiting for the interview of his life. Let's just be glad it's not just this time and have some hearty laughs at his (character's) expense. 10:30 p.m. on Friday, March 9 and Saturday, March 10. Live Theatre Workshop, 5317 E. Speedway Blvd. $10.
The King and I
. It won the Tony Award for Best Musical when it came out, and has twice won the Tony Award for Best Revival, most recently in 2015. It's some wholesome, good old fashioned Rodgers and Hammerstein, and you won't want to miss it, especially in this incarnation directed by Bartlett Sher. Shall we dance? Yes, definitely yes. Tuesday, March 13 through Sunday, March 18. 7:30 p.m. at various times. UA Centennial Hall, 1020 E. University Blvd. $19 to $125+, with $5 off for seniors and military and $10 off for students.
Low Down Dirty Blues
. This original musical revue was written by Randal Myler and Dan Wheetman (who are also serving as director and musical director of the show) in their signature style, which features lots of breaking the fourth wall and traditional music. This one's got some of the greatest hits from Mae West, Ma Rainey, Howling' Wolf and plenty of others, and tells the story of a group of jazz musicians gathered for some after-hours jamming and storytelling at Big Mama's bus club in Chicago. There's nothing quite like the blues, and this show is a celebration of everything that makes them special. Previews Saturday, March 10 through Thursday, March 15 for $25 to $60. Show Friday, March 16 through Saturday, March 31 for $46 to $73. Temple of Music and Art, 330 S. Scott Ave.
The Merchant of Venice
. Not everyone has let go of their high school grudge against Shakespeare for making 10th grade English class feel like it dragged on and on every day. But you probably didn't read
Merchant of Venice
, and you probably also didn't see a professional production of it, which is where the magic really happens. Some of the play's best remembered scenes are the dramatic ones—"the quality of mercy," anyone?—but it's also deeply funny, and his been referenced in more modern iconic works, like
Schindler's List
and
Hey, Arnold!
Monday, March 12 to Sunday, April 1 at either 1:30 or 7:30 p.m. UA Tornabene Theatre, 1025 N. Olive Road. $28 adults, $26 military, seniors and UA employees, $15 students.
Fundraisers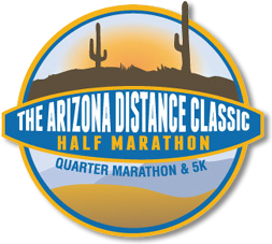 Arizona Distance Classic Half Marathon, Quarter Marathon and 5K
. This has been called the most scenic Arizona race event of the year, and, while it might seem like it wouldn't matter, for some runners, what there is to look at as you as you struggle through that last mile can make all the difference. The Institute for Sports Medicine is hosting this event to raise money for the Leukemia & Lymphoma Society, and encourages people of all shapes, sizes and abilities to participate (there's even a half marathon wheelchair event!) in this beautiful race with plenty of refreshments and an enormous finisher's medal for everyone who finishes. 6:55 a.m. half marathon wheelchair start, 7 a.m. half and quarter marathon starts and 7:15 a.m. 5K run/walk start. Sunday, March 11. Ventana Medical Systems, INc., 1910 Innovation Park Drive, Oro Valley. Price ranges from $40 for the 5K to $155 for the half marathon + VIP.
Migrant Quilt Project Fundraising Event
. The Migrant Quilt Project is this grassroots group of artist, quilt makers and activists who are working to express compassion for migrants from Mexico and Central America who died in the Southern Arizona desert in their attempts to find a better life in the United States. They use textile-base discards from migrant layup sites—including bandanas, work shirts, embroidered cloths and blue jeans—to create quilts that list the number of migrant deaths for specific federal fiscal years. The name of each person who has died is inscribed on the quilt, with "unknown" or "desconocido" standing in for unidentified remains. This fundraiser at La Cocina Restaurant and Cantina will help quilters from the group attend exhibits across the country to share their powerful educational tools. 5 to 10 p.m. Tuesday, March 13. La Cocina Restaurant and Cantina, 201 N. Court Ave.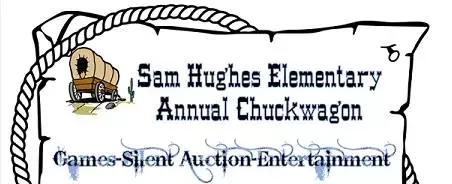 Sam Hughes 80th Annual Chuckwagon
. Come hang out at one of the longest-running events in Tucson and enjoy live country music, cowboy rope tricks, horse rides a live auction and food trucks. Kids can enjoy games, face paintings and a jumping castle. The Sam Hughes History Collection will also be on display from the elementary school's archives. All of the event's proceeds support the Sam Hughes Elementary School PTA, which funds the school's music and chess programs, plus teacher stipends and field trips—all hugely important stuff that oughta have the community's support. 2 p.m. to 6 p.m. Saturday, March 10. Sam Hughes Elementary, 700 N. Wilson Ave. Free.
Art
IndigenoUS, by Jana Booker
. Booker's exhibit, which will be on display at the museum through July 2018, uses hand-sculpted leather sculptures to display and explore the cultures of six tribes from New Zealand, North America and Africa. Not only did Booker formerly work as a sculptor for Disney's Imagineering, but she also won the California skateboarding championship in 1977. If this doesn't sound like an interesting woman you want to meet, then who does? Meet her at the exhibit's opening reception from 1 to 3 p.m. on Saturday, March 10. International Wildlife Museum, 4800 W. Gates Pass Road. Museum admission will be free for those two hours.
Pocket Sketching Refresher
. This advanced workshop orders something a little different than Kath Macaulay's other classes. She'll go over how to sketch some of the most difficult subjects her students have asked about: clouds, running water, glass and people in environments. It will also incorporate the use of pencil with wax and the ballpoint or Micron pen used with the Pilot pen. She'll go over how to work from memory, how to work under duress and any other requests that come up during class. Bring Pocket Sketching supplies, a pencil, a ballpoint pen and lunch. 10 a.m. to 4 p.m. Tuesday, March 13 through Thursday, March 15. Tohono Chul—Education Center #2, 7211 N. Northern Ave. $300, or $285 for Tohono Chul members.
In Their Nature
. The Etherton Gallery has a new exhibition, featuring art by Tucson artists Jim Waid, Robert D. Cocke and Craig Cully, with new collage pieces by Andy Burgess. All of the pieces burst with color, and touch on nature to varying degrees. Cocke places manmade objects into nature in a sometimes unnatural way—trumpets in the sky, rubber ducks on the ground near a tree, an enormous Pez dispenser overlooking a city. Said makes heavy use of flowers, in the kind of art that makes you want to get more into art. And Cully's work features people at the forefront, with elements of nature in his gloriously hazy works. Burgess' collage work is something we're all familiar with. It's a gorgeous, thought-provoking exhibition you won't want to miss. Runs through Saturday, June 2, with an artist reception from 7 to 10 p.m. on Saturday, March 10. Etherton Gallery, 135 S. Sixth Ave.

Fun in General
Tucson Tango Festival
. First things first for lovers of powdered orange drinks who may have misread this on first glance. It's the Tucson TangO festival, not the Tucson Tang Festival. And let's be honest, a Tango festival sounds much, much better. It's full of classes for tango-ers of all levels, in group classes, private instructions, and Milonga, a version of the tango where you have to move faster, but you get to relax your legs and body more. Learn from some of the best tango dancers around, as well as the best tango dancers from not around, like guest instructors Vania Rey and internationally renowned tango couple Judy and Jon Margolis. Plus, plenty of vendors to fill of your tango shoes and tango wear needs. Thursday, March 8 through Sunday, March 11. Classes start at 2 p.m. Thursday, 11 a.m. on Friday, Saturday and Sunday. Casino Del Sol, 5655 W. Valencia Road. Full Festival Pass $320 or $160 for full-time students. Prices for individual classes and individual days vary.

Mercado Flea Market
. Flea markets are always pretty charming and eclectic, but when you get a flea market in Tucson, already such a charming and eclectic city, you get charming and eclectic squared. If you think you can handle such a next-level flea market, don't miss this one, which features a mix of antiques, collectibles and vintage finds, every second Sunday through May. 8 a.m. to 2 p.m. Sunday, March 11. Mercado San Agustin, 100 S. Avenida del Convento.
Leslie Jordan: Exposed
. You may know him from
Will and Grace
. You may know him from T
he Help
. You may know him for his famous (infamous?) one-liners. Or you may just know him for being only 4'11". But you probably know Leslie Jordan, and apparently he knows about us here in Tucson too, because he's coming! It's a comedy show that's equal parts about him growing up and coming to Hollywood and making fun of the Hollywood world. If you're not convinced already, this show is a part of the Reveille Men's Chorus "Rev-It-Up" fundraiser, which will help the chorus keep changing lives through music. 7:30 p.m. Saturday, March 10. Fox Tucson Theatre, 17 W. Congress. $18 to $125.
Tucson Festival of Books
. All we can say is you'd better book it on over to the UA's campus this weekend. Authors are speaking, alone and on panels! Workshops are being offered, to make okay authors into good authors! Awards are being given, in poetry, fiction and nonfiction, to writers from all over the country. There's more than 350 writers: 2018 National Book Award Winners, photographers, memoir writers, poets, science writers, culinary writers, sic-fi writers, sports writers, true crime writers and every other kind of writer you can imagine—including names like RL Stine, bell hooks and Brian Smith. 9:30 a.m. to 5:30 p.m. Saturday, March 10 to Sunday, March 11. University of Arizona Campus. You can park for free in the Park Avenue and Highland Garages, or in the Cherry Avenue, Sixth Street, Tyndall and Main Gate garages for just 5 bucks. Entry is free.
2nd Saturdays Downtown
. Another second Saturday, another excuse to head to Tucson's downtown to check out all the happy hour and food truck specials. Downtown Kitchen and Cocktails has happy hour from 4 to 6 p.m., Maynards from 4 to 8 p.m., Penca from 3 to 5 p.m. and Puebla Vida Brewing Co. from 11 a.m. to 6 p.m.! Borderlands Brewing Co. will have the Blacktop Grill food truck on site starting at 5 p.m. What are you waiting for—get eating, and get drinking! Saturday, March 10.

Nightcrawler
Johanna Warren
is an herbalist, healer and musician who sings and plays guitar, bass, percussion, flute, harmonium, mellotron, vibes, synth. Yes, she pulls it all off—and well. Many fairy-like melodies recall the feminine side of Laurel Canyon (more Judee Sill than Joni Mitchell or Mama Cass), skipping through light and shadow with equal grace, offering glimpses to the darker side of psych while trusting we remain in benevolent hands. Self-harmonizing vocals rise above droning reverb as Warren weaves the organic with original folk—it's catchy but with surprising staying power, like an up-to-the-moment Fairport Convention. This Portland-based white witch hardly veers into affected or self-referential territory, rather stays deceptively plainspoken, despite natural otherworldliness. "I try to keep the light burning bright/But can't turn away from the pleasure of my pain." There's searching in her instrumentation, hope in her happier moments and hushing sadness when she cannot overcome herself. Friday, March 9. House Show, 446 East 1st St. Doors: 6 p.m. —B.S. Eliot
Vince Staples
. Strip away the post-Dre, made-to-hide-bad-flow production, and the bloated choruses inserted for prime air/club time, and you've got classic, old-school rap. Enter Vince Staples. Hailing from a place of deep insider experience (Northside Long Beach, gangs, poverty), there ain't no cartoon glorification in Staples's deductions—the soulful quiver in his voice betrays insecurity and alienation. Nimbly and concisely spitting every multi-syllabic line with controlled precision, Staples snaps rap back to its original, inner-city narratives. And he adds a lens of modern-day concerns, addressing the effect of celebrity and gangsta culture on hood life. In "Norf Norf," Staples acknowledges his famous LBC predecessors, adding, "Nate Dogg still here cuz of niggas like me/Police still scared cuz of niggas like me." But it's not braggadocio. Staples thickens his storytelling with rare subtlety and vulnerability that nods to—and furthers all—that has come before. With WooDro on Wednesday, March 14. Rialto Theatre, 318 E. Congress. Doors: 8 p.m. $32-$40. All ages. —B.S. Eliot
Hirie
. A well-endowed woman kicks off her shoes and sinks her feet into the sand, slipping out of designer swimwear to reveal a surprising native people's tattoo covering her back. On the surface, Hirie's glossy poppers are well-executed, if somewhat generic, just like their Maroon 5 ilk. But Hirie surprises in the lyrics. "I know that you're top shelf/I say the same about myself." Coming from a beautiful woman, who could be J-Lo's kid sis or daughter, the sentiment is (alarmingly) refreshing. Indeed, there's a confident sophistication and global perspective here— reggae-tinged Caribbean that rises from love and respect not boardroom schemes for hit songs. This San Diego seven-piece brings horns, 2-4 rhythms and sugary sung pop hooks that channel the Irie positivity that's missing from so much post-Sublime pop reggae. With Indubious and For Peace Band Guam on Wednesday, March 14. The Rock, 136 North Park Ave. Doors: 7 p.m. $15. All ages. —B.S. Eliot
Sweet Ghosts
. Imagine the sweetly evocative movements penned by an old-school Motown arranger (like Paul Riser), the songwriterly skills of, say, Iron and Wine, and heartbreak melodies (including those by a Linda Ronstadt-caliber singer) and you begin to approximate the power of Sweet Ghosts. Sounds like hyperbole…but wait. The shared vision of Ryan Alfred (Calexico, Run Boy Run) and mighty Katherine Byrnes (Amos Lee, The University of Arizona Big Band), create a musical equivalent of a Tucson sunset—the melancholy and the reach, the respite and the regeneration. Yet each song sounds different, from an open sky to a tortured monsoon, if you will. This show, the first in more a year that brings a full band together (including Ben Nisbet, Gabe Sullivan and Winston Watson), promises to be a night crammed with hometown heart. Their new LP,
Endless Blue
, is out later this year. With Amor Deluxe on Thursday, March 8. Club Congress, 311 E. Congress. Doors: 7 p.m. $10. 21+. —B.S. Eliot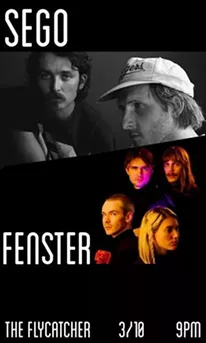 Fenster
. Their dreamy soundscapes, replete with rubbery bass lines, breathy female vocals, and occasional woodwind solo, descend like gentle rain on an abandoned cityscape. There's much more going on in the songs: Intricate musical passages, strangely soothing twists and well-crafted themes. Like Tortoise, Fenster makes deceptively easy-listening, rock/jazz fusion, but it doesn't bore a listener to death. It challenges later, upon repeated listens, like all good music. In "Memories," a song reflecting upon the word itself with the repeated lyric, "Let me go now, let me go," the bass clarinet, modular synths and fretless bass also emulate the effect that memory plays upon a listener's reality. The music is Sparklehorse-beautiful, melancholy and richly textured. Fenster means window and this Wisconsin trio is attempting to both create the picture outside the pane and shape the frame of the window itself. No mean feat. With Sego on Saturday, March 10. The Flycatcher, 340 E. Sixth St. Doors: 9 p.m. $5. 21+. —B.S. Eliot