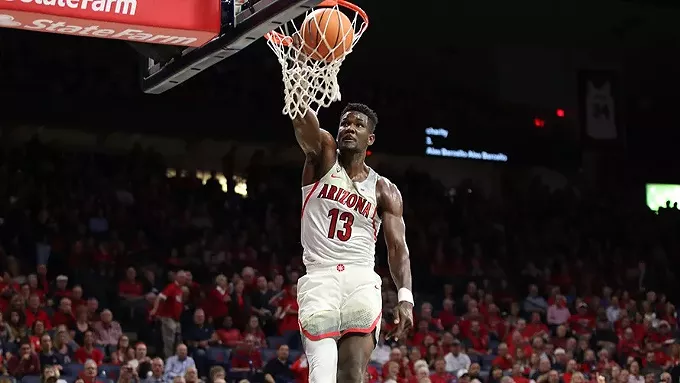 Welcome to the most wonderful time of the year, ladies and gents, when the glitz and glamour of commercialism and college athletics collide, in a jumbled free-for-all with pride and postseason dreams on the line.
This smorgasbord of excess that I'm referring to is the month-long tradition of March Madness™—and the stomach-splitting drama that is the Pac-12 Tournament.
This year's Iliad will once again take place in the gilded palace that Phil Anschutz and greed built on The Strip, in Las Vegas' T-Mobile Arena.
There's no shortage of storylines in this year's tournament, from Arizona's year of FBI-and-internal-driven drama to UCLA's triumph over hubris (See, their China trip) and Utah's meteoric rise in the season's latter half.
The net result of this myriad of storylines is a wide-open conference tournament that anyone can win, and a week that's sure to feature equal parts debauchery off the court and delirious entertainment on it.
Without further adieu, here's my preview of this week's tournament in, as Bill Walton calls it, "The Conference of Champions."
Opening Round Games: (Wednesday)
Colorado vs. ASU/Stanford vs. Cal/Oregon vs. Washington State/Washington vs. Oregon State
Most of these games should be blowouts, with Stanford playing a mediocre Cal team and Oregon playing an overmatched Washington State squad.
The other two matchups, in Colorado-ASU and Washington-Oregon State more than make up for the dearth of entertainment, however.
In the former, we'll see the enigmatic bundle of neurosis and unrelenting cursing that is ASU Coach Bobby Hurley, whose team went from 12-0 and on top of the world in the non-conference season to 20-10 and on the verge of missing the NCAA Tournament some 67 days later.
The Devils, thanks to an offense that lives (and dies) at the three-point line, have gone from the sweethearts of the nation, with wins over top-10 teams like Xavier (in Vegas) and Kansas (in Lawrence).
It's hard to remember that the Devils, entering their conference opener in Tucson, were ranked third in the AP top-25, and on top of the basketball world.
They'll have to channel the style of play best characterized as organized chaos to advance past a pesky CU squad that features a three-headed offensive tour de force, in McKinley Wright IV, George King and Namon Wright.
Those three Buffs have combined to score 37.1 points per game this season, and will test ASU's defense all game long.
The Devis' fate on Wednesday will likely come down to the play of senior guards Tra Holder and Shannon Evans II—who looked unstoppable during the team's early season success, and unorganized during their late season slide.
Elsewhere, the matchup of Pac-12 Coach of the Year Mike Hopkins' Washington squad and Oregon State will be a sneaky good game to watch.
The Huskies, behind Hopkins' stifling matchup zone defense and do-it-all freshman guard Jaylen Nowell, who is averaging 16.2 PPG as a freshman, are on the verge of clinching a spot in the Big Dance.
It'd be huge for them to do so, as the Huskies haven't made it to the NCAA Tournament since 2011.
They'll need to find a way to contain an enigmatic, but explosive at times Oregon State squad, that features a core-four of Tres Tinkle, Drew Eubanks, Stephen Thompson Jr. and Ethan Thompson.
Those four players, who will likely power the Beavers in years to come, have looked downright dominant at times this season—averaging a combined 57.2 points per game this season.
Keep an eye on the Wednesday games, all of which will be shown on the Pac-12 Network, as they'll feature some spectacular action.
Quarterfinals (Thursday)
Arizona vs. ASU or Colorado/UCLA vs. Stanford or Cal/USC vs. Washington or Oregon State/Utah vs. Oregon or Washington State
Here's where the plot thickens like a set of arteries after a night at the all-you-can-eat buffet at the MGM.
There are so many possible storylines in this round of the tournament that it'd be nearly impossible to sum them all up in this space, but I'll do my best.
Arizona vs. Colorado or ASU
First, the potential rematch of Arizona vs. Colorado or ASU would be must-see television, given how the team fared against both opponents.
It's difficult to harken back to the 'Cats 80-77 loss at the hands of the Buffs in Boulder on Jan. 6, but it was one to forget.
That matchup, the first of four conference L's for Coach Sean Miller and company, saw the Wildcats fall behind by 20 points in the first half, and 16 at the half, before a furious comeback attempt that fell just short.
The Wildcats got a measure of revenge against Tad Boyle's team 19 days later—with an 80-71 win in Tucson over the Buffs, thanks to an unreal 22-for-23 effort at the free throw line.
The Wildcats' had a similarly-spectacular season series against their rivals in Tempe, winning both games—84-78 and 77-70.
The reason for Arizona's success in those games, which would be subsequently replicated, was hedging over on-ball screens, preventing the Devils' from having any uncontested three-pointers.
That tactic was especially successful against the Devils, given their lack of interior height (their center is 6-foot-10).
It's important to remember that teams generally step under screens, in fear of surrendering rebounds inside—which isn't much of a worry when you have two seven-foot starters, as Arizona does.
UCLA vs. Stanford
The other quarterfinal matchups present interesting storylines as well, with UCLA's shoot first and don't ask questions offense likely running into the defense-first buzzsaw that Jarod Haase's Stanford teams pride themselves on.
How will the Bruins slow down Stanford's two-man juggernaut of forward Reid Travis and guard Dorian Pickens, who average 19.6 and 14.7 points per game, respectively?
How will the Bruins' fare against the duo in their third matchup, after surrendering 18 and 11 points to Travis, and 26 and 16 points to Pickens in their two games this year.
It'll be interesting to see how the Bruins' look offensively, with first-team All-Conference guard Aaron Holiday scoring 31 and 21 points apiece against the Cardinal this season.
This could be the game of the day, with two teams in desperate need of deep runs in Vegas to have a realistic shot at making the 68-team NCAA Tournament.
Utah vs. Oregon
There's also the likely matchup of Utah, which enters the tournament having won six of its last seven games, and an underrated Oregon squad that's hitting its stride at the right time.
It'll be interesting to see if the Utes, who beat Oregon by 10, 66-56, in their lone meeting this season, can keep their recent mojo alive against Dana Altman's team.
One matchup to keep an eye on between the Utes and Ducks would be at guard, where Utah's 5-foot-8-inch wonder Justin Bibbins and three-point extraordinaire Payton Pritchard of Oregon will square off.
This matchup is interesting, not just because of the six-inch height differential, but also because the two are the lifeblood of their team's offenses.
It's no surprise that Pritchard had one of his worst games against the Utes, scoring 7 points on 2-for-10 shooting. Bibbins, meanwhile, was red-hot against the Ducks, scoring 19 points on 7-of-11 shots, the second of what would be 11-straight games scoring at least 10 points for Bibbins.
USC vs. Washington or Oregon State
I'm not even going to try to predict which team will win the first round fistfight that is OSU and Washington, so I'll just breakdown a potential matchup for each team.
For USC, it's been a season of lofty expectations (they were picked to finish second in the preseason conference poll), and inconsistent play.
The Trojans did, indeed, finish second in the conference, going 12-6, despite losing junior forward Bennie Boatwright going down for the season to a knee injury.
His injury, which derailed a promising junior season for the Mission Hills native, hasn't really slowed down the Trojans, going 3-1 since his injury against Oregon.
Their lone loss during that stretch was perhaps the most damaging, both résumé-and-psyche-wise, falling to crosstown rival UCLA, 83-72, on the Trojans' home court.
It'll be interesting to see how Andy Enfield's Trojans squad fares against either opponent, with a Washington squad that can force you into making dumb passes and taking bad shots.
The same goes for an Oregon State squad that drags you into a 40-minute rock fight with its brand of defense-first basketball.
Both teams have fared well on the defensive side of the ball, with OSU ranking second in the conference in points allowed (70.8), while Washington is first in steals per game (8.1).
It'll be interesting to see how the Trojans, who rank second in the Pac-12 in turnover margin, at +2.9, fare against either team come Thursday.
Semifinals (Friday)
[Likely Matchup] Arizona vs. UCLA (7 p.m., Fox Sports 1)
Here's where I put on my Nostradamus outfit and try my hand at predicting how things will fare in the Sin City.
I think that Arizona should be able to out-muscle Arizona State and/or Colorado, and don't see the Bruins stumbling against Stanford.
The two played in one of the best games of the conference season in their lone tilt this year, with UCLA knocking off Arizona, 82-74, at McKale—the Wildcats lone home loss this season.
That game saw UCLA make an unreal number of deep shots early, including Jaylen Hands' buzzer-beating three at the end of the first half.
The Bruins made 11 threes in total against the Wildcats, with all five of their starters scoring more than 10 points in the victory.
Arizona also had an uncharacteristically shaky performance from Ayton, who made 7-of-19 shots from the floor, feeding into the Bruins' surge in confidence.
The matchup of Ayton and Bruins' senior center Thomas Welsh will be fascinating, with the Redondo Beach native scoring 11 points while pulling down 8 rebounds in their win in Tucson.
It's always must-see basketball when Miller and UCLA Coach Steve Alford square off, and this matchup is no different.
Expect a dizzying spectacle of highlight reel dunks, face-melting threes and blown defensive assignments in this semifinal matchup.
[Likely Matchup] USC vs. Oregon (9:30 p.m., Fox Sports 1)
I'm going with chalk for much of this tournament, simply because I don't see the conference "elites" (Arizona, UCLA and USC) stumbling against inferior opponents.
That trend ends with the matchup of third-seed Utah and sixth-seeded Oregon, because I think its impossible for Altman's teams to fail in March.
The Ducks, who made it to the Final Four a year ago, have coalesced around a team-wide lust for three-pointers, making 281 this season, while also maximizing their trips to the charity stripe.
Altman's team leads the conference in free throw percentage, hitting 77.7% of them this season, 1.3% higher than the next closest team (Arizona).
The Trojans, meanwhile, have found success by being good (but not great) at most facets of the game—ranking in the top-five in a number of categories.
The Men of Troy rank first in assists, and top-five in points scored, points allowed, scoring margin, field goal percentage, three-point shooting, defensive rebounding and blocked shots.
Finals (Saturday)

[Likely Matchup] Arizona vs. Oregon (8 p.m., Fox Sports 1)
Like I said before, I'm not dumb enough to go against Altman in March. The Ducks might be the six-seed in Vegas, but have more than enough firepower to make it to Saturday's finale.
Oregon and Arizona played two memorable games this season, with Arizona beating the Ducks, 90-83, in Tucson. Oregon got revenge in Eugene, however, beating the Wildcats 98-93 in overtime.
The two have fast become one of the best rivalries west of the Mississippi, and should provide a spectacle equal to last year's 83-80 triumph in last year's title game, their first conference tournament crown since 2002.
Both teams should be fully healthy come Saturday, and that's extra reason to watch. Can the Wildcats' tower of power, in Dusan Ristic and Ayton, overcome the Ducks' speed and shooting touch? Can the Wildcats slow down the Ducks long enough to pull away with their second-consecutive title?
Tune in well after dark on Saturday night to find out. What happens in Vegas, on the basketball court, is sure to not stay there.