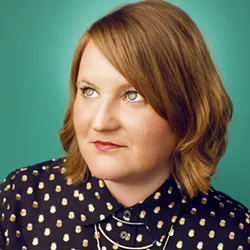 "Everyone thought I was crazy," says Genevieve Rice, founder of Phoenix's Bird City Comedy Festival. "I still am." In the two years since she launched the festival, she's added a podcast, two monthly series of live comedy shows in Phoenix, Jazz and Jokes and Bird City Comedy Presents, and now The Early Bird Comedy Tour, which makes a Tucson Stop on Saturday, March 3.
The tour features Tucson comedians Mo Urban, Matt Ziemak, Rory Monserat and Chris Thayer, all of whom have won slots at this year's Bird City Festival March 29 through 31. Heading up the bill are Los Angeles comedian and writer Anthony Desamiento, veteran of many comedy festivals and co-host of the NPR-blessed "Golden Girls Podcast", and headliner Amy Miller of Portland, a favorite in Season 9 of Last Comic Standing, and three times named Portland's funniest comedian. Miller has worked with such notable headliners as Arsenio Hall and singer Ryan Adams.
The March 3 show is at 10:30 p.m. at the new TIM Theater, at 414 E. 9th St., between The Coronet and Revel wine bar. Doors are at 10 p.m.; tickets are $10. Visit tinyurl.com/birdcitytucson for details and reservations.
"Both Phoenix and Tucson have great comedy scenes," Rice says. "Phoenix has a larger scene, but I feel like the comics of Tucson collaborate really well to put together some truly fantastic shows."
A veteran comedian and comedy-festival-goer, and a former collaborator in Flagstaff's Big Pine Comedy Festival, Rice says, "I've tried very hard to incorporate the best things I've noticed from all the festivals I've attended, and I've sought to treat our talent really well.
"The most heartwarming thing has been to see performers who met at Bird City working together on other projects, but I feel like I'm putting on the fest I would most want to see."
Rice has produced comedy shows in Phoenix almost monthly for the last several years. Now she considers the monthly series, Bird City Presents, to be and ongoing part of the annual event. The Jazz and Jokes series has its own genesis. "My husband, Jeff Libman, is a jazz guitarist who works with The Nash, a non-profit jazz club in downtown Phoenix.
"We've long talked about a way to combine music and comedy in a show. It harks back to the beginning of modern stand-up, when comedians and jazz musicians were often on the same bill. It's been great to introduce the two scenes to each other and see how great a fit they are."