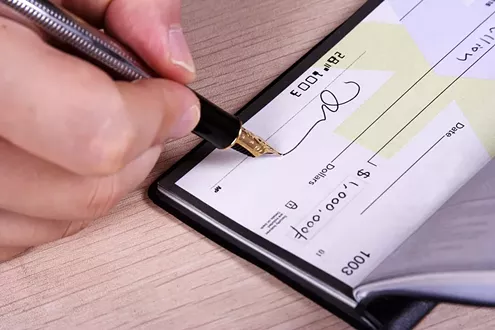 It's a conservative three-fer. Cut into financial support for Democrats. Lower the pay for state government workers. Encounter less resistance when you attack "government schools." All by weakening the power of public employee unions.
That's why a case currently in front of the U.S. Supreme Court, Janus vs. Afscme, is such a big deal, and why conservatives have been funding the cause behind the case for years.
Janus vs. Afscme would take away the ability of public employee unions to make non-union members pay a "fair share" fee. Twenty-two states currently have that requirement, which makes their public employee unions strong as a bargaining force for state employees and a political force during election time. The rest, like Arizona, don't have "fair share," making the unions weaker on both fronts. I don't plan to discuss the merits of the case, though like most people whose politics lean left, I very much hope the Supreme Court rules against Janus. The discussion here is about money in politics, specifically the money of one Richard Uihlein.
I had never heard of Uihlein until I read an article a few days ago saying he was one of the
largest donors
behind the current effort to get rid of the "fair share" fee. So I did a google search on the guy. One article I found calls him "The Koch of conservative politics in Illinois." Another wants you to "Meet the Illinoisan Trying to Buy a Wisconsin Senate Seat." Another article lists "10 super-rich people [who] dominate giving to super PACs active in midterm elections for Congress." For the 2018 elections, Uihlein is at the top of the list with $19.5 million so far, and we're at the beginning of the funding cycle.
The Koch brothers and their donor network are the 800 pound gorilla in the political room — more appropriately, a troop of 800 pound gorillas lording over the political jungle. But they have lots of right wing, deep pocket allies. Some names I know, like Sheldon Adelson, Robert Mercer, Betsy and Richard DeVos, Peter Friess, Peter Thiel, Paul Singer. But there are lots of other hundred-millionaires and billionaires like Richard Uihlein spread across the country working at the state and local level, and reaching into their wallets to contribute to national conservative candidates along with causes like destroying labor unions.
Here's an incomplete list of Uihlein's contributions over the years to give an idea of their magnitude. $3 million to Club for Growth. $1.8 million to Restoration PAC. $5 million to Wisconsin Governor Scott Walker's Unintimidated PAC. $1 million to Trusted Leadership PAC for Ted Cruz's presidential campaign. Another $1 million to Cruz's Keep the Promise PAC. $5 million to Liberty Principles PAC. $1 million to the Federalist Society. $2.5 million to Illinois Governor Bruce Rauner's campaign. $3.5 million supporting Kevin Nicholson for a 2018 U.S. Senate seat.
That's a whole lot of money from one guy I, and I'm guessing most of you, have never heard of.