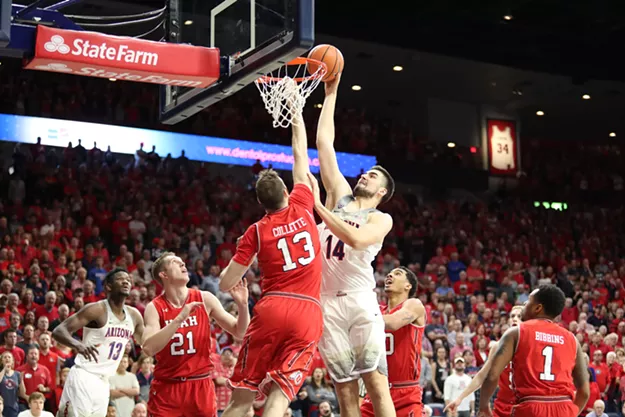 Sean Miller knows full well the horrors that await any team that sleepwalks into the cavernous confines of Gill Coliseum in Corvallis, Oregon.
That's because Miller has been on the wrong side of the matchup in the Willamette three times since 2010, most recently in 2015, when the then-seventh ranked Wildcats met a Beaver buzz saw, falling 58-56, after former guard (and Philadelphia 76ers legend) T.J. McConnell missed a game-tying jump shot at the buzzer.
The Wildcats (21-6, 11-3) achieved some sort of redemption last year, trampling the semiaquatic rodent (and official state animal of Oregon) 71-54.
Fast-forward 385 days, and the two species will do battle at Gill once again, with the Wildcats looking for a third-consecutive victory.
A win on Thursday would also give Miller and company some breathing room atop the Pac-12 standings, with a current 1.5-game lead over UCLA and USC.
Miller knows that Thursday's battle in Corvallis, which tips off at 7 p.m. Arizona time, will test the team's resolve, in the first part of the team's final road trip of the season.
"[Oregon State's] a very physical team. They're a team that takes a lot of pride in their defense, their half-court defense," Miller said in his weekly press conference. "They do it by playing a lot of zone, not all zone, even when they're man-to-man, they're very physical."
Miller highlighted the unenviable task of slowing down a pair of Beavers that have torched defenses this season: Forwards Tres Tinkle and Drew Eubanks, who average 18.1 and 12.9 points per game this season, respectively.
"I think Drew Eubanks is one of the most underappreciated, or underrated players in our conference," Miller said. "He's very good. He's a great shot blocker. Part of Oregon State's physicality really is him. He's rugged, and he does it on defense and offense."
Eubanks struggled in the team's first meeting, scoring 8 points on 4-of-13 shooting, in a 62-53 slugfest that Arizona ultimately won at McKale.
Miller knows that his team will have to play significantly better against the Beavers, who enter Thursday's game on a two-game slide, in order to pick up their 22nd win of the season.
"The first game, we did not generate enough good shots," Miller said. "That had a lot to do with their defense, we had large segments of that game where we didn't play exceptionally well. And I think that had a lot to do with it. And we're going to have to be better this time around, for sure."
Winning time

This week's Beaver State road trip (yes, that's actually the Oregon's official state nickname), is of paramount importance to players and coaches alike, said senior center Dusan Ristic.
The Serbian big man, who had eight points and eight rebounds against the Beavers in Tucson, expects a nightlong battle in Corvallis.
"Obviously, the Oregon schools are really good, even though their record isn't that good, they have talented players," Ristic said. "They play well. They have a few bad losses, but they're good teams. Both of them."
Ristic, who's having a career year, in terms of points (11.9), rebounds (7.1) and field goal percentage (58.8 percent), is locked in to preparing for this week's matchups against the Beavers and Ducks.
"Right now, our focus is on the Oregon trip," Ristic said. "I think this is arguably one of the most important trips for the season for us. I think if we win both games, we're going to put ourselves in a really good position to win the Pac-12 after these two games, so that's our main focus."
The 7-foot center from Novi Sad says his focus is on doing whatever it takes to get Arizona into the NCAA Tournament, and perhaps into the Final Four for the first time since 2001.
Doing so, he said, would put a cherry on top of what's been a memorable four years in Tucson for the soft-spoken big man.
"We have a lot of goals to achieve," Ristic said. "Even though we have four games left in the Pac-12, our goals are much bigger than only the Pac-12 itself. I think our goals for this year are just winning in March, going to the Final Four, and winning the National Championship. And if this team can do that then I will say that my goals will be 100 percent achieved here."

How to Watch:
Arizona plays Oregon State at 7 p.m. Arizona time, with Fox Sports 1 airing the game.