It was 9:30 on a Wednesday morning, but a group of elementary children aren't sitting in their desks at school. Instead, they are picking out some clothes and a backpack for themselves.
Helen Van Auken, a retired principal and teacher, was there helping a little girl pick out clothes. She volunteers at the Assistance League of Tucson sorting donations that come in, selling at the thrift shop and helping children at "Operation School Bell."


She found out about the Assistance League of Tucson, a local chapter of the national Assistance League, when a friend invited her to check it out and discovered she wanted to see a part of it because she had seen many kids who needed services during her experience as an educator.
One of her favorite memories as a volunteer is helping a little boy one day who wanted a pink backpack.
"Everybody has what they want," Van Auken said. "But this just seemed a little unusual and we said, 'Are you sure you want pink? Look at all the colors.' He said 'Yes, I wanna get a pink backpack, it's for my sister. She never had nothing new.' That really touched my heart."
This is what a morning of "Operation School Bell" at the Assistance League looks like. It is one of the various programs through which this volunteer-driven center helps Tucsonans in need. Around 400 volunteers contribute their time to running the programs.
Volunteers worked 56,199 hours from May 2016 to April 2017, according to Community Newslink Annual Report, distributed by the Tucson chapter of the Assistance League.
The programs offered by the Assistance League of Tucson are created and enacted with the national organization's vision in mind, to "serve the unique needs and challenges of their community."
"Operation School Bell," provides around 4,000 kids from Title I schools around Tucson with clothing while "Hooked on Books" gives these participating children a book to develop their literacy skills and love for learning. "Starting Over Supplies" gives items like blankets and dishes to people who have left their homes or shelters. "Assault Survivor Kits" are given to Southern Arizonans with clothing and toiletries when undergoing forensic examinations for sexual assault. The public can shop while supporting the cause at the Assistance League Thrift Shop (1307 N. Alvernon Way). High school students volunteer at the center and learn about leadership through a program called "Assisteens."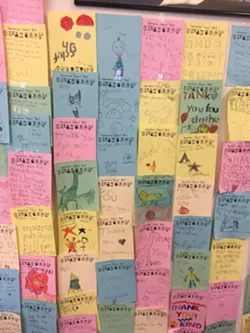 Johnny Williams, the former president of the Tucson chapter is now a chairman of the national program. Williams said these programs are paid through grants, donations and the revenue that comes from the Assistance League's thrift shop. Sixty two percent of the money made from the thrift shop goes into the philanthropic programs, the Community Newslink Annual Report said.
Williams also said that volunteers pay dues so that money for expenses wouldn't have to be taken from the programs. To him, everyone who is involved does so because they truly want to help out.
"Everyone's a volunteer. So when you get into an organization like this, people can leave if they want to. Don't show up. So you see people [who] want to be there and are volunteering to be there so that's a good feeling," he said.
This is how the Assistance League of Tucson accomplish their local mission, "volunteers working in the Tucson community to help those in need."