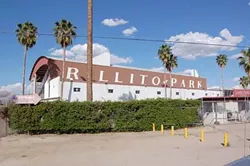 Wyatt Earp:
Tombstone Brewing Company is pairing up with
Casa Video Film Bar to give an authentic feel of the Wild West
. See? Even films can get involved in Arizona Beer Week. Watch Kevin Costner play perhaps the most famous sheriff of Cochise County, and battle it out at the O.K. Corral. Or as the cool kids call it, the Okie Dokie Corral. 7 to 10 p.m. Friday, Feb. 16. 2905 E. Speedway Blvd.
Sans Soleil:
Grace St. Paul's Episcopal Church is opening up your mind with one of the most acclaimed documentaries of all time:
Sans Soleil
(or "Sunless"). This experimental documentary is part stock footage, part travelogue, part essay film, all combined to examine memory and what it means to be human. 6:30 p.m. Friday, Feb. 16. 2331 E. Adams St.
Details here.
The Art of Truffles:
No, not the thousand-dollar mushrooms people hunt for in the Black Forest.
You'll learn how to make some awesome chocolatey treats
, courtesy of Tamara from Chantilly Tea Shoppe. And all the while you're learning, you get to sip some wine! 5 to 7 p.m. Friday, Feb. 16. 7090 N. Oracle Road.
Chinese New Year Dinner:
The Carriage House is kicking off the Chinese new year with a
five-course meal made specially by chef Devon Sanner
. Included with the massive meal is a welcome cocktail and wine. And if all of that isn't enough, there is also a special performance by the Jade Lion. 6:30 to 9:30 p.m. Friday, Feb. 16. 125 S. Arizona Ave. For reservations, email Megan@DOWNTOWNKitchen.com.
TEDxUofA: Uncharted.
The first annual TEDxUofA conference is here!
You'll hear from geologist, educator and writer Jess Kapp in her talk "Say Yes," about taking risks for the sake of self discovery. Shepard Robbins will talk about the dark side of comics in his talk "Under the Page." Biosystems engineering professor Joel Cuello talk about using amplified intelligence to achieve more sustainable methods of food development in "AI Does Food." Marketing assistant professor Caleb Warren will talk about why we love the products we do in "What Makes Things Cool." Jonathan Bean will talk about the shifting nature of markets in "Demand Less." Hester Oberman, Ph.D, will talk about religion and philosophy in "Belief Out of the Closet." And Nolan Cabrera, a scholar of race and racism, will talk about the pitfalls of privilege in "White Immunity." 3 to 7 p.m. Friday, Feb. 16. Crowder Hall, 1017 N. Olive Road. $20 GA, $20 VIP, $10 student, $15 student VIP.
Rachmaninoff Rhapsody:
Vadym Kholodenko, a Ukrainian pianist who won the 2013 Van Cliburn International Piano Competition, is making his TSO debut with Rachmaninoff's Rhapsody on a Theme of Paganini. TSO Music Director José Luis Gomez commissioned a piece by former Young Composers Project student Anthony Constantino, and the piece, Luminosity's Witness, will make its world premiere at TSO. Also on the docket: Selections from Prokofiev's Romeo and Juliet and Ginastera's Dances from Estancia ballet. 7:30 p.m. on Friday, Feb. 16 and 2 p.m. on Sunday, Feb. 18.
Details here.
Quilt Fiesta!
Are you ready for the most wholesome festival this world has ever seen? Well, you'd better get ready. With vendors, quilt appraisals, a vintage quilt turning and a special kids section, it's a show with something for everyone. (Even if you're not INTO quilts, you're into being warm, right? And seeing people love what they do?) Plus, there's demonstrations on the modern quilt movement and crafting the perfect border. Guest speaker Dixie McBride will be giving two talks: "Garage Sale Heirlooms" and "Quilt Judges and Jurors: Who Are They?" Admission comes with a raffle ticket to win the award-winning quilt Star Light, Star Bright. Friday, Feb. 16 to Sunday, Feb. 18. 9 a.m. to 5 p.m. Friday and Saturday, 10 a.m. to 4 p.m. Sunday. $10 for one day, $20 for all three days (only available on Friday). Free for kids 14 and under.
Details here.
TMA Annual Spring Artisans Market:
More than 100 juried artists are coming together so that you can buy tons of beautiful things in one place. Pottery! Glass! Jewelry! Textiles! Fine art! You name it! This is also your last opportunity to see the museum's feature exhibition, Dress Matters: Clothing as Metaphor. Live performances by Andy Hersey and Shelly Hawkins Dance on Friday, Solidarity Sympa and Lisa O'Neill Saturday and Jazz Pyramid Scheme, ft. tidypaws, Dimitri Manos and Thøger Lund on Sunday. 10 a.m. to 4 p.m. Friday, Feb. 16 to Sunday, Feb. 18. Tucson Museum of Art and Historic Block, 140 N. Main Ave. Free. The museum is free and open to the public during all three days of the market as well.
Details here.
24 Hours in the Old Pueblo.
This team relay and solo rider mountain bike event is one of the largest 24-hour events in the world
. Yes, it literally lasts from noon on Saturday to noon on Sunday. While these maniacs are riding their bikes for longer than most of us have ever done anything continuously, we mere mortals can enjoy fun stuff too, like a Four Peaks Brewing beer garden, hot cocoa in the In-N-Out Burger Exchange Tent and a Maxis Tire Toss. 24 Hour Town is a tiny utopia that gets erected for the weekend (utopias can't last forever, you know) and that's where it's all going down. Friday, Feb. 16 to Sunday, Feb. 18. Starts at noon on Friday, 6 a.m. on Saturday and 7 a.m. on Sunday. Camping sites vary in cost, but most include a requirement that you bring some canned goods for a food drive.
Wizards.
From the man who brought you the world's first X-rated animated film comes a psychedelic and fantastical vision of the future. Ralph Bakshi's animation certainly is unique, and so is this movie. Elves, Orcs, laser guns and all the bizarre pre-digital animation you could ask for. This movie was made just one year before he released the 1978 animated version of the Lord of the Rings, but rivals it in scope and scale.
Loft Cinema, 3233 E. Speedway.
10 p.m., Saturday, Feb. 17. $6.
Battle of the Beers.
Huss Brewing Company is heading over to Tap & Bottle for the second annual Ro Sham Beaux competition. It's a tough competition between the Barrel Aged Koffee Stout and the Imperial Chocolate Porter, and many more. Who will survive? You'll just have to show up to find out. 5:30 p.m., Saturday, Feb. 17. 403 N. Sixth Ave, suite 135.
Details here.

Off the Vine Wine Festival.
Wine takes over Steam Pump Ranch for a day. Not only will there be dozens of local wine tastings, but you get to talk with local winemakers and enjoy live music. Price of admission includes a commemorative glass and six tasting tickets. 11 a.m. to 6 p.m., Saturday, Feb. 17. 10901 N. Oracle Road.
Details here.
When Immigration Hits a Wall: Life in the Borderlands Location.
In case the issue of immigration ever feels like it's getting too abstract for you, hear from three locals about what the changing landscape of immigration policy means for them. Mo Goldman, a Tucson immigration attorney, will talk about what's changed and what to expect going forward on the legal side of things. Loreno Verdugo, a community health adviser and coordinator for El Rio Health Center and coordinator of Ventanilla de Salud in the Mexican Consulate, will share stories about immigrants she's seen make their way to Tucson. Alejandro Ursua, a UA grad and DACA recipient who now works for Merrill Lynch Wealth Management, will share his own story of how the uncertain future affects his family. Hosted by the League of Women Voters of Greater Tucson. 9:30 a.m. to noon. Saturday, Feb. 17. Joel D. Valdez Library, 101 N. Stone, Lower Level 1 Meeting Room. Free.
Ansel Adams Public Celebration.
On some level, aren't we all, always, celebrating the work of Ansel Adams? Here's a chance for us to do it all together, in the same place and at the same time.
The Center for Creative Photography's new exhibit, Ansel Adams: Performing the Print,
will open, and there will also be archival object tours (self guided-the best kind), vintage camera display and a presentation from Pulitzer Prize-winning photojournalist and pal of Ansel Adams, David Hume Kennerly. Plus, cake! Noon to 4 p.m. Saturday, Feb. 17. Center for Creative Photography, 1030 N. Olive Road. Free.
Tucson Take Back the Night.
Singer songwriter Charlie King is playing at this event to raise funds for Take Back The Night, which will in turn raise awareness of sexual violence and provide support to survivors. You'll enjoy a free concert with Charlie, performances by musical guests including the Tucson Women's Chorus and a FREE mean Mexican meal catered by Maria Garcia of La Indita Restaurant. A raffle gives you the chance to donate to a good cause, and possibly take home some good stuff, like TBTN T-shirts, some local art, free tickets to shows or gift certificates to area businesses. 6 p.m. meal, 7 p.m. concert. Saturday, Feb. 17. Unitarian Universalist Church, 4831 E 22nd St. Free. Call Ted at 623-1688 or email its@theriver.com for more info.
Details here.
Happy Birthday, Arizona!
The ol' girl is 106, but we all know she doesn't look a day over 25. To celebrate our sweet state,
Old Tucson
is offering buy one, get one free admission, living history presentations, and some classic Old West entertainment to remind you that 106 is actually pretty old. A special flag ceremony at noon both Saturday and Sunday will be held to make sure Arizona's feeling extra loved. 10 a.m. to 5 p.m. Saturday, Feb. 17 and Sunday, Feb. 18. Old Tucson, 201 S. Kinney Road.
Vigilante Days in Tombstone.
Okay, yeah, this is a skip, hop and a jump outside of Tucson, but it'll be cool. There'll be tons of historical reenactments, the famous "Hanging Tree," a Geo Coin for geocaching and a chili cook. You can visit the Courthouse Museum, tour the Goodenough mine and ride a stagecoach around town. Plus, a fashion show by the Tucson Vigilettes, and the chance to enter a raffle to win a ROSSI Model 92, .45 caliber long colt lever action rifle and handmade case (just don't shoot your eye out). 10 a.m. to 4 p.m. Saturday, Feb. 17 and Sunday, Feb. 18. Allen Street in Tombstone, Arizona. Free entry.
Details here.

Winter Meet at Rillito Park Racetrack.
Everyone's favorite historic racetrack just started its
Winter Meet
last weekend, and there's five more weekends to go, including 12 live race days! This week on the docket, we have Military and First Responder Day on Saturday, Feb. 17 and Arizona VIP Day (government and civic leaders appreciation) on Sunday, Feb. 18. (Call them at 745-5486 to learn more about reserved seating). May the best horse and jockey win! The gates open at 10 a.m. on race days, with a post time of 1 p.m. 4502 N. First Ave. $5 GA, $10 Clubhouse admission.
Cruise, BBQ & Blues Festival and Car Show.
If you're not into cars, this is a great chance to finally understand what all the hype is about. Over at SAACA, they're firm believers that automobiles are art - blending mechanics, design and science to produce beautiful, functional machines that have, in many ways, made the world feel like a smaller place. The event also features live blues music, barbecue and 20 different awards given in categories including Best Interior, Best Engine and People's Choice. 10 a.m. to 3 p.m. Oro Valley Marketplace, 12155 N. Oracle Road. $5. $1 discount for military and veterans, free for kids 10 and under. Tickets available at the door.
Details here.
Cornelio Vega y Su Dinastia
ain't your papa's norteña. His colorful accordion and mariachi-inspired guitar show he's a genre scholar, but his lyrics offer modern twists. In "El Problema," Vega's cooing the blues of a Sonoran kid with a hankering for guns and fast cars and not his family in el norte. The usual romantic viewpoint is love trumps all but Vega sings, "Se que nada es para siempre" (I know that nothing is forever). This kid-jaded take on traditional values, while paying tribute to the genre's roots, is subtly revolutionary. Vega made a name for himself on YouTube, where he's earned more than 58 million hits. And it's no wonder; he offers relatable, well-executed Mexican music, from the perspective of a boy who grew up witnessing heartaches and limitations of older, honest workingmen's lives lived along the problematic frontera. With Adriel Favela, Omar Ruiz, Jonatan Sanchez and Helen Ochoa. Tucson Expo Center, 3750 E. Irvington Road. Doors at 9 p.m. $50. General admission. All ages.
Dent May.
Mayer Hawthorne most recently proved how smooth saxes, disco beats and pitch-corrected blue-eyed soul can make for intricately arranged sugar-pop. Dent May fell in line. But just as you're swept up by May's well-crafted, lounge-y creepers, the lyrics bum out: "Caviar days, plastic surgery nights/90210 with you by my side." Originally from Mississippi, Dent May mecca'd to L.A., where his gifted melodic sensibility (Silverlake's love affair with Brian Wilson, natch) got packaged in hipster cat T's and Spencer's hippie bling. Too bad 'cause songs like "Best Friend" and "Meet Me in the Garden" are gorgeous, yet ultimately insincere. It's music for folks too embarrassed to let themselves feel. Unlike, say, Frank Zappa, May doesn't lift a corner on his schtick to let listeners in on the joke. His cynicism feels unearned, the irony too poker-faced. Yes, Congress will be packed. With Moon King and Liquid Summer on Saturday, Feb. 17. Club Congress, 311 E. Congress. 7 p.m. $10. 16+.
Details here.
Tucson Roadrunners.
Our beloved hockey team has two home games this week against the Bakersfield Condors. Though both teams are avian, the roadrunners have the advantage of being more accustomed to doing battle on the ground, rather than in flight. At 7:05 p.m. on Saturday, Feb. 17, you'll like $1 food night and the youth jersey giveaway, and at 4:05 p.m. on Monday, Feb. 19, you won't want to miss the fidget spinner giveaway. Tucson Arena, 260 S. Church Ave. $10 to $56+.
Details here.
National Wine Day with Cheese Pairing.
It seems like there's a national day for everything now. Who's making this stuff up? But a National Wine Day is perfectly alright by me. Certainly better than a National Left Sock Day, or whatever is coming up next. 1912 Brewing is celebrating the occasion with some of the best wine and cheese this side of Napa Valley. 3 to 5 p.m. Sunday, Feb. 18. 2045 N Forbes Blvd, suite 105.
Details here.
TMC Sunrise at Old Tucson Trail Run.
If you have to run on the dusty trails of Tucson, you might as well go big with it, and run a race that goes through Old Tucson Studios, a slice of the Old West. There's a men's 4-mile, a women's 4-mile and a family 1-mile, and everyone who registers gets a fee cowboy breakfast, and admission to Old Tucson for the day! (Your guests get special discounted pricing as well). And everyone registered gets free admission to the International Wildlife Museum for the day too. So honestly, you could just run a mile and wind up with a free breakfast and a free day at some of the coolest places in Tucson, which almost sounds too good to be true. Registration begins at 7 a.m. in the Old Tucson Parking lot. Women's start at 8 a.m. and men and family runs start at 9 a.m. Old Tucson Studios, 201 S. Kinney Road. $40 4-mile trail run and $25 1-mile run.
Details here.
Kimya Dawson.
Since Kimya Dawson left Moldy Peaches and blew up with "Loose Lips" (from the Juno soundtrack), she has quietly toured and recorded her quirksome folk-pop (and even made a smart, lovely album for toddlers). Gentle, basic guitars accompany her dense, multi-syllabic words, which are as earnestly unadonrned as they are funny and melancholy ("If you want to kill yourself/Remember that I love you/Call me up before you're dead/We'll make up some plans instead"). Her forlorn nursery rhymes are mostly open-hearted, and brave ones at that. When she veers whimsical ("I like my new bunny suit/It makes me feel cute"), it's the unwavering vocal sincerity that keeps her music from faltering. One gets the feeling that Dawson's best friends are still all imaginary and that a blanket tent in her bedroom (with a portable record player inside) is the only place she feels at home. With AJJ and Cesar Ruiz. Club Congress, 311 E. Congress. 7 p.m. $8-$10. All ages.
Details here.