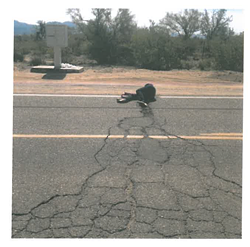 Politico had
a fascinating story this morning about the Arizona Monitor
, a "news" website that has recently been singing the praises of—among others—Republican Kelli Ward, the former state lawmaker now running for U.S. Senate, as well as Pima County's nuttiest supervisor, Ally Miller.
It looked as if Arizona Senate candidate Kelli Ward had scored a big endorsement: On Oct. 28, she posted a link on her campaign website and blasted out a Facebook post, quoting extensively from a column in the Arizona Monitor.

Ticking off the names of Ward's competitors in the Republican primary to replace Sen. Jeff Flake, the Monitor declared: "They all, despite how much some of them profess their love and devotion to President Trump, didn't have the stones to run against Jeff Flake and will have made the 'brave' decision to run for Senate only after Flake decided he wasn't going to run … Kelli Ward is your woman."

There was just one problem: Despite its reputable sounding name, the Arizona Monitor is not a real news site. It is an anonymous, pro-Ward blog that has referred to her primary opponent Martha McSally as "Shifty McSally," frequently blasted Flake and, at the top of its home page, proclaims its mission as "Striking Fear into the Heart of the Establishment." The site launched just a few weeks before publishing the endorsement, and its domain registration is hidden, masking the identity of its owner. On its Facebook page, it is classified as a news site, but scant other information is offered.

The Arizona Monitor seems to be part of a growing trend of conservative political-messaging sites with names that mimic those of mainstream news organizations and whose favored candidates then tout their stories and endorsements as if they were from independent journalists. It's a phenomenon that spans the country from northern New England, where the anonymous Maine Examiner wreaked havoc on a recent mayoral election, all the way out to California, where Rep. Devin Nunes launched — as reported by POLITICO— his own so-called news outlet, the California Republican.


Hours after the Politico report, the Monitor went offline, which goes to show that cockroaches do scatter once the light hits them.
Miller,
who is no stranger to weird blogs run by anonymous would-be journalists,
shared links from the Monitor web site, as it and the Arizona Daily Independent were the two places that gave her sympathetic coverage (as most legit news organizations in town have realized that she's a compulsive liar with a thin grasp on reality). But Politico notes that Miller is denying knowing who is/was behind the Monitor. Maybe she can launch
another FBI investigation into this one!