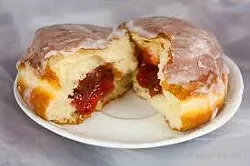 Are you a fan of Polish fruit-filled pastries and looking to boost your Karma quotient? If so, boy, are you in luck!
Bashas Supermarkets, the only grocery store in Tucson selling Paczkis, is donating 10 percent of the money from all sales of the fruity Polish pastries that are synonymous with Fat Tuesday and the Lenten season to The Society of St. Vincent de Paul—so gorge yourself silly on the delicacies for a good cause.
The pastries, which traditionally would be gobbled up by Polish families, are designed to use up all of the fat, sugar, eggs and fruit in the house (all of which were banned during Lenten season). The result: Sweet donuts with fruity custard filling.
You can pick up a half-dozen Paczkis for only $2.99, or buy them individually for 75 cents—though the deal is a Fat Tuesday-only offer.
Visit Bashas'
Facebook
page for more information.